LCD TV Buyers Guide for 2012
By Rachel Cericola
Hello old friend! Yes, despite all of the fancy new LED TVs currently available (which are really just a variation on LCD), and the talk of OLED TVs just around the corner, the LCD TV market is still alive and well. The veritable granddaddy of flat panel TV technology has come a long way, baby.
When flat-panel TVs first started popping up, eager shoppers basically had two options: plasma and LCD TV. But in those early days, LCD TVs were tiny. expensive and didn't really look that great.  What a difference 15 years can make.  LCD TVs are bigger, brighter and more beautiful than ever, and also offer excellent value for your high definition television dollars.
It's a Liquid?
LCD isn't the type of liquid you'd want on a hot day -- unless you're enjoying a movie marathon next to some air conditioning. Otherwise, the way LCD works is fairly simple to understand. LCD is made up of two polarized glass panels. One has an array of liquid crystal pixels, which are typically made up of red, green and blue sub-pixels. The other panel is a polarized filter with no color component. Instead, it controls the intensity of light passed through it. Behind the panels, there is a light source, which shines through the LCD panel to make that pretty, bright picture.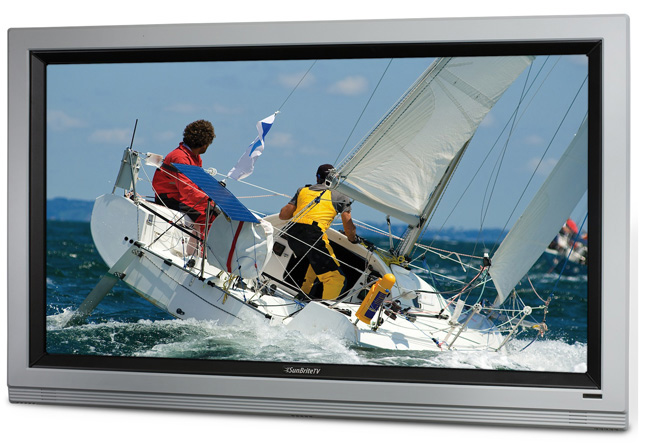 The reason why you don't just see a big ball of light is because electricity is applied to the polarizing filter to selectively block out or dim the light shining through each subpixel. When you need a black screen, the filter blocks the pixels. When a white screen is needed, the filter is effectively wide open or off. Everything in between is a combination of fully or partially blocked subpixels.
LCD TV is often confused with LED TV -- and for good reason. LED TV is actually part of the LCD family.Both use LCD panels to produce an image with the only difference being the light source. A traditional LCD TV uses skinny fluorescent tubes called CCFL (cold cathode fluorescent lamps) as a light source, while LED TVs use an LED-based light source to illuminate the panel.  For simplicity, we're going to limit this buyer's guide to standard CCFL-lit LCD TVs. For more information on LED TV models and technology, check out our LED TV Buyers Guide for 2012.
When it comes to TV technology, LCD is typically the least expensive flat panel you can buy, but that doesn't mean you can't find a nice high quality image and plenty of features.  Panel response times, refresh rates, contrast ratios and color accuracy and saturation have all improved over the years as the prices continue to fall.
Dissecting the Specs
Those response times, contrast ratios and refresh rates are all something to consider when buying an LCD TV. Why exactly? Well, a response time is the amount of time it takes an LCD's panel to go from full black to full white, resulting in more realistic images. The lower that number is, the happier you'll be. Just remember that it's measured in milliseconds.
Contrast ratio is important because it measures the difference between a full black signal and full white. Unlike response times, you want a high number on the contrast ratio. That said, this is a bit harder to measure. Currently, there's no industry standard and some manufacturers list this number as a dynamic contrast ratio or a native contrast ratio, making the decision sort of confusing and hard to compare.
Finally, a refresh rate stands for the number of times per second that the screen image is refreshed. A higher number is good here, as well. It basically means that the TV can handle things like action and sports pretty well. Measured in Hertz, typical LCD refresh rates measure anywhere from 60Hz to 240Hz (60 to 240 screen refreshes per second).
LCD TVs aren't just the least expensive, but also come in all sorts of sizes. Whether you're looking to add a flat screen to the living room, bedroom, basement or even the bathroom, there's an LCD out there for you. This year, we're going to see LCD sizes ranging from 22 to 65 inches. Besides sizes, there are plenty of other goodies being offered on this year's LCD HDTVs. Let's take a peek at what manufacturers are offering in the LCD category this year.
---
LG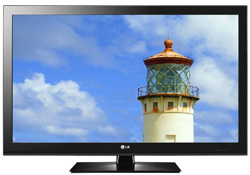 At the top of LG's 2012 LCD heap is the
47CM565 Cinema 3D LCD
. This model is one of LG's passive 3D TVs, under the Cinema 3D line. It comes with two pairs of passive 3D glasses, and has a 2D-to-3D conversion feature. In 2D, the 47-incher features a full 1080p HD image, Picture Wizard II calibration, the Triple XD engine, and the Intelligent Sensor feature. Besides the eight picture modes and five sound modes, this model also has a USB port and three HDMI inputs.
47CM565 47-Inch 1080p 60Hz Cinema 3D LCD HDTV (MSRP: $999.99) - Buy it on Amazon
Available in 42- and 47-inch sizes, the CS570 Series has a full 1080p HD image, TruMotion 120Hz technology, and the Triple XD engine. It also has eight picture modes and five sound modes, so you can tweak the experience based on your content. Other features include Clear Voice II technology, the Picture Wizard II calibration feature, one USB port, one PC input, and three HDMI ports.
Right under that is the CS560 Series. This model also has a full 1080p HD image, the above picture and sound modes, Clear Voice II and Picture Wizard II. The big difference here is that the refresh rate drops to 60Hz.
Last in LG's 2012 LCD line is the 32CS460. This lone 32-incher drops the resolution to 720p, with the Triple XD engine, Clear Voice II and the Picture Wizard II calibration, as well as the Intelligent Sensor. It also has one USB port and two HDMI inputs.
---
Panasonic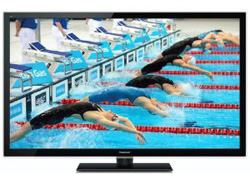 Panasonic is very well known for its plasma sets, and has quite a few LED TVs this year as well. However, they haven't ditched LCD, putting the tech into two different lines for 2012.
Perfect for the living room, a game room or a big bedroom, the lone 42-inch TC-L42U5 has a full 1080p HD resolution, one USB port, a PC input, and a Game Mode. Also, if you want to add in a Blu-ray player, a receiver and a set-top box, the model also has three HDMI inputs.
The single model in the C5 Series is the TC-L32C5. This set drops the size down to 32 inches and the resolution down to 720p. It also has the USB port, the PC input and the Game Mode, as well as two HDMI inputs.
---
Sony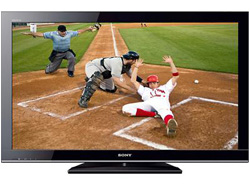 Like Panasonic, Sony is putting all of its LCD focus into two lines for 2012, under the extremely popular BRAVIA brand.
The first is the BRAVIA BX450 Series, which has two full 1080p HD sets. Both models feature a 60Hz refresh rate with Clear Resolution Enhancer and Digital Noise Reduction features. If you're looking to add in other devices, both sets have a USB media player and two HDMI inputs.
The BRAVIA BX330 Series has some of the same specs, but drops the screen resolution down to 720p and the number of available models to one 32-incher.
---
SunBriteTV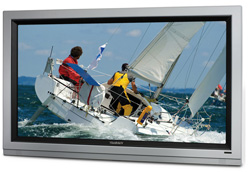 New to our Buyers Guide this year is SunBrite TV, which is making a name for itself as a the go-to company for outdoor TVs.
The Pro Series offers a total of four LCD options. Of course, the hook is how each one is housed in an all-weather package. Features include anti-reflective protective glass and RS-232 control. This line also has a built-in air flow cooling system so the TV can operate in temperatures up to 122 degrees, and an internal heater for when the temps drop to as low as -40. Other features include a 60Hz frame rate, a 10-watt detachable speaker module, and two HDMI inputs (four on the 46-incher). Look for a 1366 x 768p HD resolution on the 22- and 32-inch models, with the 46- and 55-inch units going to the full 1080p HD.
Two of the three LCD models in the Signature Series have a 1080p resolution, with the 32-incher coming in with 1366 x 768p. It's also good for even more extreme temperatures, able to operate all the way down to a blistery -22 degrees. The two smaller models have a 60Hz frame rate, with the 55-incher upping that to 120Hz. All three have built-in 20-watt speakers and two HDMI inputs.
---
Toshiba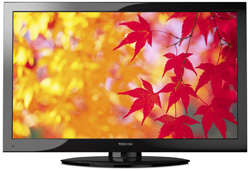 Toshiba has a hearty selection of LCDs for the year, with three different lines. The first is the company's most affordable, the
32C120U
. This line includes a lone 32-inch model, with a 720p image, the new Dynamic Picture Mode, and the Audyssey sound suite. It also has a Game Mode, a PC input, one USB port and two HDMI inputs. The
40E220U
bumps things up to a 40-inch screen with a 1080p resolution.
If you want to go even bigger, the 65HT2U LCD is a 65-incher with 120Hz ClearFrame technology, the Game Mode, the USB port and the PC input. It also adds in an extra HDMI input, for a total of three.
---
VIZIO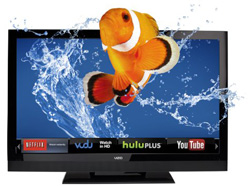 Last, but with the largest LCD selection, we have VIZIO. The company has five LCD models currently available, with another two on the way. Three of the models out now are Theater 3D models. That means that the
47-inch E3D470VX
, the
42-inch E3D420VX
, and the
32-inch E3D320VX
all have passive 3D technology. If you want to test those features out right away, each model comes with two pairs of VIZIO 3D glasses. The 2D features include a 1080p resolution, SRS StudioSound HD audio, two USB ports, and three HDMI inputs.
Each one also has built-in WiFi for tapping into VIZIO Internet Apps. Some of V.I.A.'s current web-based offering include Netflix, Hulu Plus, Amazon Instant Video, VUDU, Pandora, and more.
Next, there is the 47-inch E472VLE and the 55-inch E552VLE. These drop the 3D effects, but have a full 1080p HD image, a 120Hz refresh rate, Ambient Light Sensing technology, two USB ports, and four HDMI inputs. Each model also has built-in WiFi for easy access to VIZIO Internet Apps.
The last two VIZIO LCDs for the year aren't out yet. However, the 55-inch E500AR and the 55-inch E502AR should be coming no later than November. The E500AR has a 1080p HD image, HDMI 1.4a with ARC and CEC, one USB port and three HDMI inputs. The E502AR adds in a 120Hz refresh rate, built-in WiFi and V.I.A access.
E500AR 55-inch 1080p LCD HDTV (Price TBA) - Coming Soon

E502AR 55-inch 1080p 120Hz (Price TBA) - Coming Soon
---
More Buyers Guides: