JVC DLA-X3 Home Theater Projector Review
By Geoff Morrison
Edited by Chris Boylan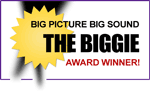 Big 3D, Minimal Bucks
Just as projection is the ultimate way to watch movies, so is it the best way to watch 3D. Nothing produces an immersive 3D image like a huge projection screen.  Shortly after the launch of 3D HDTVs, a handful of 3D projectors for the home made their way to market. As with all electronics, new models have subsequently come out with better performance, and lower cost.
In fact, the DLA-X3 D-ILA Projector from JVC (MSRP: $4,495) is one of the least expensive Full HD 1080p 3D-capable projectors on the market. Its main competitors are the Sharp XV-Z17000 DLP Projector ($4,995) and JVC's own DLA-X7 ($7,995), both of which offer compelling reasons for spending more money.
Or do they?
The Hardware
Like JVC's other projectors, the X3 has a single 220-watt UHP lamp sunning three 0.7-inch, "D-ILA" (Direct-Drive Image Light Amplification) chips.  D-ILA is JVC's proprietary version of LCOS (liquid crystal on silicon) technology, a sort of a hybrid between DLP and LCD. A layer of liquid crystal is on top of a mirrored surface. Light reflects off this mirror only after passing through the LC layer, twice.
The technology offers smaller inter-pixel spacing than LCD, with a higher native contrast ratio than either of the other projection technologies. JVC and Sony use LCOS for most or all of their front projectors. Recently, other large projector manufacturers such as Epson have announced LCOS models, presumably because it can handle 3D better than LCD projection.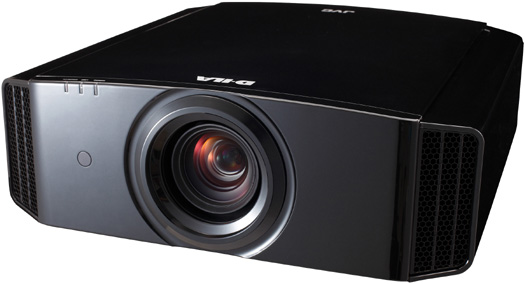 Other features shared across the JVC range are +/-80% vertical and +/-34% horizontal lens shift, 2x motorized zoom, two HDMI 1.4a inputs, and one component input. Interestingly, there are no composite or s-video inputs, but honestly, who cares about that? Any decent outboard scaler or home theater receiver can handle conversion of your old analog sources to HDMI.  You get RS-232 and a 12v trigger for custom install control.
The remote has a pleasant rubberized feel, and has a strong amber backlight. Not that you'll use it much, but it works well.
Setup
The generous, and motorized, lens controls make setup easy. Zoom, shift, and focus can be dialed in very quickly.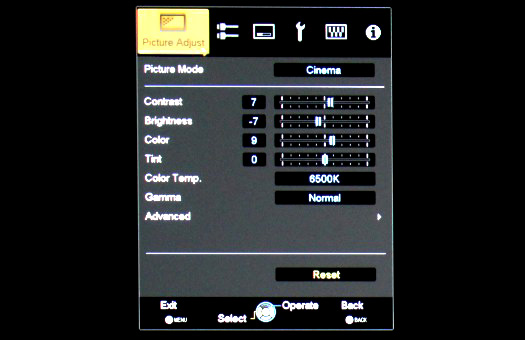 There are a minimal amount of picture adjustments, at least compared to many new projectors. Color temp and gamma have presets and custom adjustability. Color space is limited to Normal, Wide1, and Wide2. It's certainly all enough to get the job done, but a far cry from what's available on the step-up X7 (see below).
Unlike most new projectors, the X3 doesn't have an auto-iris, a device that tracks the incoming video signal and makes dark scenes darker and bright scenes brighter. The simple reason for this is that it doesn't need it. The native contrast ratio of the LCOS chips is vastly superior to LCD or DLP technologies, so it doesn't need iris trickery (which never really looks right anyway). What you do get is a multi-step non-tracking iris, and two lamp modes. Honestly, you won't need those either, as we'll see.
Performance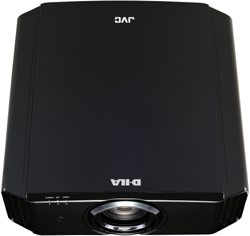 On a 102-inch diagonal Stewart 1.0-gain StudioTek 100, I measured 17.02 foot-Lamberts with the iris wide open ("0") in the High lamp mode. This is on the low side of acceptable. Most projectors I review get closer to 20 ft-L, with brighter models closer to 30. If you put the lamp into Normal mode, you get a paltry 10.74 ft-L. There are two potential problems with this light output. One, all UHP lamps lose brightness over time. So in a year (or less, depending on usage), the image going to be a lot dimmer. Two, because of the active shutter glasses, 3D is going to be even dimmer.
If you're planning to watch 3D, JVC recommends a maximum 90-inch diagonal screen which will help as it concentrates the light onto a smaller area, making the image brighter.  For larger screen sizes, JVC recommends the use of a positive gain screen such as a Stewart StudioTek 130  (1.3 gain) or a Screen Innovations Black Diamond (1.4) either of which offers significantly higher brightness than a matte white screen.
Conversely, the black level and contrast ratio are fantastic, far better than what you'll get with any other technology. In this regard, only JVC's other models have measured better in my lab. This isn't to be taken lightly. Contrast ratios this good add a three-dimentionality to 2D images that just isn't there on most digital displays. If you go for a smaller, higher gain screen to augment the light output, these black levels will also increase, but thanks to the excellent contrast ratio, it's doubtful that even on a high gain screen this projector will look "washed out."
Color accuracy, unfortunately, isn't great. In the Normal color space I measured:
Red: x0.629, y0.339 (Rec 709 target: x0.640, y0.330)
Green: x0.274, y0.578 (x0.300, y0.600)
Blue: x0.153, y0.075 (x0.150, y0.060)
Red and blue are close enough, but green is somewhat undersaturated, and greenish blue. Not enough that grass looks weird, but other displays do look a bit more realistic in this regard. Stepping up to the X7 gets you more accurate color, and some slight color management to help dial it in further. Wide1 and Wide2 color modes are even less accurate.
Processing, thanks to an HQV Reon-VX video processor, is excellent. The X3 handily passes all the standard de-interlacing and scaling tests, performing better than most Blu-ray players doing it. It has some of the best performance of any display I've reviewed recently.
There is some motion blur, which can be minimized with the Clear Motion Drive circuitry, at least for video-based content. With film, this mode creates the dreaded Soap Opera Effect (where everything looks like an ultra-smooth soap opera).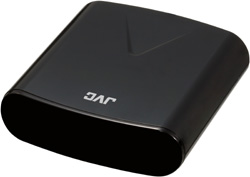 Going between a DLP projector and LCOS, this was perhaps more noticeable than if one was stepping into the projector world cold, or used to watching LCD/LCOS displays.
3D or not 3D

In order to add the depth dimension, you need the PK-EM1 3D sync emitter ($79) and JVC's active shutter glasses ($179, each). The emitter is slightly larger than a deck of cards, and worked fine for me resting on top of the projector, aimed at the screen.
The light loss through the glasses made even a bright movie like How to Train Your Dragon seem dim and rather lifeless, compared to the best 3D I have seen. Turns out, you need to manually switch to the 3D mode in the user menu. This mode compensates for the glasses, and makes for a much more pleasing image. All the settings will be different, so you'll need to tweak it to look correct. I used the settings I had picked in the Cinema mode, plus 500-1000 Kelvin in the Color Temp to compensate for the slight yellowish tint of the glasses.
Properly set up, the 3D image is reasonably bright, and on par with other 3D projectors I've seen. That is to say, good, but not great. It doesn't hold a candela foot-Lambert to the Sharp in this regard, one of the few things that projector does well.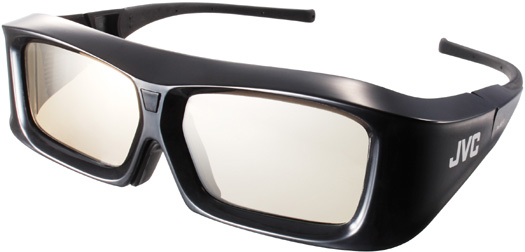 Compared to the Sharp XV-Z17000

The Sharp offers a
significantly
brighter picture, and in that regard is one of the brightest single-chip DLP projectors available. Because of that, the 3D image is much more compelling, and is among the best looking 3D displays in this regard. However, its color accuracy is not nearly as good as the JVCs, nor is its contrast ratio, which is way worse. So 2D performance lags behind the JVCs. Enough so that personally I'd pick the JVC projectors over the Sharp, though I'm not a big fan of 3D, so this isn't a high priority to me. Also, due to an absurdly limited zoom lens and exacerbated by an extreme upwards throw and no lens shift, placement options are abysmal on the Sharp projector. If you're trying to retrofit the 17000 into an existing home theater, good luck.
Compared to the JVC DLA-X7
According to the specs, the X7 should be nearly identical to the X3. The main differences seem to be in the extent of customization available with the image. This shouldn't be taken lightly. In watching the two projectors back to back (ok, technically bottom to top, I stacked them), the X7 offered a slightly better looking image. Slightly less noise, a little better contrast ratio, a little better black level. It was definitely an improvement. Enough so that if the extra $3,500 doesn't hurt your wallet, I'd say go for the X7, but don't sweat it if you can't. You can check out my full DLA-X7 review on Sound and Vision's website, if you'd like.
Turn Ons
Excellent and accurate 2D picture
Great blacks
Quiet
Nice price for Full HD 1080p 3D
Turn Offs
Only average brightness...
Which is most noticable with 3D
Final Thoughts
Ignoring the 3D aspect for a moment, the DLA-X3 is a fantastic projector at a fantastic price. It's certainly not as bright as some other options out there, and as such is probably best matched with a screen 100 inches diagonal or smaller (as mentioned, JVC recommends 90-inches diagonal).  Also, my tests were all done on a unity gain white screen.  If you plan on watching a lot of 3D, you should consider a screen with greater than 1.0 gain.
But it all comes back to the black levels and contrast ratio: these are so good even the slightly inaccurate color becomes irrelevant. It's simply an awesome image.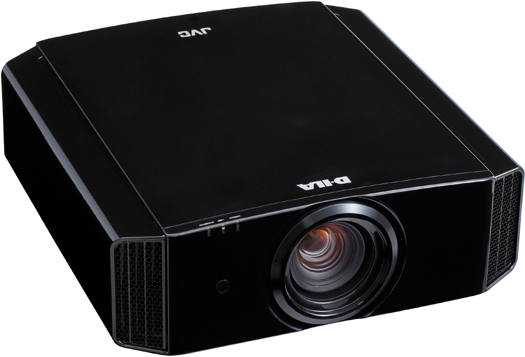 Inputs/Connections
HDMI 1.4a (2)
Component (1)
RS-232 12v Trigger
Dimensions
MSRP: $4,495
Manufacturer Contact Information:
JVC U.S.A.
1700 Valley Road
Wayne, NJ 07470
(973) 317-5000
On the Web: www.jvc.com