Is the World Ready for an 80-inch LED HDTV? Sharp Thinks So
By Chris Boylan
Size matters. At least that's what Sharp thinks as they take the wraps off their latest mega TV, the 80-inch (diagonal) LC-80LE632U LED HDTV. At a press event in New York City earlier today, Sharp unveiled the set and it certainly made an impression. My impression? BIG!
Offering more than twice the viewable screen area of a 55-inch TV, the 80-inch set will safely dominate all but the largest of living rooms. It even approaches the size of a front projection home theater rig, but without the requirement of providing a dark viewing environment. The set's full array LED backlight technology produced a bright colorful image in the well-lit penthouse loft where Sharp held its coming out party. With a variety of demo content, the HDTV's uniformity and black levels appeared to be solid and colors had nice saturation.
The HDTV is equipped with Smart TV features: integrated WiFi networking with access to popular streaming apps such as Netflix, CinemaNow and VUDU. It also includes Sharp's AQUOS Advantage LIVE feature that allows Sharp service personnel to literally take control of your TV (with your permission of course) in order to help resolve or debug service issues.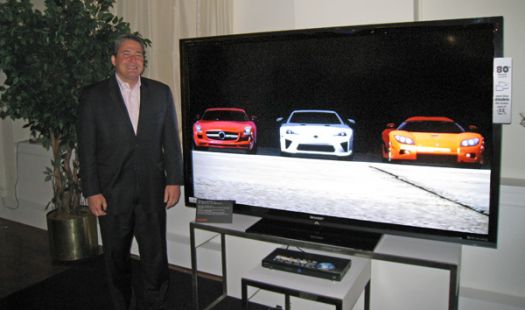 For those concerned about excessively high electric bills, Sharp says the HDTV should only cost around $22 in annual electricity charges for the average home with typical viewing habits.  And although the screen itself is enormous, the set measures in at a little under 4 inches deep (without the stand) and weighs only about 122 pounds so it can be wall-mounted using a standard HDTV mount or placed on a low console.
In terms of picture performance, the full HD 1080p X-Gen LCD Panel (built in Sharp's Sakai manufacturing facility in Japan) offers full array LED backlighting for better screen uniformity than we normally see on edge-lit LED/LCD TVs. The set features 120 Hz fine Motion Enhanced processing for enhanced reproduction of moving images and 10-bit image processing with advanced pixel control to minimize light leakage and provide a wider aperture to improve maximum brightness.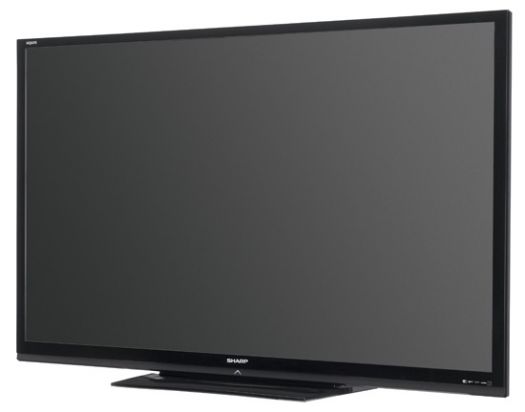 What is it missing from the 80-inch set? Two things: 3D capabilities and a yellow sub-pixel. The 3D feature is available on a variety of Sharp's other sets, up to the 70-inch screen size, and may be added to a future 80-inch model. Also the yellow sub-pixel - a fourth subpixel in the LCD imaging panel, which Sharp has branded "QUATTRON" - may make its appearance on a future model. For now, the usual three sub-pixels (Red, Green and Blue) will have to do.
Sharp says the TV is now shipping to brick and mortar retailers such as Magnolia HiFi and P.C. Richards.  The set will not be offered for sale online.  When asked about that, Sharp's V.P. of Marketing Mark T. Viken told us, "we believe this set has to be experienced in person."  The LC-80LE632U is being offered for sale to anyone willing to show up in person at a suggested retail price of $5499.99.
More Information: