In-Ceiling/In-Wall Speakers Without Compromise: GoldenEar Technology's Invisa HTR and MPX
By Chris Boylan
There are dozens of great-sounding speakers on the market today, but relatively few of these pass the so-called "Wife Acceptance Factor" (or spouse acceptance factor, to be politically correct). Too big, too ugly, too boxy or too imposing, it's tough for an audiophile to find a good-sounding set of speakers that pass muster with the resident interior designer. And this only gets worse when you want to do surround sound. "You want to put seven of these in our living room? Are you crazy?"
For some, in-wall or in-ceiling speakers offer a solution, but most of these present serious compromises. Putting a speaker inside a wall or ceiling can muddy the sound stage or cause unwanted early reflections off the walls which accentuate high frequencies. I could probably count on one hand the number of in-wall or in-ceiling speakers that actually sound good to my jaded ears. That number increased by two this week as I went in for a demo of GoldenEar Technology's latest in-wall and in-ceiling speakers.
At a total cost of nearly $4,500 for the speakers alone, the 5.2-channel system on display wasn't exactly inexpensive, but the sound quality was exceptional, and the speakers virtually invisible. Also, depending on your room size, you could knock $1000 off the price by going with a single subwoofer instead of the two which the company included in the demo system.
Listening to music and movie clips, I was impressed by how articulate the sound was, revealing tiny details in the source material, and presenting a huge soundstage. Running the demo was company founder Sandy Gross who has a pretty good track record in the speaker industry, having helped to found both Polk Audio and Definitive Technology. Sandy explains that the special sauce is in the speakers' tweeters. The High Velocity Folded Ribbon (HVFR) drivers present a spacious and expansive soundfield, akin to what you hear on more expensive electrostatic and ribbon speakers, in a much smaller form factor.
I was most surprised by the perceived location of the soundstage. Some in-ceiling speakers have you craning your neck to listen "up" to the speakers, but the Golden Ear Invisa speakers projected the sound downward, with the illusion of sound emanating from the same plane as the TV screen.

The system included:
Three Invisa Home Theater Reference (HTR) 7000 in-ceiling speakers ($499.99 each) for front left, center and right channels
Two Invisa MultiPolar MPX in-wall/in-ceiling speakers ($499.99 each) for left and right surround channels.
Two ForceField 5 Ultra-High-Powered Subwoofers ($999.99 each)
The in-ceiling Invisa HTR 7000 features one tweeter and one 7-inch bass/midrange driver mated with a precision crossover network. It comes with a magnetically attached micro-perf grille, paintable to match your decor. The grille is available round or square, depending on your preference. The Invisa MPX MultiPolar In-Wall/In-Ceiling Loudspeaker combines two 5-inch bass/midrange drivers with the ribbon tweeter and also comes with a paintable, magnetically attached grille, this one rectangular.
The ForceField 5 subwoofer uses a high power forward-radiating ultra-long-throw 12" sub-bass driver, coupled to a downward-firing quadratic planar infrasonic radiator. The on-board Class D amp is rated at 1,500 Watts. Although the subwoofer isn't quite as "invisible" as the in-wall and in-ceiling speakers, its attractive cabinet design and flexible placement options should minimize any complaints about its appearance.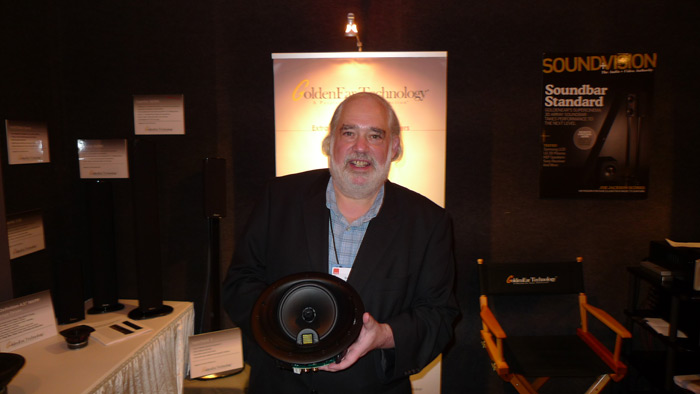 My only complaint? I shouldn't have brought my wife to hear them as now I'm going to have a tough time keeping those huge electrostats in our living room. Thanks a lot, Sandy!
More Information: