Hulu Plus on Xbox LIVE with Kinect Review
By Chris Chiarella
Edited by Chris Boylan
Let's Give Streaming a Hand
For all Big Picture Big Sound readers who wondered if they could enjoy their Hulu Plus streaming video subscription beyond the computer, and/or whether the Microsoft Kinect Sensor for Xbox 360 can be used for something other than dancing games, we have hard answers from the front lines of the home theater. Indeed, Hulu Plus is now available on the Microsoft Xbox 360 console, and it immediately offers a unique new way to interact with the service. Sure, we can use the conventional controller that comes with the Xbox 360, but we can also use our bodies and/or voice to help us play our favorite TV shows.
First thing's first: In order to access Hulu Plus on the Xbox 360, we must have a paid Xbox LIVE Gold Membership ($59.99/year with additional benefits, but discounts are out there), and a broadband internet connection, naturally. To gain controller-free operation of the Hulu Plus service, as well as other Xbox 360 features, we will also need the optional Kinect Sensor unit ($149.99). It sits above or below the TV screen and plugs into the proprietary jack on the console's rear panel, at which point we will need to download a software update or two, and then calibrate via the onscreen prompts (don't throw away your Xbox 360 controller just yet!) and we're ready to rumble.

A current Hulu Plus account can be carried over to the Xbox 360 (subscriptions work across multiple devices, including the computer), otherwise we will need to sign up, a relatively quick process. A couple of promotional offers were in place when we did our review, including a free week with no credit card required, and a free month with automatic renewal.
The First Wave
Once everything is properly set up, we turn Kinect on by waving vigorously at it, our actions noted by the RGB camera and the depth sensor. Soon, a hand-shaped cursor appears on the screen, we park it over whichever selection we want and it opens before our eyes.
There's a tremendous lot to choose from, organized in several different ways. The most popular streams are pushed most prominently, including the latest episodes of current, top-rated series. If we dig we can also find classics like The Dick Van Dyke Show, and I was also pleased to see an assortment of feature-length movies, some foreign, some rather obscure, but certainly broadening our entertainment options.
Content designated "HD" is available in native 720p resolution, subject to available bandwidth and other restrictions, although my Xbox 360 (like many out there) is configured to output a 1080p signal (@60Hz) and so the console is performing some upconversion.
Streamed HD programming looks pretty good, and standard definition is certainly tolerable, softer, with pronounced stair-stepping and the black bars left and right. I was surprised however to discover that, despite the fact that this is a paid service, shows are preceded and interrupted by commercials! Some of these shows originally aired on premium channels (i.e. cable TV), and have never been subject to commercial breaks before. I was also extremely disappointed to keep running into the little "WEB ONLY" badge atop may of the programs I wanted to see, denoting that while they were a part of the Hulu Plus subscription, they could only be viewed in a web browser (i.e. on the computer) not on the Xbox 360.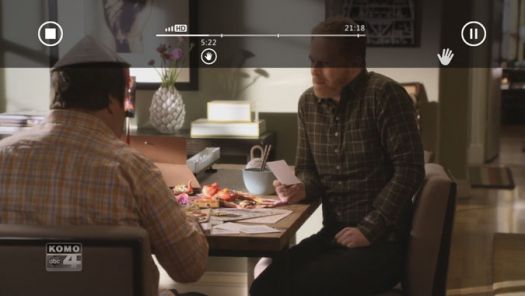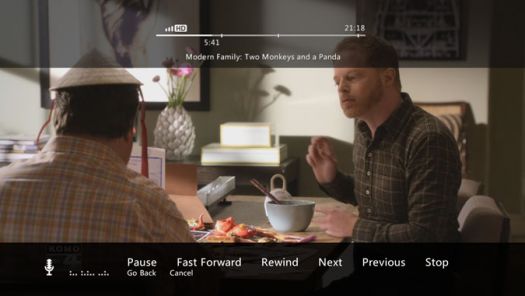 Kinect detection goes into a sort of sleep mode in just a few seconds of inactivity, and we need to wave again quite vigorously to wake it back up. I could definitely feel the burn during my first round of video watching The virtual hand darts quickly, smoothly in synch with our flesh and blood counterpart, although a brief delay is inherent to the process as the Xbox waits a moment to make sure we've settled on our desired target.
Alternately, we can say "Xbox" to activate the voice recognition feature of the multiarray microphone, which opens a special menu along the bottom of the screen. Video-specific speech commands include "Play," "Fast Forward," "Rewind" (as well as "Faster" and "Slower"), "Next" and "Previous" (to skip chapters), and "Stop." There's also "Go Back" and "Cancel" if we change our mind.
Yes, it's smart enough to filter out any of those commands should they be uttered by a character coming through the speakers. And if we fast forward past a predetermined commercial break, don't worry: the ad begins as soon as we resume normal-speed playback. System response to voice commands was remarkably prompt and precise.
Final Thoughts
Mastering the hand motions to nimbly, swiftly make our selections can present a bit of a learning curve. I'm getting better but still no one would mistake me for Tom Cruise working the computer of the future in Minority Report. Similarly, the voice command option is not the best idea for late-night viewing, especially with light sleepers elsewhere in the house. At the end of the day, I'd call using the Kinect to control Hulu Plus more of a novelty than a necessity, surely something we can show off to friends and family, and a way to get more out of our investment in that funky sensor hardware.
Where to Buy:
More Information: