How to Get 5.1 Dolby Surround Sound from a SONOS PlayBar or PlayBase
By Chris Boylan
Dear Big Picture Big Sound,
After reading your review of the Sonos PlayBar, I bought one, as well as some Play:1 speakers and a subwoofer so I could do a simple 5.1 surround sound system from my TV. I plug all my devices (cable box, Blu-ray player, Roku) into my TV using HDMI cables. I plug my TV's digital audio fiber optic output into the PlayBar. Everything sounds good, but I'm pretty sure I'm not getting real surround sound. Very little sound comes from the Play:1 speakers in the back, even on movies that I know have a lot of surround information. My TV is a Samsung LED and my Blu-ray player is Samsung too.
I know that a lot of my Blu-rays are in DTS and I see that the PlayBar doesn't support DTS sound. It only does Dolby Digital. Could this be the problem? How can I tell if I'm getting 5.1 sound? And if I'm not, what can I do about it?
Sincerely,
-Two-Channel Charlie
---
Dear Charlie,
We actually get this question a lot from friends and from readers, not just about the Sonos PlayBar but about other soundbars that offer true 5.1 channel surround sound options. The Sonos PlayBar is a great product for streaming music and can make huge improvements in your TV sound quality, but it's not actually that simple to get real discrete surround sound out of it, even when you add the Play:1 rear speakers and a subwoofer. Assuming you've configured the speakers correctly in the Sonos set-up (Play:1s and sub are grouped with the PlayBar in a single system with the Play:1s set up as surround speakers), you will get discrete 5.1 channel surround sound when the PlayBar receives 5.1 channel surround sound, and that's where things can get a little tricky.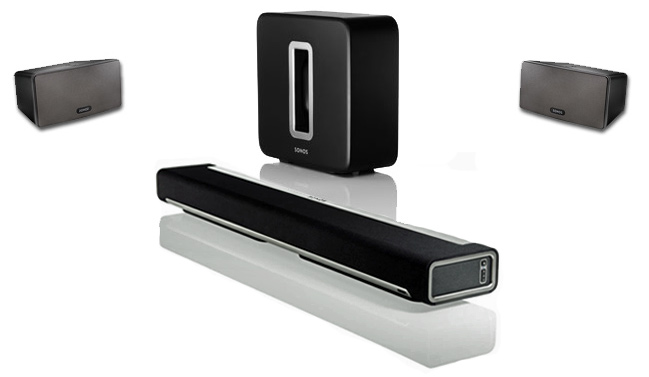 Update (March, 2017): The same advice applies to the SONOS PlayBase TV platform speaker as it uses the same type of fiberoptic input as the PlayBar as well as similar audio processing.
Just Passing Through...
Most TVs can pass 5.1 channel Dolby Digital sound out of their fiberoptic digital outputs (and into the PlayBar) when you are watching TV using the set's built-in ATSC TV tuner, or when you are using the streaming apps (like Netflix, Vudu or Amazon Video) built into the TV itself. But if you're watching movies or shows from a cable box, Blu-ray or DVD player or external streaming box like a Roku, most TVs are unable to pass through a 5.1-channel Dolby Digital signal from the source device through the TV and out the fiberoptic port.
Most of the TVs from Samsung, LG and Panasonic that we have tested do not pass through Dolby Digital 5.1 from external components connected via HDMI cables. So even if your Blu-ray player or cable box is sending a Dolby Digital 5.1-channel signal to the TV, the TV is only passing along a 2-channel (stereo) Dolby Digital or PCM signal through its fiberoptic dgital output. The notable exceptions to this rule are Sony and VIZIO - most of the Sony and VIZIO TVs we have tested (and that our friends at CNET, HD Guru, Sound and Vision, etc.) have tested do pass through 5.1 channel Dolby Digital from sources connected via HDMI cables through the TV's optical audio port. In some cases, you need to make sure to go into the TV's Audio Settings to enable this passthrough, and in some cases, it's automatic. Your Samsung TV probably can't do it, but it's worth checking the audio settings menu just in case.
CNET used to keep track of this in their TV reviews, and they do still mention the feature when they review new TVs. Here's a compilation by Ty Pendlebury of the results from testing 20 TVs for the 5.1 passthrough feature. I can confirm that the passthrough feature does still work on newer Sony and VIZIO TVs: 20 TVs tested - which pass through Dolby Digital 5.1?
Putting the Five in Five Dot One
Even if your TV can pass through a Dolby Digital 5.1 channel signal, your source device also needs to be outputting Dolby Digital 5.1 sound to the TV. Most digital cable and satellite set top boxes as well as DVD players, Blu-ray players and streaming boxes can be set to "bitstream" output, or to "Dolby Digtal 5.1" output in the audio settings menu. So make sure this is set on your sources as well. In the case of DTS sound, which, as you mentioned, can be found on many Blu-ray Discs currently on the market, things can get tricky again.
Since the Sonos PlayBar and PlayBase don't support DTS decoding, you won't be able to output a Dolby Digital signal from your player to the PlayBar or PlayBase in order to get discrete surround sound from DTS-encoded movies. However, there are a number of players (notably several models made by Samsung and Sony), which offer a feature called "Dolby Digital transcoding." Basically, this feature allows the player to convert any multi-channel PCM or DTS soundtracks from Blu-ray Discs or other media into standard Dolby Digital 5.1 surround, so it will be compatible with the PlayBar or any other sound bar that can do 5.1 channel decoding.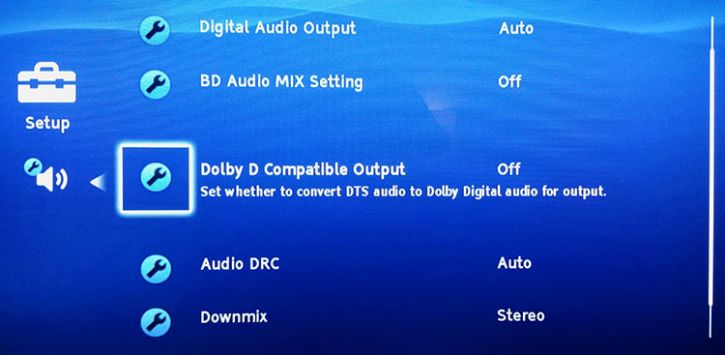 This DTS to Dolby Digital transcoding feature isn't very widely publicized, but if you look around, you can find it. Your Samsung player might have it already (many do), so look in the audio set-up menus on the player for it. If your current Blu-ray player is already a few years old and doesn't have the feature, you might invest in a newer player that does have the feature. You'll also probably notice that disc loading has gotten a lot faster over the years too. One current player that does have DTS to Dolby Digital 5.1 conversion is the Sony BDP-S5500, which you can currently find on Amazon for around $75. We've been using one for the last few months in a standard AV-receiver-based set-up and it works very well as a Blu-ray player.
UPDATE (March 2): it appears that the Sony 2015 Blu-ray models (BDP-S5500 and BDP-S3500) do not convert DTS soundtracks to Dolby Digital over their HDMI output even when applying the appropriate setting in the set-up menu. Samsung players with this feature do correctly convert DTS soundtracks to Dolby Digital 5.1 over both fiberoptic and HDMI outputs. And a 2016 model Sony (BDP-S3700) also works as expected. We'll check in with the Sony product support people to see if this is a known problem that can be fixed in the 2015 models. But for now, unless you are using a fiberoptic switch (see below), Sony's 2015 BD players may not be the best choice of Blu-ray player to use with a Sonos PlayBar if you want true 5.1 surround. For those who do have a Sony player, you can set the Digital Audio Ouput to its PCM output mode (instead of "auto" or "bitstream") and select the "Downmix" option to "Surround-encoded" instead of "Stereo." This will output a matrix surround-encoded PCM signal over HDMI and fiberoptic that will be decoded to surround by the PlayBar. This is not as good as discrete 5.1 but it will give you a decent surround effect through a PlayBar system with rear speakers.
Most Samsung Blu-ray Players have the Dolby Digital transcoding feature (since 2010 or so), including the BD-J5900 player from 2015. For Samsung, the setting you want is under "Digital Output" in the set-up menu. Select "Bitstream (Re-encoded Dolby D)" in order to get Dolby Digital 5.1-compatible output. To check to see if your player has the feature, look in the set-up menu for that option, or search for the user manual online. Here's a link to the BD-J5900 in case you're looking for a new player with the feature:

But even the right type of Blu-ray player won't help you if you connect it to a TV that doesn't pass through that Dolby Digital 5.1 signal to the PlayBar. Does this mean you need to buy a whole new TV? Not necessarily. If you really want to get your 5.1 on, and you don't mind a little extra complexity, you can pick up a fiberoptic digital audio switch.
With a fiberoptic digital audio switcher, you can plug the fiberoptic outputs of your cable box, Blu-ray player and streaming box into a simple switch. You then have to remember which source goes with each input (TV might be connected to input 1, Blu-ray to input 2, etc.). Connect the output of the switch box to the Sonos PlayBar and presto! 5.1 surround, even when your TV doesn't support that. You don't have to spend much to get a decent fiberoptic switch. Just make sure it has enough inputs for your needs (and maybe a remote control so you won't have to get off your butt to switch inputs).
Here's a decent fiberoptic switch on Amazon for under $30. It has three fiberoptic inputs so you can connect your TV plus two other devices to it. The only thing to keep in mind is that this will only work with devices that have fiberoptic digital outputs. Most cable boxes and Blu-ray players have this, but not all. Also, the Roku and Apple TV streaming boxes may not include optical digital outputs. If that's your situation, you might need an HDMI switch which can split the digital audio out to a separate fiberoptic output.  But here's a basic fiberoptic splitter:
The Proof is in the Pudding (er... Settings)!
If you're not sure whether your PlayBar or PlayBase is getting a 5.1 channel Dolby Digital signal, there's a simple trick to find out. The Sonos App itself will tell you what format sound the PlayBar is receiving. Just go into the "About my SONOS System" link, which is either under "Help" or "Settings" in the Sonos app, depending on which version you are running. Make sure your TV is on and the TV sound is playing through the PlayBar when you do this. Look for your PlayBar on the "About My Sonos" screen and where it says "Audio In" you will either see "Dolby Digital 5.1" or "Stereo." If it says "Dolby Digital 5.1 then you're good to go!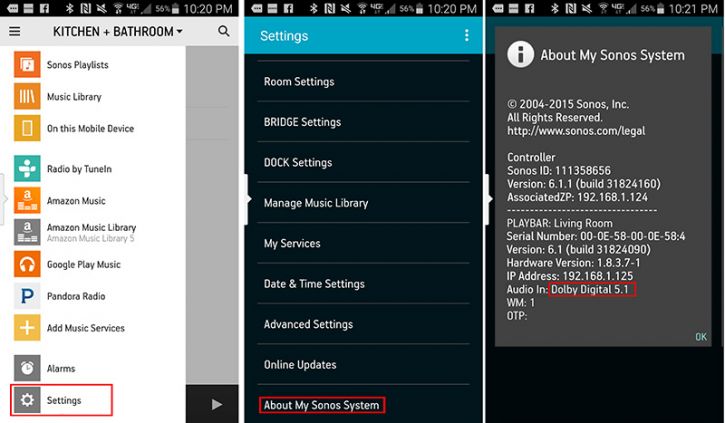 I hope that helps and good luck getting your surround sound on!
Keep those cards and letters coming!
if you have a question for one of our home theater experts, shoot us an e-mail to "
Ask The Expert
." We'll select among these for future installments in this column. Due to the volume of requests we receive, we cannot reply to each question personally.