Home Theater Deals: Epson V11H412020 85HD MovieMate Projector: $649.99 Shipped
By Rachel Cericola
The weather is getting warmer -- somewhere. While we've reverted back to winter in some parts of the country, others are already busting out shorts and other summer wear. Not to worry; that weather is on its way and so are the summer BBQs. Are you ready to entertain the masses?
If not, you may want to think about investing in something like the Epson V11H412020 85HD MovieMate Projector. Perfect for both inside and outside, this 720p projector packs in a DVD player and a pair of speakers for an instant big-screen theater almost anywhere.
To get you salivating for those summer possibilities, Amazon is currently discounting this projector, knocking $200 off the list price. At last peek, the website had the Epson 85HD MovieMate priced at just $649.99, which also includes free shipping. Find out more about this discount and this product on Amazon's product page: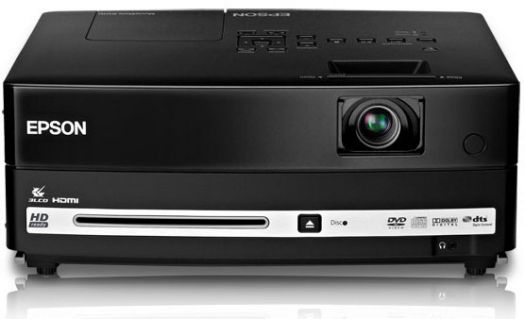 The MM85HD promises an instant home theater almost anywhere. Just add a screen like the Camp Chef 120-Inch Portable Outdoor Movie Theater Screen. At last peek, this screen was also on sale for $163. Besides having something better than the wall to use with the MM85HD, this screen is just as portable as the projector. That makes it easy to use indoors and out, or just store when not in use.
Speaking of which, that projector can crank out a hearty 720p HD image under the stars, in the basement, or anywhere else. The 3LCD projector includes a 1280 x 800 resolution, 2500 lumens of color/white light output, an HDMI input, spots for composite and component, a PC input, and USB. It also promises an easy setup and an image that's 12 times the size of a 40-inch HDTV.
Another perk of having this projector is that it's an all-in-one solution, with a built-in DVD player. It won't do Blu-ray, but it's a great excuse to bust out that DVD collection. It can also play CDs for a little musical interlude before you fire up the main attraction! The unit also has dual Dolby 5.1 Digital DTS 10-watt stereo speakers, so you don't need to hook up anything else to this unit. Just plug it in, load up your favorite movie, and press play.
If you're looking for spot to put the projector while it's in use, check out something like the Deluxe 425 Project-o Stand Projection Table Shelf. At last look, this item was on sale for $143, and can get that projector off the ground and out of harm's way.
When ordering this projector (or any of the accessories mentioned), make sure to order directly from Amazon and not one of the retailer's third-party merchants. Amazon currently has the lowest price, and is offering the free Super Saver shipping as well. Enjoy!
Also Check Out:
Please note: all deals posted on Big Picture Big Sound are current as of the posting date and time. These deals are frequently time- or stock-limited and generally do not last. Final pricing and stock are determined by the individual deal provider, not by Big Picture Big Sound so you will need to click through on the offer link to see if it is still available. Through our affiliate relationships with many online vendors, Big Picture Big Sound may earn a small commission on any referred sale.