Heartbeats by Lady Gaga In-Ear Headphones Review
By Garvita Kapur
Edited by Chris Boylan
Heartbeats by Lady Gaga Review
Outstanding or Simply Standing Out?
I like my music.  I also like standing out from the crowd.  When I buy something, I want it to be a little different, reflecting my own unique tastes.  All of the above is what drew me to Heartbeats by Lady Gaga, uniquely styled earphones intended to work with any media player, including the ubiquitous iPod and iPhone. It was the Heartbeats' style that intrigued me but it would take more than that for me to embrace them as a suitable -- and permanent -- replacement for my everybody's-got-one Apple headphones.
The Heartbeats by Lady Gaga, which are a part of the Beats by Dr. Dre headphone line from Monster, certainly add a much needed touch of fashion that the headphone industry generally lacks.  Most run-of-the-mill headphones are just that: run-of-the-mill. With traditional aftermarket 'phones, you could be wearing the most expensive, high performance headphones on the planet, and nobody would know nor care. But the Monster Heartbeats do just what Lady Gaga can do, make a style statement and pop out. Actually, they tend to "pop out" in more than one way, but I'll come back to that.  The Heartbeats catch one's eye: on the street, in the office, in a subway, and that's saying something for a pair of headphones.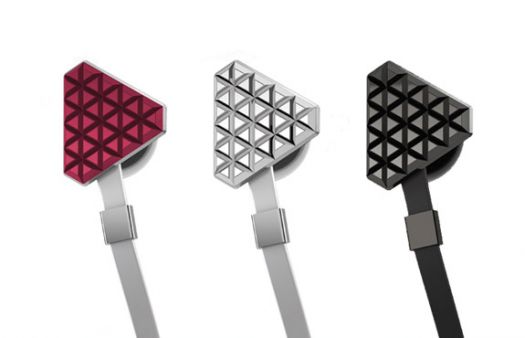 Maintaining that stylish appearance from the outset, the Heartbeats come packed in a nice box, and with their own little carrying case, shaped like the triangular earpiece design of the actual earphones.  Also in the box, you'll find ear tips of varying sizes - hopefully one that matches the inside of your ear for the best comfort and sound quality.  The earphone's cord is discretely flat, adding to their charm.

Performance

The sound quality of the Heartbeats ranges from excellent to tolerable, depending on their use. If you are sitting quietly with your headphones nicely tucked in your ears, the sound quality is great and you will enjoy all the crisp detailed music filling your ears. The difference in sound quality of these vs. the stock Apple earphones is profoundly, and immediately noticeable: the bass is deep and solid but it doesn't overpower the mids and highs. Little details in the music stand out more clearly than I'm used to hearing which gives me a better appreciation for good musical production.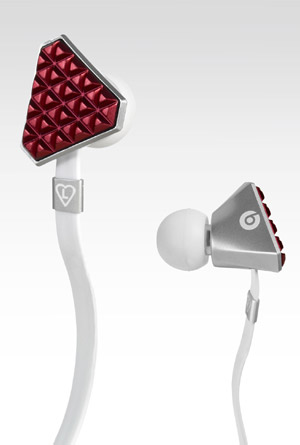 As long as you get a proper seal in your ear, the Heartbeats' design isolates you from outside noise very well. I have yet to try them on-board an airplane, but on a train or walking down the street, the outside world becomes less of a distraction from your music.  This is nice as it allows you to keep the volume levels lower without sacrificing audibility.  Meanwhile the earphones' flat cord design can minimize the microphonic effect that you can get on some in ear-canal earphones when you tap on or rub the cord.  That flat cord is also tangle-free, which comes in handy if you hurriedly throw these into a pocket or bag without carefully winding them up.
In terms of build quality, they seem fairly robust.  I have managed to have them pulled and stretched, and yanked in multiple directions (sometimes at the same time) and they still seem to be as good as new.
Ergonomics
Ergonomically the Heartbeats are not the most comfortable of earphones, at least not for my ears (the price of fashion?).  After wearing them for a while my ears start hurting and no amount of adjusting them will help.  I've tried all of the included inserts and none seems to provide a perfect fit, particularly if I actually start moving around.  And this gets back to that "popping out" reference I made earlier.  No matter which inserts I used, if I start walking or (heaven forbid) jogging, the earphones pop out of my ears every few minutes, requiring reinsertion and readjustment.
Perhaps my ear canal is an odd size, or perhaps Monster should consider also including foam earplug-like tips which seem to work better for some people who use in ear-canal earphones.  I also noticed that, when I was out and about, if I could keep the earphones in my ears, they sometimes added their own acoustic effects, which can be charming on some tracks but overall hampers my musical enjoyment. It's a peculiar sound, sort of like a tapping noise.  On closer inspection, it appears that the sound comes from the actual eartips themselves.
I continue to experiment with the various tips and placement, because, when they will stay in my ear, they do provide excellent sound, not to mention a noticeably different style.  The Heartbeats by Lady Gaga are also available in an iPhone/Smart Phone version with Monster's ControlTalk technology which includes a built-in microphone and volume control so you can take calls without missing a beat.  Expect to pay an additional $30 for the ControlTalk feature.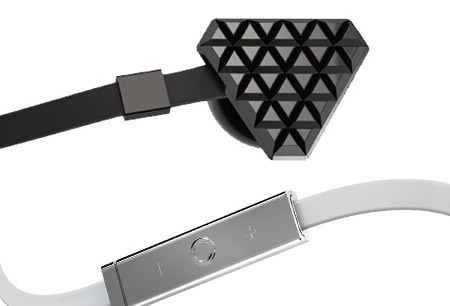 Style
Style is, of course, very subjective, but hey, like Lady Gaga, you either love them or hate them. They are loud (in appearance), bold and standout-ish.  In short, they embody the style of Lady Gaga herself, which may not be everybody's cup of tea but that is what attracts me to them. They have a unique design, which passers-by can't help but notice. The Heartbeats come in 3 different colors: black chrome, bright chrome and rose red. The black chrome has a black wire while the other two have white.  Each comes with a color-matched case.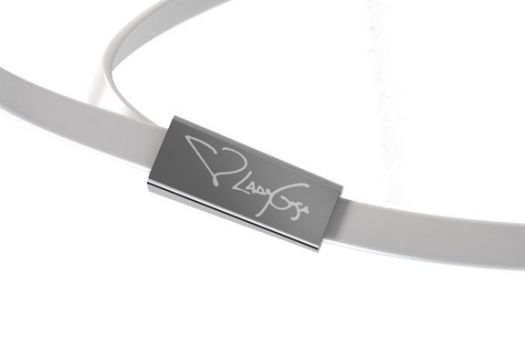 I've been informed by my editor that the "Ergonomics" score includes ergonomics, features and style/appearance (see what I mean about the industry not catering to us poor style-conscious fashionistas?).  As such I'm rating the Heartbeats as an average of three stars (out of four) in the ergonomics category - two stars for ergonomics/usability and four stars for style.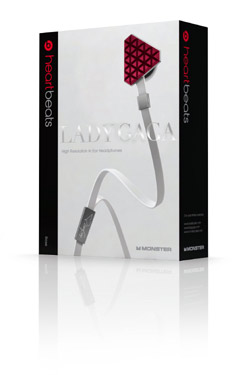 Turn Ons:
The style speaks for itself
Excellent sound quality when stationary
Flat, tangle-free cord
Turn Offs:
Uncomfortable fit
Hard to keep in your ear while mobile
Final Thoughts
$120 is fair amount of money to pay for a pair of earphones and there is quite a bit of competition in the price range. But if you want good performance and to stand out of the crowd, then the Heartbeats by Lady Gaga may be just what the doctor ordered.  Depending on your particular ears, you may or may not have the issues I experienced with getting them to stay put, but this is the kind of thing that probably must be tested individually.  If nothing else, consider them a fashionable style accessory that also happens to make beautiful music.  And in the words of Ms. G herself, "'Eh, eh (nothing else I can say)."
Where to Buy:
Manufacturer's Specifications
Connector: 1/8" (3.5mm) right-angle stereo mini-plug, 24K gold-plated
Cable Length: 46 inches
Color Options: Rose Red, Bright Chrome, Black Chrome
Warranty: Three Years (Limited)
MSRP: $119.95 ($149.95 with ControlTalk)
What's in the Box?
1 pair of Monster Heartbeats by Lady Gaga In-Ear Headphones
1 Carrying Case (color-matched to headphones)
Monster Performance Eartips in 5 sizes
Shirt Clip
Quick start guide
Manufacturer's Contact Information:
Monster Cable Products, Inc.
455 Valley Drive
Brisbane, CA  94005
ph: (877) 800-8989
On the web: