Hands-on with UltraViolet Digital Copy
By Rachel Cericola
Many Blu-rays and DVDs are being released with some form of Digital Copy these days. This bonus feature allows consumers to make movie purchases portable, via an iPod, iPhone, laptop, tablet or other compatible device. Since you paid for that flick, you should be able to enjoy it anywhere you want, right? Well, sort of.
To date, there have been two ways that users can enjoy the Digital Copy, assuming that the release actually comes with that little perk. Many releases include a Digital Copy file which is delivered on a DVD packaged with the film. This is usually paired with a code, which disc owners can use to "unlock" the Digital Copy after copying the file onto their PC. A code is only good for one user and it may expire if not used within a certain time frame.
Some studios are completely doing away with the disc, and making the Digital Copy available online for download to your local computer or to iTunes.  Most studios are offering buyers a choice between iTunes format and Windows Media Video (WMV) although some studios offer even more options such as Amazon VOD. Those packages also include a code, which is redeemable once to unlock your digital copy of choice via a studio web site or through iTunes.
Recently, Warner Bros. and some partners launched the latest take on Digital Copy called UltraViolet Digital Copy. The idea sounds wonderful: Pay for the movie once and receive unlimited access to that purchase from any device, at any time. We decided to take a closer peek at exactly how this service works.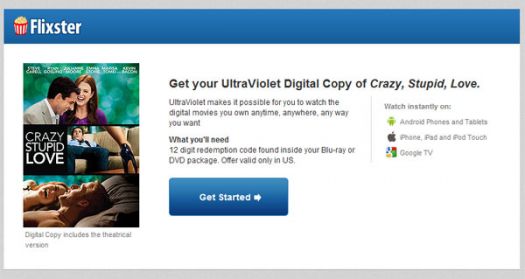 Ultra-Slim Selection
Currently, there are a handful of films offering the UltraViolet Digital Copy. We decided to test the service out with the recent release of Crazy, Stupid, Love. Other current UV titles include Horrible Bosses, Green Lantern, and Harry Potter and the Deathly Hallows - Part 2. If your disc has the UltraViolet Digital Copy, it will come with an UltraViolet Digital Copy code, which is located inside the Blu-ray packaging. Like many Digital Copy codes, the Ultraviolet Digital Copy code has an expiration date, so make sure to snag that freebie sooner than later!
To access the Ultraviolet Digital Copy, follow the URL listed on the sheet with the code. UltraViolet is hosted by Flixster, so in this case, the URL is ultraviolet.flixster.com/crazystupidlove.
Before you punch in the code, you actually need not one, but two accounts. The first is with Flixster. It's free, but does require a name, email address, and password. However, you're also going to need an UltraViolet account. This is also free, but also requires a user name and password. Why the two accounts? Well, free apparently is not easy.
The good news is that both accounts can be created through the Flixster site, and can even use the same user name and password. From there, just accept the terms of use, and enter that UltraViolet code. Once the film is loaded, you'll have a few ways to watch that purchase: On an iPad, iPhone, or Android device, streamed through a web browser via Flixster, through Google TV, and/or via a digital copy download file that lives on your computer.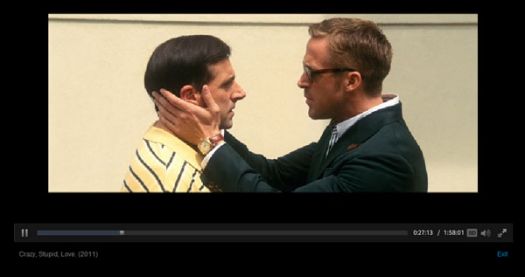 Many Ways to Access UltraViolet
But wait -- there's more! Each one of these options does require its own set of apps, downloads, and may involve its own set of obstacles.
To view that movie collection through an iPad, iPhone, or Android device, you're going to need an app for that. Movies by Flixster is free, and available through iTunes and the Android Market. First, we loaded the app to an iPod touch 3G, only to find out that the iPod touch does not feature support for UltraViolet streaming. This was slightly confusing and frustrating, seeing as the app is compatible the iPod touch and so is video streaming. Thankfully, we had an iPhone 3G on hand as well.
The iPhone does deliver access to UltraViolet streaming, but isn't compatible with Wi-Fi. In other words, you'd better have an unlimited data plan. Even more frustrating was the actual performance, since the movie needed to buffer every 30 seconds or so. In all fairness, it could have been our connection. However, we had no problems surfing the web and streaming through the Netflix app on the same phone, with the same connection.
Next, we decided to try watching the film through a web browser. The films stream directly through the Flixster website. Clicking on the Watch Now link popped open a new browser window and instantly started streaming the film. On-screen controls are fairly standard. There's the dual play/pause button, volume controls, and the option to go to a full-screen mode. It's important to note that if you want to fast-forward or rewind portions of the film, you're going to have to use the bar at the bottom of the screen; there are no unique buttons for those functions. Even more important: The film streams in standard definition. As with most of the other current Digital Copy solutions, there is no high-def option if streaming the film through a web browser. Having the full-screen option is nice, depending on your equipment. For instance, on our Gateway laptop, the film appeared a little pixelated in full-screen mode. However, on our much nicer HP desktop PC, the film looked great on the larger screen.
If you don't want to deal with streaming, there's an option to download the film, up to five times. While it's not exactly unlimited, it's nice to know that if there's a computer crash at some point (or many points), there's another download available. To download the movie, you will need both Adobe AIR and the Flixster Collections App.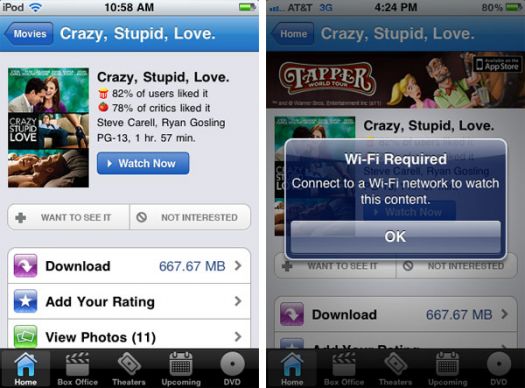 Getting dizzy yet? Well, maybe you should sit down for Google TV. This is supposedly another way to access UltraViolet films. How is it accessible through Google TV? That's the million-dollar question. We recently updated our Logitech Revue to the latest 2.1 firmware. This has added the Flixster app into the Google TV lineup. However, there was no access to UltraViolet through that app. After spending 30 minutes or so flipping around, we logged into our Flixster account through Google Chrome. There was our account and our movie. There was even a link about Google TV under the Watch Anywhere heading. That said, it was a broken link. The same link does work on our actual PC, but directed us to the Android Market. Huh?
We went back to our Flixster account and clicked the Watch Now option. We were then informed that we needed the latest version of Adobe Flash Player. However, when we tried to do an update on that, we got a message that we had the latest version. After our electroshock therapy was completed, we realized that popping in our Blu-ray was a much easier way to get the film on a larger screen -- and in HD!
It appears that UltraViolet has a few "rough edges" and what looks like some flat-out bugs. That said, if they work out these issues, it could be the wave of the future for content portability. We understand piracy is a major problem amongst studios. However, if you're actually willing to shell out money for a movie, it should be yours to use as you wish, where you wish. For now, the selections are limited. However, look for the UltraViolet logo on upcoming Blu-ray releases, including The Smurfs, Friends with Benefits, Cowboys & Aliens, and The Hangover Part II. For a full list of UltraViolet titles, check out the UltraViolet website.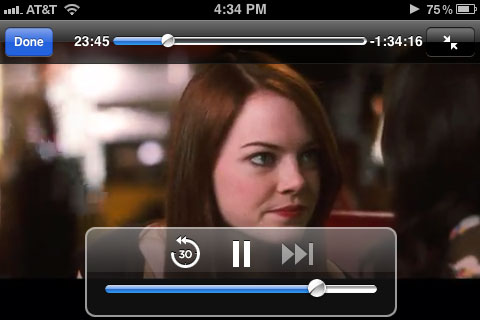 UltraViolet-enabled Blu-rays on Amazon:
For More Information: