Hands-On with Panasonic's 2011 Blu-ray Players: DMP-BDT310, DMP-BDT210, DMP-BDT110, DMP-BD75
By Chris Boylan
At CES earlier this month, we had a chance to get up close and personal with Panasonic's upcoming 2011 Blu-ray 3D Disc players, the DMP-BDT110 ($149.99 MAP), DMP-BDT210 ($199.99 MAP) and DMP-BDT310 ($249.99 MAP). This year, the company is offering these three Full HD 3D models, joined by a single non-3D Blu-ray player, the DMP-BD75 ($99.99 MAP). The themes to this year's series of players are simplicity, enhanced ergonomics, faster loading and even higher audio/video performance.  Here are a few details of what we should expect to see this Spring as the new players become available.
UPDATE:
Players are now available on Amazon.  Also, check out our full reviews below:
Panasonic 2011 Blu-ray Player:
Panasonic 2011 Blu-ray 3D Players:
First, the (Possibly) Bad News...
One thing we were surprised to see missing this year is multi-channel analog outputs, even on the top of the line model DMP-BDT310. Apparently in making the player smaller, faster, lighter (and cheaper), the beefy high-end analog output stages of previous year's models had to go. At this point, Panasonic assumes that most buyers of 3D-capable Blu-ray players have audio systems that support HDMI switching and audio decoding (or -- though it pains me to say it -- are using the TV's built-in speakers), so the multi-channel analog outputs are an unnecessary expense.

Also missing this year are component video outputs. This is primarily a side effect of the "analog sunset" rule which prevents players made after 12/31/10 from offering high definition analog outputs. Owners of early HDTV sets that lack HDMI or DVI inputs will need to explore third party converter boxes that convert digital video signals to analog. We were happy to see that the top-end BDT310 player still offers dual HDMI outputs, which are essential if you are using a non-3D capable HDMI-enabled audio/video receiver.

Making a Splash
One immediately obvious enhancement we find on the new generation of players is a brand new graphically oriented splash screen that greets us upon start-up. One of our repeated complaints with Panasonic's otherwise excellent Blu-ray players in the past has been the boring, unintuitive user interface. With so many entertainment playback options that do not require a disc (streaming services, DLNA, media playback from SD card or connected USB drive), it was time for Panasonic to acknowledge this and they have done so in the 2011 players.
Now, instead of a blank screen with a simple Panasonic logo or mysterious text menu, we see a graphical list of choices, organized by task or content type: Network, Video, Music, Picture and Set-Up. They've taken this one step further offering the owner the ability to customize the Home menu with their own custom wallpaper. Just load the image up onto an SD card and save it as your custom background image and you're done. A click through to the Set-Up menu brings up that same old text-heavy set-up menu, packed with various options to tweak the audio, video or network set-up. Frankly most consumers will not need to access that menu often, if ever, but reviewers like us appreciate having control over the finer points of video and audio processing.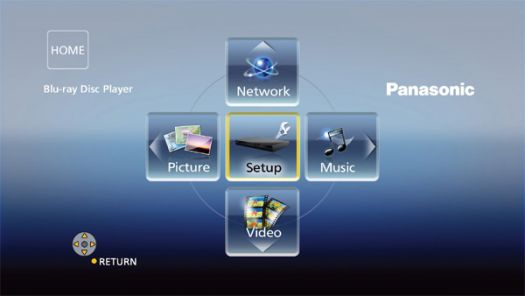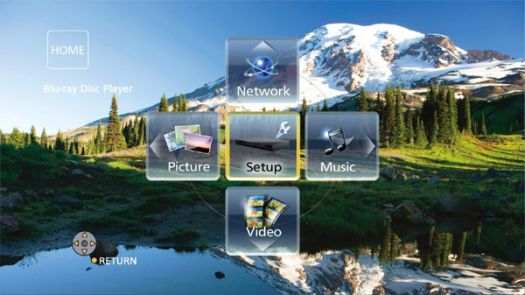 Additional enhancements to usability include a new iPhone app for remote control of your player from an iPhone, iPod Touch or iPad (in the BDT110 and higher) and a new touch-free sensor that allows you to open the player's disc tray with a wave of the hand.  This feature, available in the DMP-BDT210 and BDT310 only, can be disabled if your player is in a high traffic area.
Go Green or Go Home
Those who are environmentally conscious will be happy to hear that the new players help the environment in two ways: lower power consumption (48% to 54% power savings over 2010 models) and reduced packaging due to smaller size.  You can enjoy these performance and convenience enhancements without feeling guilty.

We're All Connected
On the networking side, Panasonic is offering its VIERA Cast network capabilities to all players in the line, with the BD75 and BDT110 requiring a wired network connection and the BDT210 and BDT310 offering integrated 802.11n WiFi.  In 2011, Panasonic is adding CinemaNow to the VIERA Cast suite on Blu-ray players, joining network streaming staples such as Pandora, Amazon Video on Demand, VUDU, YouTube and Netflix, already available on the 2010 players. Although the main CES press conference mentioned that Hulu Plus would be available on Panasonic's 2011 VIERA televisions, no similar announcement has been made (yet) for Panasonic Blu-ray players.
According to Panasonic reps, the Netflix interface on the 2011 players will be the new "Netflix 3.0" version which allows search and browse of available titles, not just viewing of your instant queue.  And while they've made the remote even smaller, they have added individual buttons for both Netflix and Skype.


Speaking of Skype, the video calling feature has also been ported to the Blu-ray players this year, previously available only in select Panasonic TVs (requires an optional webcam attachment). They've enhanced this feature with the ability to receive video "voice mail" from Skype callers when you're either not home or "otherwise indisposed." Those who are heavily into downloading content or creating their own high definition videos will be happy to see that Panasonic has added support for playback of the MKV video container format. MKV files can now be played back via a DVD or BD Rom disc or an attached USB drive.
What's Better than Outstanding?
On the video performance side, Panasonic continues to enhance their proprietary Uniphier video processing technology, improving their chroma upconversion processor yet again. This latest version of the UniPhier processor allows you to see improved detail on both DVDs and Blu-ray Discs, particularly along colored borders and edges. This is most noticeable when viewing movies on large flat panel televisions or front projection home theater systems. Panasonic has also fixed the chroma processing error that we discovered in the 2010 model year 3D-capable players (DMP-BDT100, DMP-BDT300 and DMP-BDT350), when streaming standard definition content from Netflix.  This will be welcome news to those who stream a lot of standard def content.
In fact, not only have the elimintated the "chroma bug" but they've now brought their upconversion and chroma processing technology into the loop for all streaming video sources.  Previously only disc-based content (DVDs and Blu-ray Discs) reaped the full benefits of Panasonic's UniPhier processor.  Now VUDU, Netflix, Amazon VOD and more video sources will be enhanced by the UniPhier's chroma upconversion and scaling technology.  So picture quality should be noticeably improved when viewing both standard def and high def streaming video sources, compared to previous players and to other brands' players.
On the 3D players, a 2D to 3D conversion option will be offered as well as the ability to tweak the depth of field for any content (native or upconverted 3D). So if you're someone who is bothered by the effects of 3D, you will be able to tone down the 3D effect.  While this is not necessarily recommended as it may disturb the film-makers intent, it is nice to have the option to tweak this in addition to the other video settings.
Better Sound, Too
For audio performance, Panasonic has enhanced their "jitter purifier" technology, which they're now calling "Pure Sound." This feature effectively reduces the digital jitter from both PCM and bitstreamed digital outputs by improving the stability and accuracy of the digital clock. This is available on all of the 3D-capable players.  They've also added a few new tube sound effects to their repertoire, emulating the sonic characteristics of various different vacuum tubes for audiophiles who appreciate that warm tube sound but aren't willing to invest in actual tube amplifiers.
I Don't Want to Wait... for this Disc to be Loaded
One other area that Panasonic claims to have improved significantly is boot-up time and disc loading speed. The 2010 Blu-ray players were not the most sluggish we have seen (that honor goes to Pioneer) nor were they the perkiest either. Panasonic says that the 2011 players are twice as fast as the 2010 players, and this improvements carries through the line from the entry-level to the top of the line.  From some initial testing, it does appear that loading and start-up times have improved, but we'll need to get these in for a full review in order to provide accurate measurements.
Some of the above features are available throughout the line, and some are only available in the higher end models.  So below is a handy guide to the differences between Panasonic's 2011 Blu-ray Player models.

DMP-BD75 Blu-ray Player (baseline features)
New GUI
Ultra-Fast Booting and Disc Loading
Wired networking
MKV (and other media) playback
Media Playback from USB port
DLNA local media streaming capabilities
Netflix, CinemaNow and other select streaming services
Basic HDMI-CEC control
MAP: $99.99

DMP-BDT110 Blu-ray 3D Player
All of the features of the DMP-BD75 plus:
Blu-ray 3D playback
3D Effect controller and 2D to 3D conversion
Advanced VIERA Connect platform including Skype Video Calling
VIERA Link (enhanced HDMI-CEC controls)
Media Playback from USB and from SDXC slot
iPhone control
Adaptive Chroma Processor for improved picture
"Pure Sound" jitter purifier for enhanced audio performance
MAP: $149.99

DMP-BDT210 Blu-ray 3D Player
All of the features of the DMP-BDT110 plus:
Integrated WiFi Networking
Touch-Free Sensor for easier disc tray opening
Tube Sound Effects
MAP: $199.99

DMP-BDT310 Blu-ray 3D Player
All of the features of the DMP-BDT210 plus:
Dual HDMI outputs for compatibility with pre-3D HDMI receivers
MAP: $249.99
That's a Wrap
Overall, we like what we've seen in Panasonic's 2011 Blu-ray Disc players. The splash screen and user interface improvements, higher performance video and audio processing and improved loading speeds are all welcome enhancements. Although audiophiles with older equipment may bemoan the lack of multi-channel analog outputs, and owners of older analog-only HDTVs will be disappointed by the lack of component video outputs, these are the sign of the times when it comes to the digital revolution.  More details will be revealed when we get these players in house for detailed reviews.
Note: Pricing added on 2/7 as these players are now available to pre-order on Amazon.com.
Related Article:
Where to Buy: