HDTV Spotlight: What Makes the Samsung F8500 Plasma TV So Special?
By Chris Boylan
At CES this year, while 4K and OLED were the talk of the town, it was a couple of more traditional HDTVs that caught our eye, one of which was Samsung's F8500 series plasma TV. Referred to by Samsung as the "Ultimate Contrast" television, the F8500 features improvements in overall brightness as well as deeper blacks compared to its predecessors. Put together, this means the set offers impressive contrast and can perform well even in brightly lit rooms.
We were able to spend some quality time with the F8500 this week at a private Samsung event in downtown Manhattan and found out a little bit about what makes this marvel of technology tick.
The brightness (luminance) enhancement comes primarily from a reduction in thickness of the plasma cell wall which surrounds each of the three sub-pixels (red, green and blue). The subpixels make up each of the 2 million plus pixels on the TV. Because there is less of a gap between each sub-pixel, this means each sub-pixel can be larger and can generate more light. This feature is exclusive to the F8500 series.  Also, the discharge gas formula of the plasma itself has been tweaked this year to allow greater output. This also contributes to the brighter image.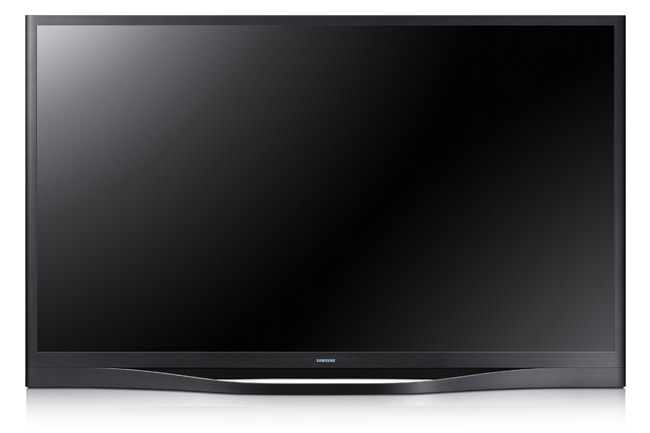 As for the black level improvements, Samsung engineers attribute this to the newly enhanced "carbon nano" filter called "Real Black Pro" which coats the glass of the plasma screen. This isn't simple "window tint" that makes everything darker, but a specially designed formula and screen structure which passes light outward from the TV transparently while absorbing ambient light in the room. This allows the blacks to stay dark without being washed out by ambient room lighting. If you have bright lights directly behind your viewing area you will see some light reflected by the screen but it's fairly diffuse and greatly minimized compared to a plain glass screen.  Improvements made this year to the filter's efficiency (its ability to pass light to the viewer) actually improve brightness as well, so the filter contributes to both the better blacks and brighter whites.
While some other 2013 plasma models include this filter, the version in the F8500 is an enhanced version (hence the "Pro" designation) making this another feature unique to the F8500
On the processing side, the F8500 plasma offers a new "Black Optimizer" function. This feature can stretch the set's brightest white from 235 to 255 (on a brightness scale of 0 to 255). Why would this matter? This processing allows the typical peak brightness in most content (235) to come closer to the set's actual maximum light output (255).  So this produces higher peak white output as well as smoother gradations on real world content, not just test patterns. And if the processor detects that there is actual picture information in the range between 235 and 255 on the program material, then it scales back the processing so as not to "clip" the whites or wash out those white details.
This can be particularly helpful in brighter rooms, where that extra bit of peak brightness makes a big difference. You can set the "Black Optimizer" to "Bright Room," "Dark Room" or "Automatic" (the default) which uses an ambient light sensor on the TV to decide when to make the adjustments.
A second component of the Black Optimizer is a proprietary reset pulse algorithm which improves the black level performance and is active when the Black Optimizer is set to "Dark Room," "Bright Room" or "Auto." There is actually an "Off" setting in the Black Optimizer which disables both the brightness enhancements and the reset pulse, but really the only purpose for the "Off" button is to see what you would be missing without it.  Most users will be happy with the set in the "Auto" mode and purists will probably want to keep it in the "Dark room" setting.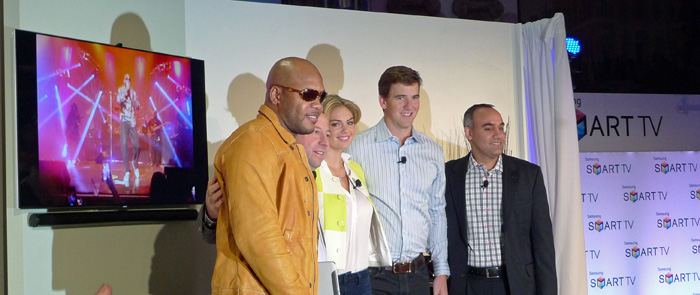 For further picture quality improvements, the F8500 series gets Samsung's new "Intelligent Viewing" mode, which optimizes the picture processing for the content. In other words, if you're viewing a low quality streaming source like a YouTube video, the set will adjust its noise reduction and scaling algorithm to squeeze more detail out of the image and minimize artifacts. However, if you switch over to a high quality source like a Blu-ray Disc, the set automatically minimizes the processing to let that high quality 1080p image shine through. As with the Black Optimizer function, "Intelligent Viewing" can be turned off if desired.
In terms of content and operation, the F8500 gets Samsung's new improved Smart Hub. Streaming content and apps are now laid out more logically than in earlier models, grouped by category on separate pages with an enhanced swipe-based remote with touch pad that enables quick intuitive navigation. And now a unified search function allows you to search for programs across multiple sources (e.g., Netflix, Amazon VOD, TV listings, etc.) to see if your favorite movie (or actor, or director) is available on live TV or via one of your streaming services.
Enhancements have also been made to the F8500's voice-controlled operation with a new "S-Recommendation" feature that responds to your spoken commands.  Just ask the TV for recommendations on what to watch and it will make suggestions based on your previous viewing history.
At the event, Samsung also revealed pricing and availability of its 2013 PDP line-up, including the F8500 series. The F8500 plasma is expected to begin shipping in late March in 51-inch, 60-inch and 64-inch screen sizes priced from $2,199 to $3,699.  Samsung reps said that the distribution channels for the F8500 would be "limited" but no additional details were available on which dealers would get them.
2013 Samsung PDP Line-Up
| | | | | |
| --- | --- | --- | --- | --- |
| Series/Model | Model Number | Size Class (inches) | Estimated Selling Price | 2013 Availability (Est.) |
| F8500 | PN64F8500 | 64 | $3,699 | Late March |
| F8500 | PN60F8500 | 60 | $3,199 | Late March |
| F8500 | PN51F8500 | 51 | $2,199 | Late March |
| F5500 | PN64F5500 | 64 | $2,099 | April |
| F5500 | PN60F5500 | 60 | $1,199 | April |
| F5500 | PN51F5500 | 51 | $849 | April |
| F5300 | PN64F5300 | 64 | $1,499 | Available Now |
| F5300 | PN60F5300 | 60 | $949 | Available Now |
| F5300 | PN51F5300 | 51 | $649 | Available Now |
| F4500 | PN51F4500 | 51 | $549 | Available Now |
| F4500 | PN43F4500 | 43 | $399 | Available Now |