HDTV Deals: Sharp 46-inch LC-46SV49U 1080p LCD TV: $479.99 Shipped (Save $320)
By Rachel Cericola
Just last week, we were talking up the various LCD TVs available in our LCD TV Buyers Guide for 2012. A lot of manufacturers are still cranking out LCD TVs in a lot of different sizes. However, Sharp isn't one of them. The company doesn't have anything new for the LCD category this year, but last year's model is just as good. It's also cheap.
We found Dell selling the Sharp 46-inch LC-46SV49U 1080p LCD TV for just $479.99. To get this price, you're going to have to type in the coupon code SDLRT?LW1QR3C6 during the checkout process. That will knock an extra $10 off the cost, making your total savings $320. The price even includes free shipping! To find out more about this model and this deal, check out the LC-46SV49U product page on Dell.com:
Perfect for the living room, bedroom, basement or anywhere else in the house, this 46-incher has a full 1080p HD image. Just don't expect it to come packing any web-based features. That's fine, though; with the money you're saving, you can easily add in a Roku box or even a gaming console.
The set does offer plenty of room for those add-ons, as well as a Blu-ray player or receiver. The LC-46SV49U has four HDMI inputs, one component input, and a PC input.
When placing your order, make sure to use the coupon code above to get the lowest price possible. However, you'd better do that quickly; Dell says that the coupon will expire on Friday, August 3, 2012.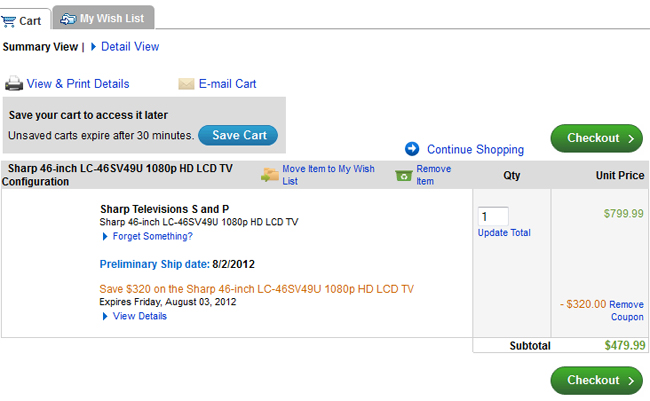 Please note: all deals posted on Big Picture Big Sound are current as of the posting date and time. These deals are frequently time- or stock-limited and generally do not last. Final pricing and stock are determined by the individual deal provider, not by Big Picture Big Sound so you will need to click through on the offer link to see if it is still available. Through our affiliate relationships with many online vendors, Big Picture Big Sound may earn a small commission on any referred sale.