Green Room Review
By Matthew Passantino
Go Green
Tense, disturbing, bloody, twisted, weird and dark. This is writer-director Jeremy Saulnier's "Green Room." Also, it's pretty great.
Saulnier's calling card, "Blue Ruin", a tiny little revenge picture, made the filmmaker one to watch after that movie was released a few years back. "Green Room" is his follow-up, where he ups the crazy from his last movie. There were audible expletives shouted from fellow moviegoers in my showing, in reaction to what occurs on screen.
When the film opens, we are introduced to a punk rock band of 20-somethings, who have fallen asleep in their van. Pat (Anton Yelchin), Reece (Joe Cole), Sam (Alia Shawkat) and Tiger (Callum Turner), travel around trying to find a good enough gig to make some money just to get by. They're pretty desperate and often have to siphon gas just to get to their next location.
The band is promised a gig, which eventually falls through. The event was going to pay a good amount of money and since everyone in the band essentially has nothing in their pockets, they were excited for the opportunity. Instead, they are offered a replacement show at a sketchy bar in the middle of the woods. Nothing about the exterior of the bar promises a good time but the band is not in any kind of a position to turn down a show.
How could I forget? The bar's clientele is made up entirely of skinheads.
The vibe of the bar feels dangerous from the minute the band enters. They play their show, which is met with a mix of headbanging and beer bottles being thrown at them. Once they're done, one of the bar's employees, Gabe (Macon Blair, who was the lead of "Blue Ruin"), tries to get the band out immediately. Pat goes back into the titular green room to grab Sam's charger and walks in to someone laying on the floor with a knife in her temple. Cue the mayhem.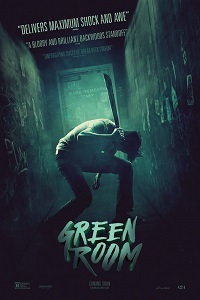 Things explode once people at the bar realize the band have witnessed the murder. They keep themselves barricaded in so that those skinheads who want them dead can't get to them. The bar's owner, Darcy (Patrick Stewart), is called in to get a hold of the situation.
From the moment Stewart's foot steps out of his car, his presence is frightening. Stoic and intimidating, this is Stewart as you've never seen him. Yelchin and Shawkat deliver convincing, terrified performances amongst the chaos. Imogen Poots is strong as well, as another captive of the green room.
What's great about Saulnier's films is that he expertly crafts a moody atmosphere to create tension. "Blue Ruin" and especially "Green Room" have shocking moments of bloody violence but he uses the gore and guts to punctuate the tension. His stories don't rely on shock value. (Let me state: "Green Room" is plenty violent.)
Saulnier is an exciting new voice in modern horror. Thematically, "Green Room" may seem like a been-there game of cat-and-mouse but Saulnier's voice feels refreshingly new. Horror fans, rejoice.