Going in Style Review
By Lora Grady
Points for Style
The ongoing economic crunch seems to have birthed a new movie subgenre; let's call it the "hard luck heist comedy." Last year's excellent "Hell or High Water," about a pair of Texas brothers on a short-term crime spree, was a stellar example. Now comes "Going in Style," about a trio of retirees who launch a bank robbery in their Brooklyn neighborhood. Both films feature mortgage woes and shady bank dealings as the jumping off point where otherwise law-abiding citizens are driven to undertake an audacious crime in order to keep a roof overhead.
In "Going in Style" we meet mild-mannered retiree Joe (Michael Caine, "Interstellar") as he drops in at his local bank to investigate the puzzling notice he's received. The bank clerk unsympathetically explains that Joe's behind on his mortgage and in danger of losing his house; it seems that the bank had lured him in with a "special teaser rate" that's expiring, and now Joe's payments are skyrocketing. As Joe was trying to negotiate with the smug banker, armed men in suits burst through the door. Suddenly, Joe's trapped in the middle of a bank robbery.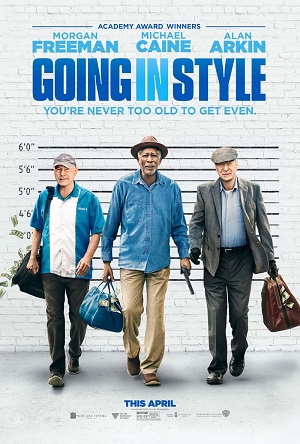 Later Joe meets up with longtime buddies Willie (Morgan Freeman, "Lucy") and Albert (Alan Arkin, "The Incredible Burt Wonderstone"). They're all retirees from the same nearby factory, and together they learn that the company's folding up its local operations, moving overseas, and cutting off their pension payments. Of course this ratchets up the financial stress for Joe; with no income he really can't pay that hefty mortgage, and his family will be out on the street. He's seen one successful bank robbery take place; think he's going to be inspired?
"Going in Style" is frothy fun despite its gloomy economic trappings. The three leading men are pros at this, and it's entertaining to watch them play off each other. Mr. Caine's Joe is the ringleader, and he quickly engages Willie, who's got some pricey health problems, in his scheme. The curmudgeonly Al is resistant at first - he's got his hands full fending off the advances of friendly local widow Annie (the agelessly sexy Ann-Margret, "Lucky") - but he comes around, and the trio appear to be having the time of their lives as they prep for the heist. There's recon to accomplish, disguises to lay out, and the selection of a comically unlikely getaway vehicle. There's even a fitness routine that has them hustling around the local reservoir, resplendent in matching velour jogging suits.
Director Zach Braff ("Garden State") keeps things breezy with a light touch throughout, though there is some genuine suspense in waiting to see how this unlikely scheme will unfold. The three masterminds have chosen the day of their men's club fundraiser carnival to launch their assault on the bank, and the story loops around following the heist to explain how they cleverly used the outdoor festival as cover for their crime. Anyone who enjoys watching a caper play out will enjoy seeing what works for them...and what goes wrong.
There's not much in "Going in Style" to stretch the acting muscles of these three thespian heavyweights, but fans of Mr. Caine, Mr. Arkin, and Mr. Freeman should enjoy the outing. There's plenty to chuckle at, including a priceless attempt to relieve a local grocery store of some of its inventory that culminates in two of the trio making a slow-speed getaway on a motorized shopping scooter. And, there are a few lessons to learn here as well: one, that sometimes you just have to take justice into your own hands; and two, that it's really never too late for a career change.