Go Portable, Go Solar This Summer: Big Discounts on GoalZero Gear
By Rachel Cericola
The sun has been shining a lot lately. That probably (hopefully) means that you're starting to spend more time outside, whether it's for work or play. Now that you're moving the party outside, you're going to want to start taking some of those must-have electronics with you.
We've seen a lot of people run a massive power cord out to the backyard or even stock up on what looks like a lifetime supply of batteries. That said, you could have the sun power some of those precious portables. That's right; besides giving you a nice bronze, the sun can actually help you power up a variety of portable devices. If you've been considering solar, now is a good time to indulge. Vann's is discounting a ton of solar goodies from a company named Goal Zero.
For a limited time, Vann's is slashing prices on 12 different Goal Zero products. Check out the entire selection on the main sale page: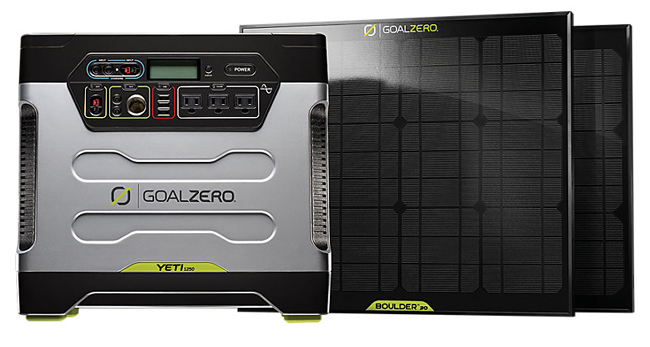 There are a few simple, inexpensive selections, such as solar-powered speakers and lights. However, there are also solutions that just could make you into a sun-worshipper.
For instance, if you are an avid outdoorsman (or woman), you may want to take a peek at the Goal Zero Guide 10 Plus rechargeable battery pack. Perfect for hiking or the beach, this lightweight solar charging device is perfect for your pocket or backpack. It can power up rechargeable AA or AAA batteries or you can just hook it directly to a device. Either way, you can have power for your portables wherever you go -- and you can have it for cheap. Right now, Vann's is slashing $40 off this device, making you the price just $119.95, which also includes free shipping.
If you're in need of something that will power up more than just a few portables, check out the Goal Zero Yeti 1250 solar generator kit. This isn't for a day at the beach or camping. This is more for the person that's prone to power outages. It's a back-up generator that's easy-to-use and powerful enough to keep the refrigerator, stereo, or even home healthcare equipment all going strong. It can power up from the sun, the wall, or even a car. Also, you don't have to worry about keeping this thing a certain distance from your house. Because the power comes from the sun or the wall, the Goal Zero Yeti 1250 can operate inside your house, cabin or even a tent. At last peek, Vann's was slashing $200 off this solar generator, making the price just $1799.95. Find out more about these products and everything else on sale at the Vann's website:
We're not sure how long Vann's plans to discount these items. In other words, you'd better buy up something soon before the summer hits -- or the retailer runs out of stock!
Please note: all deals posted on Big Picture Big Sound are current as of the posting date and time. These deals are frequently time- or stock-limited and generally do not last. Final pricing and stock are determined by the individual deal provider, not by Big Picture Big Sound so you will need to click through on the offer link to see if it is still available. Through our affiliate relationships with many online vendors, Big Picture Big Sound may earn a small commission on any referred sale.