Fully Immersed: Best New Dolby Atmos Blu-ray Discs: Deepwater Horizon, Miss Peregrine, Secret Life of Pets, Suicide Squad, Sully
By Greg Robinson
Fully Immersed, Volume 6
Happy New Year!  Here's hoping the holidays brought you some down time and that your New Year's resolution of adding height channel speakers to your home theater is well underway. Earlier this month at CES, we saw more manufacturers (such as Oppo) jumping into the Ultra HD Blu-ray game. Hopefully this means we'll continue to see an increasing number of software titles coming to disc featuring Dolby Atmos or DTS:X sound. Here are a few immersive audio titles recently released or coming soon:
Blair Witch (Dolby Atmos) - Blu-ray (Lionsgate)
Girl on the Train (DTS:X) - Blu-ray, 4K Ultra HD (Universal)
Battleship (DTS:X) - 4K Ultra HD (Universal)
Resident Evil: Afterlife (Dolby Atmos) - 4K Ultra HD (Sony)
Inferno (Dolby Atmos) - 4K Ultra HD (Sony)
Jack Reacher: Never Go Back (Dolby Atmos) - Blu-ray, 4K Ultra HD (Paramount)
John Wick (Dolby Atmos) - Blu-ray, 4K Ultra HD (Lionsgate)
Billy Lynn's Long Halftime Walk (Dolby Atmos) - 4K Ultra HD (Sony)
Hacksaw Ridge (Dolby Atmos) - Blu-ray, 4K Ultra HD (Lionsgate)
I hope to cover several of the above titles soon but here's what I've been listening to recently...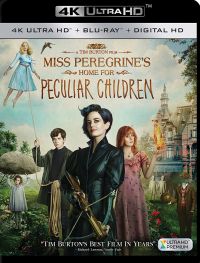 Miss Peregrine's Home for Peculiar Children
Fox | Buy Now | Dolby Atmos available on 4K Ultra HD only
If Miss Peregrine's School of Witchcraft and Wizardry, err, School for Gifted Youngsters, err, School for Peculiar Children feels familiar, that's because it is. In Tim Burton's adaptation of Ransom Riggs' YA book series, Miss Peregrine (Eva Green) oversees a gaggle of youngsters whose special powers warrant that they be kept apart from regular folks and away from the dangers of Samuel L. Jackson and his eyeball-eating band of baddies. (Don't ask.) With a bland protagonist (Asa Butterfield) and the luminous Eva Green given too little to do, Miss Peregrine relies too heavily on its weirdness, and it often feels like it's trying too hard.  On the bright side, Fox's Dolby Atmos soundtrack is pretty fantastic with moments of compelling immersion. One standout sequence happens early in the film, when Jake (Butterfield) and Emma (Ella Purnell) visit an underwater shipwreck and Emma blows all the water out of the large room they're in.  The overheard channels are used to great effect both during the dive down and while the water rushes out of the cavernous space.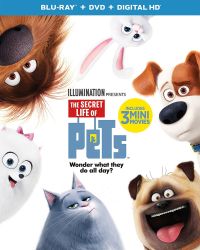 The Secret Life of Pets
Universal | Buy Now | Dolby Atmos available on Blu-ray, 4K Ultra HD
We already know what toys do when their humans aren't around to play. They talk to one another, laugh, play, organize, and have adventures of their own. Ah, but what about your pets?  What do they do when you head off to  work and they're left alone for hours?  Turns out they behave a lot like toys. From the makers of Despicable Me, Minions, and most recently Sing, Pets is chock full of capable voice talent, including Louis C.K. as Max the dog and Kevin Hart as a sociopathic bunny named Snowball. As impressive as the film's animation is, Universal's Dolby Atmos soundtrack is every bit as good. Although I didn't notice a lot of discreet use of the overhead channels, the overheads are used extensively throughout the film to round out the soundstage thanks to adept mixing which adds weight and excitement to the film's numerous action sequences. Music is lively and often extends well into the room thanks in large part to the additional channels Atmos provides.
Sully
Warner | Buy Now | Dolby Atmos available on Blu-ray, 4K Ultra HD
I've seen more than a few articles this past week listing Tom Hanks (actor), Clint Eastwood (director), and Sully (the film) among the "Oscar snubs" in reaction to the recently-released Academy Award nominations. I'm going to have to side with the Academy on this one. Don't misunderstand me: pilot Chesley "Sully" Sullenberger is a bonafide hero and he absolutely deserves the accolades he received for his incredible Hudson River water landing in 2009. However, as a dramatic film and character, there just isn't a lot of meat on the bone here. At the end of the day, Sully is a regular guy and everyone on the plane survives - a fact you probably know going in. Eastwood's film is technically accomplished, and Hanks is highly capable as always (if a bit dull here), but there just isn't much to write home about.  Warner's Dolby Atmos soundtrack, on the other hand, is another story altogether. Every scene inside the airport and onboard the aircraft takes full advantage of the overhead channels. From diffuse PA announcements and robust engine revving to more discreet sounds such as overhead bins latching and the cabin door closing, this impressive Atmos track fully immerses the listener and closing your eyes, you'd swear you're on board US Airways flight 1549.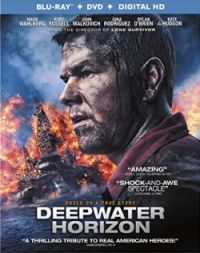 Deepwater Horizon
Lionsgate | Buy Now | Dolby Atmos available on Blu-ray, 4K Ultra HD
Unlike the near miss and miraculous averted disaster at the heart of Sully, the real world events that inspired Peter Berg's Deepwater Horizon tell a far more tragic tale. Operated by British oil company BP, the Deepwater Horizon was a semi-submersible oil drilling rig working in the Gulf of Mexico in 2010 when a natural gas explosion killed 11 crew members, injured 17 others, and ultimately spilled nearly five million barrels of oil into the gulf before the underwater well was finally capped. Berg's film pulls no punches in pointing the finger at the greedy and impatient BP and Transocean executives, but it all makes for a compelling (and frankly, believable) escalation in the lead-up to the impending catastrophe. And once this slow burn does come to a boil, you'll want to have that volume knob handy because this Dolby Atmos soundtrack is brutally fantastic. Muted underwater sounds create a convincing sense of depth. And when the shit hits the fan, pipes burst, walls crumble, and flames rage from all directions including directly overhead. The result is a riveting sequence guaranteed to have you on the edge of your seat.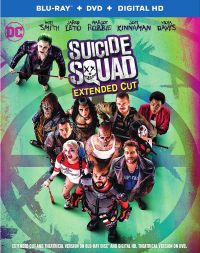 Suicide Squad
Warner | Buy Now | Dolby Atmos available on Blu-ray, 4K Ultra HD
Although Sully saves the day, it's fair to call both Sully and Deepwater Horizon disaster movies.  Suicide Squad is just a straight up disaster. Full stop. I don't think it's an exaggeration to say that Suicide Squad may one day be studied in film schools as a cautionary tale of how not to make a movie. A perfect storm of bad ideas, Suicide Squad is worth watching if only to help me figure out what Writer/Director David Ayer was thinking. Apart from Viola Davis - who's more intimidating than Will Smith and all the rest of these clowns - and Margot Robbie, who at least seems to be having fun,  there isn't much to recommend here, cinematically at least.  Technically, Warner's Dolby Atmos soundtrack does at least do a solid job of distracting us from the script's stupidity. Most of the film's big action moments are accompanied by equally big, familiar songs - only some of which seem appropriate. The robust low end and overhead channels help round out these music-heavy sequences and the accompanying on-screen mayhem, but the overhead channels sadly don't get much else to do.
More Information:
Reviewed Using: