Finding Dory Blu-ray Review
By Rachel Cericola
The Film
It's been 13 years since Finding Nemo, which still stands as one of Disney's best films. It never fails to make you laugh, make you cry, and keep you entertained overall.
So it makes sense that Disney would still want to put out a sequel, even after all this time. Finding Dory is another adventure that will have you running through every emotion possible during its mere 97 minutes.
The film kicks off by introducing us to a young Dory (voiced by Sloane Murray), the regal blue tang with short-term memory loss. She spends her early days frolicking with her parents (Diane Keaton and Eugene Levy) and getting easily distracted by things like sand and seashells. In no time, we see Marlin (Albert Brooks) and Nemo (Hayden Rolence) and find out the three are still quite close. So when Dory goes in search of the parents she separated from years before, you can expect those two to be included. Of course, there's also an aquarium's worth of colorful, new characters, most notably Hank the octopus (Ed O'Neill), Destiny the whale shark (Kaitlin Olson), Bailey the beluga whale (Ty Burrell), a pair of sea lions (Idris Elba and Dominic West), and even Sigourney Weaver.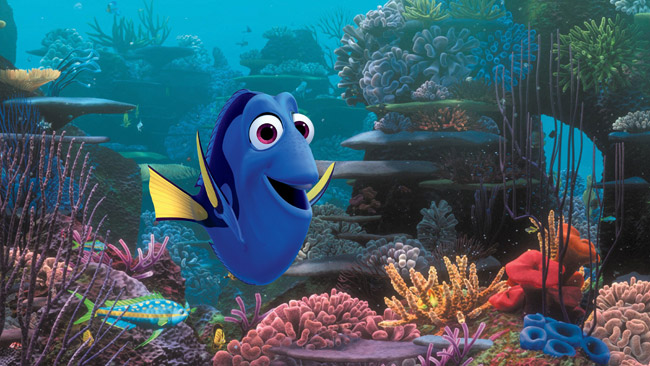 Finding Dory doesn't necessarily tread through new waters. There's a search, a forgetful Dory, and a bit of whale speak. However, beautiful animation, fun characters, and gorgeous scenery more than manage to keep this film afloat.
The Picture
Back in 2012, we gave the Finding Nemo Blu-ray four stars for the image (and a Biggie award for the overall release). As you can imagine, Disney wasn't going to put out something that was subpar for this long-awaited sequel. The 1.78:1 image is nothing short of stunning. It has a slew of great characters and underwater imagery that's filled with details. The scales on Dory's face, Marlin's worry lines, Hank's texture and tentacles, the sand on the seafloor, and the surrounding scenery; it's all simply gorgeous. However, the color is the star here. Dory's blues, the multi-color clownfish pair, the contrast under the water, the bright coral, and everything else under the sea is absolutely beautiful. It's a real joy to watch.
The Sound
Disney has yet to jump into Dolby Atmos, which is a real shame when it comes to a release like this. After all, if you want to truly swim with the fishes, it should be as immersive as possible, no? While I am griping, I should point out that this Blu-ray defaults to the 5.1 track. However, it does include a fuller 7.1 DTS-HD Master Audio mix, so make sure you make the necessary tweaks before you start the film. It has a great mix of sound effects, score, and dialogue, all of which blend beautifully throughout the movie. While there are a lot of interesting surround sounds beyond the tank, it's those underwater moments that are the most enveloping. And despite the lack of Atmos, it really is an enjoyable track.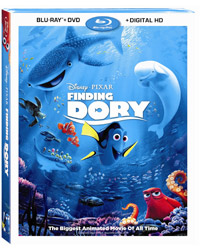 The Extras
Disney has included a separate disc for Bonus features, but there are plenty of extras on the Feature disc as well.
The Feature disc has a commentary track and a little extra animation, as well as shorts on the voice cast, the real-life creatures, animating Hank the octopus, and building an entire film around a character like Dory. The Bonus disc kicks off with Behind the Scenes, a five-part look at the film, which covers art, music, computer animation, outtakes, and -- well, emojis. There are also eight deleted scenes, four trailers, and four "Living Aquariums." The latter is sort of like wallpaper for your TV, with relaxing shots of the "Sea Grass," the "Open Ocean," "Stingrays," and a "Swim to the Surface." The highlight of this collection is Piper, a new short that's included on the Feature disc. The 6-minute peek at a sandpiper finding her way (and her way to food) features stunning animation and a sweet story. I'm guessing it will scoop up another Oscar for Disney when the time comes next year.
Final Thoughts
Finding Dory isn't the best Disney film. It's not even the best Disney sequel. Because it's very much like its predecessor, there are parts that don't seem all that original. That doesn't mean it's not a wonderful film. The characters are creative, the scenery is beautiful, and the story is entertaining. It's a huge bonus that this is a great Blu-ray, with stunning visuals, an engaging audio track, and a fun collection of extras. Make sure Finding Dory finds its way into your collection.
Product Details
Voice Actors: Ellen DeGeneres, Albert Brooks, Hayden Rolence, Ed O'Neill, Kaitlin Olson, Ty Burrell, Diane Keaton, Eugene Levy
Directors: Andrew Stanton, Angus MacLane
Audio/Languages: DTS-HD Master Audio 7.1 (English), DTS-HD High Resolution 5.1 (English), Dolby Digital 5.1 (French, Spanish), Dolby Digital 2.0 (English), DVS 2.0 (English)
Subtitles: English, English SDH, French, Spanish
Aspect Ratio: 1.78:1
Number of Discs: 3
Rating: PG
Studio: Disney
Blu-ray Disc Release Date: November 15, 2016
Run Time: 97 minutes
List Price: $39.99
Extras:

Feature Disc:

Piper
Marine Life Interviews
The Octopus That Nearly Broke Pixar
What Were We Talking About?
Casual Carpool
Animation & Acting
Deep In The Kelp
Creature Features
Feature Commentary
Sneak Peeks

Bonus Disc:

Behind the Scenes:

Skating & Sketching With Jason Deamer
Dory's Theme
Rough Day On The Reef
Finding Nemo As Told By Emoji
Fish Schticks

Living Aquariums
Deleted Scenes
Trailers

Standard-Def DVD
Digital Copy
Where to Buy: