The Site for Home Theater and Movie Reviews
Finding Nemo Blu-ray 3D Review
By Rachel Cericola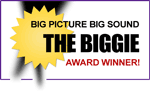 The Film
Nine years after the release of Finding Nemo, Disney-Pixar is giving the people what they want. No, they aren't releasing a sequel just yet. That's supposedly coming in 2016. Instead, fans are getting a Blu-ray (and Blu-ray 3D) release for Finding Nemo.
Finding Nemo is one of Pixar's most celebrated films -- which says a lot since the company's resume includes the Toy Story franchise. It also kicks off with one of the most memorable, heart-wrenching scenes ever seen in an animated film.
From there, Finding Nemo viewers are sent on an emotional rollercoaster, as Marlin (voiced by Albert Brooks) goes in search of his lost son, Nemo (Weeds' Alexander Gould). Yes, humans are the jerks here, but viewers will certainly relate more closely to our on-screen finned friends. That's because most kids will love the cute characters, while adults can easily identify with the anguish and nervousness that Marlin exudes. Heck, I can even relate to Dory's (Ellen DeGeneres) forgetfulness.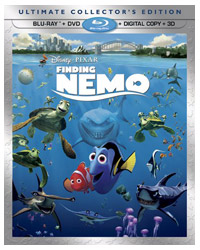 Finding Nemo is a glorious adventure, with gorgeous scenery and a bevy of famous voices, including Willem Dafoe, Brad Garrett, Allison Janney, Stephen Root, Vicki Lewis, Joe Ranft, Geoffrey Rush, John Ratzenberger, and even the film's director, Andrew Stanton. The story, the visuals and pretty much everything else about this movie makes it an absolute must-have.
The Picture
Underwater scenes and 3D technology don't always mix. Movies such as Ghosts of Abyss and Shark Night go dim and dull once the action goes for a dip underwater. Shark Night probably isn't the best example, since there weren't many good things about that movie. That said, Finding Nemo has the animated advantage and uses it to the fullest extent. It also has Disney, who spent a long time restoring this film for 3D audiences. Of course, the film wasn't originally released in 3D, but you'd never know it by this release. The effects here are absolutely stunning. Schools of fish come flying off screen and shark teeth appear so close, you'd think you could reach out and get pricked. The overall image also has a lot of great depth. Basically though, it's gorgeous with or without the 3D. The detail on scales and underwater elements is just awesome and the colors are especially stunning. There are so many different types of sea life in this film and Disney has quite a killer color palette. There's not a single thing to complain about here.
The Sound
The Dolby TrueHD 7.1 is a perfect match to this release's perfect image. Even though most of the action takes place underwater, all of the dialogue is crystal-clear. However, this track has great directionality, from the fish swishing around the surrounds to the many low frequencies displayed throughout -- most notably during the scenes with the sharks, the whale, and when Dory and Marlin swim with the turtles in the East Australian Current (the EAC, dude!).
The Extras
Disney-Pixar has absolutely made the Finding Nemo Blu-ray worth the wait. The lone 3D extra is a collection of screensavers under the Aquariums heading. Otherwise, the bulk of the extras are spread across two 2D Blu-rays. Some of those special features include the Cine-Explore picture-in-picture commentary, the Knick Knack theatrical short, an alternate opening, and tons of other tidbits that share the before and after of the production process. There's even a Roundtable, which is a brand-new sit-down with the filmmakers reminiscing about that heartbreaking opening, the seagulls, and other parts of the film. It should be noted that most of the HD stuff is on the movie disc, with almost all of the bonus features being in standard definition. Still, Disney put together yet another impressive collection of extras; pretty much everything here is worth at least one quick peek.
Final Thoughts
Finding Nemo is one of Pixar's best films -- and that really says something. It's surprising that it has taken so long for Disney to put this one out on Blu-ray, but it was absolutely worth the wait. Everything about this set is stunning, from the story to the AV presentation. Even the 3D is wonderful. If you have a 3D setup, this version should be a no-brainer.
Product Details
Voice Actors: Albert Brooks, Ellen DeGeneres, Alexander Gould, Willem Dafoe, Brad Garrett, Allison Janney, Stephen Root, Vicki Lewis, Joe Ranft, Geoffrey Rush, John Ratzenberger
Director: Andrew Stanton
Audio/Languages: Dolby TrueHD 7.1 (English), Dolby Digital 5.1 EX (English, French, Spanish), Dolby Digital 2.0 (English), DVS 2.0 (English)
DTS-HD Master Audio 7.1 (English), Dolby Digital 2.0 (English), Mono (French, German, Italian, Spanish)
Subtitles: English, English SDH, French, Spanish
Aspect Ratio: 1.78:1
Number of Discs: 5
Rating: G
Studio: Disney
Blu-ray Disc Release Date: December 4, 2012
Run Time: 100 minutes
List Price: $49.99
Extras:

Blu-ray 3D:

Aquariums

Anemone
Drop Off
Jellyfish
Plate Coral
Reef
Sandy Reef
School of Fish

Blu-ray:

Knick Knack Theatrical Short
Aquarium
Cine-Explore
Finding Nemo: A Filmmakers' Roundtable
Reinventing the Submarine Voyage
Deleted Scenes: Alt Opening
A Lesson in Flashbacks
Sneaks Peeks

Bonus Blu-ray:

Aquariums
Art Review
Making Nemo
Exploring the Reef
Studio Tour
Old School
Outtakes
Deleted Scenes
Publicity Pieces
Mr. Ray's Encyclopedia

Standard-Def DVD
Digital Copy
Where to Buy:
What do you think?
| | |
| --- | --- |
| Overall | |
| Video | |
| Audio | |
| Movie | |
| Extras | |
Explore Big Picture Big Sound