Epson MovieMate 60 Home Theater Projector Review
By Rachel Cericola
Epson MovieMate 60 Review
Have Screen, Will Travel

For some, home theater is a total chore. The tweaking, the expense, the equipment selection, the painting; it's a process. Epson wants to make it a bit easier on everyone with the MovieMate 60. Like others in the MovieMate line, this unit is an all-in-one device designed to take some of the drama out of home theater -- or at least the set-up and purchase of a home theater. All you need to do is add a screen, and you're in business.

Unfortunately, it's the standard def business. Epson has given this 3-chip LCD projector a respectable 960x540 pixel widescreen resolution which is a bit shy of true high definition resolution. It's more detailed than a standard DVD, however, we've become extremely spoiled here at Big Picture Big Sound. We love our high definition in all its forms: movies, sports, Lost marathons, and even the evening news. While we've pretty much set our eyes to HD at this point, nothing could prepare us for the magic of a giant movie screen anywhere we wanted to go. That's right; this unit is portable (it even has a handle!) and it's extremely easy to set up.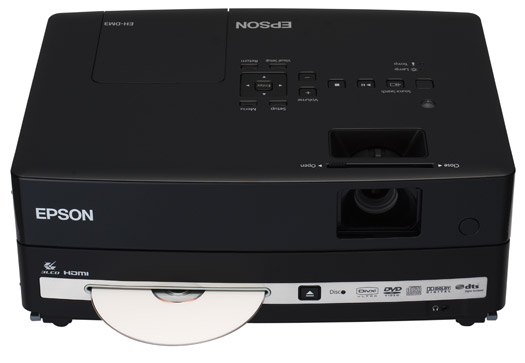 Almost-Instant Home Theater
The MovieMate 60 isn't the slickest projector. It's not even the slickest Epson projector. However, that mammoth cardboard box houses a much smaller (13.4 x 9.4 x 5 inches) unit than we expected. It's also nicely covered with a cushioned carrying case. Once we unleashed the actual projector, it was a little boxy, but it does have a built-in DVD player and speakers. It's hard to be slim when you are packing in so much function. Overall though, it was surprisingly sharp. The piano black finish was so shiny, we could do our hair in the reflection. Other items found inside the box include a Quick Guide, a CD with the extended manual, and an AC power cord. It also has it's own nifty remote, with 42 buttons and one slider.

At 9.3 pounds, the MM 60 is easy enough to take on the go (hence, the carrying case). However, it's not so easy that someone can just walk off with it. While the idea of taking a projector anywhere seems unbelievably daunting, this unit is the definition of plug-and-play.

The front of the projector has a slot for DVDs and CDs, as well as an eject button. Two 10-watt powered speakers are located on the back. That's basically all you need to get started enjoying big screen movies at home. However, just because it's a self-contained unit doesn't mean it has to be limited to its on-board DVD player.
Epson has also included a plethora of inputs, such as HDMI, composite video and analog audio, component, computer (VGA) and USB port.  It also offers coax digital and analog headphone outputs for connection to external audio systems or headphones.  A second HDMI input might have been nice. If you're going to bother to hook up any external devices to this unit, you'll want as little clutter as possible. It doesn't have that, but there is a microphone jack on board, for all of your giant karaoke needs. On top of the unit, there are manual controls which, while not replicating everything from the remote, do give you what you need to get a movie started, as well as tweak some of the setup.
Flip the Thing On, Already
We have to assume you are using a screen, well... because we are A/V snobs - simply pointing this thing at a wall will produce an image, but it won't give you the best video performance (unless you paint your wall with Screen Goo, but I digress...). For the purposes of this review, we paired the MM 60 with Epson's equally portable Duet screen, which can be adjusted for native 16:9 or 4:3 aspect ratios.  Set to a widescreen 16:9 screen shape, the screen size is an even 80 inches diagonal -- try that with a flat panel TV without taking out a second mortgage!  When closed, the Duet screen forms its own carrying case and collapses to just 43 inches long.
Setting up the screen was actually the hardest (well, bulkiest) part. Once that awkward (if you're vertically challenged like we are) task was completed, we plugged in the MM 60 and loaded a disc. We're happy to report that Epson has made the MovieMate 60 pretty much goof-proof. In less than a minute, the disc loaded and the MM 60 went into movie mode. Flip the lens cover slide on the top of the unit, which (duh) exposes the lens. Now you should be in business -- well, close.

Honestly, the MM 60 runs the show. However, there are a few things to keep in mind. First of all, the projector has a fixed lens (with only 1.35:1 digital zoom), so you'll need a good place to put your projector in order to create your desired screen size. With 2,000 Lumens of brightness, you can actually get a pretty large image, particularly in near darkness.  Epson says you can get "up to 150 inches," but pixels may be about the size of golf balls at this size (OK, that's exaggerating a bit).  Be sure you're seated far enough away if you go for a really BIG PICTURE.
Of course, one of the nifty things about the MM 60 is that it never has to be in the same place, if you don't want it to. Just know that the further back you place the unit, the larger your picture will be. While this might sound awesome, it's not always. Consider the size of your room and your screen. There might be some trial and error, but it's pretty pain-free. We moved the unit all over the place, but typically maintained a distance of about 10 feet. This allowed us to take full advantage of the Duet's 80-inch screen.

Another nice perk is that the MM 60 automatically detects vertical tilt and makes the necessary adjustments. If you aren't pleased with the results, there is a Keystone button. This brings us to another thing we really loved about this unit. Sure, it's ready to roll out of the box, but still allows users to tweak up a storm. For instance, the MM 60 does offer five different color modes for living room, gaming and pretty much any other viewing scenario. If you don't want to deal, there is also an Auto mode, which does the thinking for you.

Last, but certainly not least, we really appreciated that the MM60 had built-in feet. That means you won't have to dig out your old college textbooks to get your picture exactly where you want it. These feet pop right out from underneath the unit, and are adjustable up to about two inches.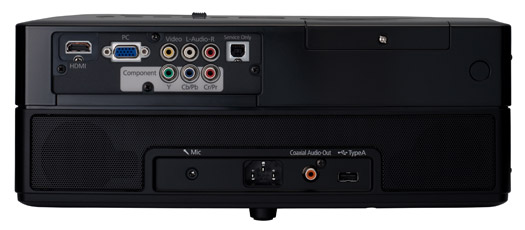 Welcome Back, DVD
It's hard to get blinded by excitement when viewing Silicon Optix's HQV Benchmark DVD. We didn't give the MM 60 the complete workout, but there were enough items that warranted a few quick tests. We were relieved to see that even without HD, the unit showed a lot of detail on the color bar test. Both the first and third "Jaggies" tests went just as well. The digital filter Jaggies test wasn't as kind, though. That third line in the middle of the circle was definitely waving at us, with the second just acceptable enough to place it into the "good" category.
Where the MovieMate stumbled a bit was on the "Film Detail" test, which features an excerpt from "Super Speedway." A DVD player or video processor that can lock to the underlying 2:3 film cadence on this segment will produce clean detail in the stadium seats.  One that fails will produce wavy lines through the grandstands.  We must have watched that car come up the track 20 times, but the MM 60 just couldn't lock onto the cadence. This is one stadium wave we would rather have done without.  What was interesting though was that we didn't notice such moiré distortion during our movies, games and other test content.
For instance, during The Incredibles, the animation looked great, with extremely bold reds and nice clean lines and details. Overall, the image was surprisingly bright, despite a bit of light that had leaked into the room. We weren't all that surprised; the MM 60 auto adjusts itself based on the ambient lighting in the room.

We also checked out a few key scenes from Spider-Man and Spider-Man 2. Spidey's first adventure inside the wrestling ring had some nice detail -- mostly inside "Macho Man" Randy Savage's beard. On the second flick, we watched the runaway train scene twice. The first time, we played it through the built-in DVD player; the second was the same standard-def disc, but run through our Samsung Blu-ray player. The Blu-ray offered a slightly better image, but not by much (see below). However, the internal player offered really nice colors and detail, from the various faces of the passengers to the crumbling buildings to Spider-Man's burning Spidey suit.

Other DVDs we ran through included Amelie, Charlie's Angels, Bring It On, and the old Fox cast-off Arrested Development. We definitely missed our high-def. However, there was enough oomph from this projector that we didn't hear any image complaints from the peanut gallery, even at a screen size that dwarfed our usual 1080p flat-panel display.

The sound, on the other hand, was a different story. The unit has two built-in speakers. Of course, you aren't going to wake the neighbors with a total of 20 watts. When sitting directly behind the unit, we found some of the sound to be a little overwhelming. It's best to keep a safe distance as well as a safe volume level; we never found cranking it up necessary. One thing we were sorely missing though was the bass, especially in some of our favorite action selections. However, there's only so much you can expect from an all-in-one solution, particularly one of such diminutive size.
And Now For Something Completely Different
Despite having a built-in DVD player, the MM 60 does play well with other devices. We used HDMI to hook in our Blu-ray player. While it wasn't as nice as the HD image that we're used to, it was a tad bit better than what we had watched on the built-in player. The same could be said for high-def channels such as ESPN, Food Network and a few movie stations. They didn't replace the magic, but we didn't exactly feel deprived while staring at 80 inches of HBO.

Next, we used the composite connections for our Nintendo Wii. Talk about putting yourself out there as a party house; this was some serious fun. Of course, there was a lot of trial and error with placing the projector, since we kept jumping in front of the lens. Once we stopped flailing around so much, we took in a few rounds of tennis and boxing, as well as challenged our supermarket knowledge with
The Price is Right
. While Wii games looked a bit more unreal at the enormous screen size, the colors stayed fairly true to what we've seen on the TV -- and it was a lot of fun to boot, particularly when our Wii Miis were virtually as big as we were.   
We had a bit of confusion when hooking up an iPod. The obvious answer would be to use the iPod's USB. The iPod uses USB and the MM 60 has a USB port. No, you'll need to use an RCA stereo cable as the MovieMate's USB port is not "made for iPod." It's a nice little perk, but running music through this thing is a ridiculous goal; the speakers just aren't worth the effort.  iPod Videos, on the other hand, can look cool at this size, but there you really start to see the limitations of the source material.   
One last item that we hooked up to the MM 60 was our laptop. No doubt, this would be very handy for PowerPoint or other office-related presentations. Yeah, we used to it stream iTunes video and play Yahoo! Graffiti.
Navigating the Remote
The remote that comes with the MM 60 is pretty complete. With everything this remote offers, we can't imagine using something else. At the top of the unit is a slider, which allows you to flip from numbers (for passwords) or programming functions. Some items don't need the slider. None of them need you to use the power of your legs. We loved this thing. It allowed us to select sources, adjust color modes and the Keystone, and even flip through commentaries included on our DVDs. Another nugget we appreciated was the Coffee Break button. At first glance, it seemed kind of goofy. Why not just hit pause? Well, those of us that don't see the value in a stubbed toe will appreciate getting the short break, as well as the bright light, which guided us safely to kitchen snacks.

Turn Ons
DVD player and speakers inside
Quick & easy setup process
Perfect for portable applications
Surprisingly bold colors
Turn Offs
Not quite high-def
Jaggies & detail tests were slightly sad
Speakers lack any real bass
Only one HDMI input
Final Thoughts
If you're going to invest in a projector for a fixed installation in the home, it's hard not to go high-def. We'd love to endorse the MovieMate 60 as a starter unit. However, we are on the fence with the $700 price tag. It's a great deal for a projector, but for only a little more money, you can get into entry-level HD (720p), and for around $1000 you can get into the entry-level 1080p models. However, comparing this to a stand-alone projector would be missing the point.
It's the extras, the built-in CD/DVD player, the integrated speakers -- even the carrying handle -- that set this litte guy apart from the competition.  Whether you're looking for a portable big screen entertainment system to take on family trips, or something to handle multi-media slide shows at the local senior center, or a simple lawn chair theater for those warm summer evenings, the MovieMate 60's portability, overall solid performance and simplicity of operation will handily fill the bill.  And if you are prone to outdoor late night multi-media wing-dings, don't forget -- we make a mean potato salad!

Where to Buy:
Manufacturer's Specifications:
MSRP: $699
3LCD technology: 3-chip optical engine with poly-silicon TFT active matrix
Native resolution: 960 x 540 (540p)
Native aspect ratio: 16:9 (4:3 resize mode available)
Input Resolutions Supported: 480i, 480p, 720p, 1080i
Computer compatibility: WSVGA, SXGA, XGA, SVGA, VGA, Mac®
Image size range: 30 to 150 inches (diagonal)
Zoom ratio: 1.35x (digital)
Brightness: 2000 lumens
Contrast Ratio: 300:1 (2,000:1 dynamic contrast)
Fan noise: 28-33 dB
Audio/Video Codecs: DTS® Digital Surround, Dolby® Digital, MP3, WMA, JPEG, DivX®, DivX Ultra
Lamp: 200-watt UHE (5,000 hours)
Connections: 1 composite, 1 component, 2 RCA stereo audio, 1 VGA, 1 D-sub 15 pin, 1 USB Type A, 1 USB Type B (service only), 1 HDMI, 1 Mic input
Dimensions: 13.4 x 9.4 x 5 inches
Weight: 9.3 pounds
Manufacturer's Contact Information:
Epson America, Inc.
3840 Kilroy Airport Way
Long Beach, CA 90806

Phone: 562-981-3840
Fax: 562-290-522
On the Web: www.epson.com