Digital Storm Dreadnought PC Review
By Peter Suciu
When the British Navy launched the HMS Dreadnought in 1906 it was a real game changer, essentially making every steel warship of the era instantly obsolete. So significant was the design that it also eclipsed earlier designs and resulted in a naval arms race in the decade leading up to World War I.
While we probably won't see a similar technological arms race in the world of PCs, the Digital Storm Dreadnought is almost as significant of a game changer, fitting that this could very well live up to the promise of being the ultimate gaming computer. More importantly, much like the early 20th century warships, the Dreadnought line can be fully customized to meet the end user's specific needs and budget.
Tower of Power
The tower PC - and by that we do very much mean a massive tower - is a monolithic Chassis that allows plenty of air to flow around the internal hardware. The "bare bones" battlecruiser starts at just over $1000, and is available with AMD Phenom X6 1055T CPU and NVIDIA GT220 1GB video card. That will certainly handle a gamer's needs for today and well into tomorrow. On the other end of the spectrum is what could only be described as the flagship model of the Digital Storm Dreadnought, which features an Intel Core i7 3.40GHz quad core processor and Sub-Zero LCS (liquid cooling system), which ensures that as the action heats up the computer won't.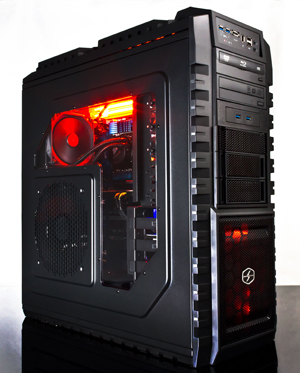 Heading into dry dock, the flagship version of the Dreadnought features a DVD-R/RW/CD-R/RW for all your back up and burning needs, while the Blu-ray/DVD drive will make this machine ready to movie viewing and more (see below). The PC features numerous ports of call as well, with a total of 10 USB ports, front and back Firewire and front and back SATA ports.
The system runs Windows 7 Home Premium (64-bit Edition), and comes pre-loaded with Windows Recovery Toolkit for any emergency software damage control. Digital Storm further provides life-time expert customer care and a three year limited warranty.  All this should soften the blow of the $2826 price of the Dreadnought in the ultimate configuration that we tested (although bare bones versions start at a measly $1100).
Sortie Worthy
We took the Dreadnought out to battle, and it more than met with our expectations. While the red neon lights from inside the computer do look cool, those can be a tad distracting, but fortunately can be disabled. What is also impressive is that the computer ran in almost a stealth mode. This is in part because the cases numerous vent holes allow fewer fans to do the work of many; more importantly the liquid cooling means the fans never have to do too much of the work.
This computer easily handled the latest (and most CPU- and memory-intensive) games, including Call of Duty: Black Ops and Medal of Honor with everything -- and we do mean everything -- set to "high" and with no visible performance glitches. In fact, the Dreadnought actually can handle higher settings than the typical defaults - a rarity with most off-the-shelf machines. Usually the game has to be a bit older before most PCs can go to the highest settings.
With Medal of Honor the game ran in 1680x1080@60Hz (the highest level in the game), with graphical, shadow, effect and texture quality as well as detail at advanced or highest; and with anti-aliasing set at a mind blowing 16xQ CSAA.
The real test will come when Battlefield 3 arrives for the holiday season, but this computer should easily handle everything the designers throw at it. In tests with the still very graphically intense Battlefield Bad Company 2, the video card allowed the 32x CSAA Anti-Aliasing and 16x Anisotropic Filter to be set at 1920x1080@120Hz. The result was amazing detail. There was no lag, no glitching, and more importantly the framerate stayed consistent at about 60 FPS. The system was pushed to the max, in other words "damn the torpedos, full speed ahead."
Apparently you can put a price on gaming -- $2826 (or less!). The computer's processor and video card allows for the games to be seen and played as the designers see and play them. All the effects, from smoke and lighting, can be turned up and details that were previously missed made it as if I was playing these games, including Medal of Honor and Bad Company 2 for the first time. It was almost like putting on glasses you didn't know you needed and suddenly seeing a sharpness that wasn't there - and the performance didn't sugffer at all.
Media Command Center
While the Dreadnought is no doubt overkill as a work machine, it can easily run multiple applications - including multimedia applications at one time. It thus can be used as a workhorse for extensive video editing and post-production as well as gaming.
And with a DVD recordable drive you can burn your dailies and have it ready for showtime. Alas,  the machine doesn't have a recordable Blu-ray option (but who does?). It will however serve as a good PC for viewing video, thanks to the addition of the optional Blu-ray (BD-ROM) drive.
The computer comes with Windows 7 and includes an HDCP compatible video card. The catch is that this PC doesn't have an HDMI output -- a fairly major oversight, in my humble opinion. It does have twin DVI outputs, so the simple addition of a DVI to HDMI adapter or a DVI to HDMI cable (such as the AmazonBasics HDMI to DVI Cable) will have you ready to set sail to the deep Blu-ray sea of video goodness, with the PC connected to a large screen flat panel TV or projector of your choice. The benefit of the DVI to HDMI cable option is that the specific NVIDIA GeForce video card on-board can even handle audio output over that DVI port - yes audio! The card passes through audio over that DVI port and the DVI to HDMI cable that we used happily passed that audio through to the TV's speakers.  However, for the best sound, we found the optical or coax digital outputs plugged into a receiver were a better way to go.
Blu-ray movie playback was impressive and smooth with no glitches or stuttering, and no noticeable artifacts even on my fairly large 52-inch LCD HDTV.  On the audio end, the Dreadnought offers both S/PDIF coax and digital optical outputs.  It's not lossless (again, that would require HDMI) but it can sound fairly awesome though a high quality receiver and surround sound speaker system.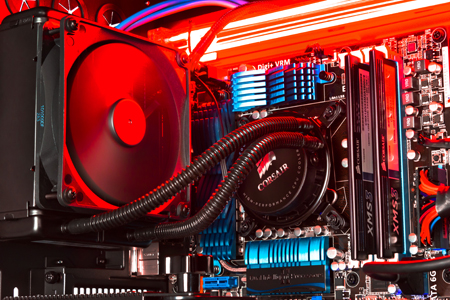 With this PC in your arsenal, you could very well start an arms race as your friends look to (try) to keep up with you. And unless they set sail with their own Dreadnought, or they invest similar coin (and some time and expertise) in a home built system, you're likely to blow them out of the water.
Turn Ons:
Everything you could want in a gaming/Media Center/Home Theater PC including Blu-ray and recordable DVD
More connections than a Hollywood super agent (Firewire, USB, S/PDIF, multiple USB 2.0, etc.)
Liquid cooled
Lighting fast speed
Dual DVI outputs
Turn Offs:
Dreadnought is no joke, this is a massive box
Design is great if you like a Transformers style case
Requires military deficit spending to buy one
No HDMI output (easily solved with a DVI to HDMI adapter)
Final Thoughts:
Gaming PCs are a great investment if you spend your free time in virtual worlds and don't mind foregoing an actual vacation to real destinations this year. The Dreadnought is just such a computer. It is extremely powerful -- in fact it is so powerful that few games actually require this much. While PC games are hanging on, and have dedicated followers there are sadly fewer and fewer new titles worthy of such a machine. But for those few titles, this is a machine that will certainly be able to tackle virtually anything coming out in the next year. And like most gaming rigs this one is upgradeable so it can go into "refit" so to speak, leading to a long and happy gaming life before it must eventually be retired.
Where to Buy:
Manufacturer's Specificiations:
Chassis Model: Cooler Master 942 HAF X
Processor: Intel Core i7 2600K 3.40GHz (Unlocked CPU for Extreme Overclocking) (Quad Core)
Motherboard: ASUS P8P67 Deluxe (Intel P67 Chipset) (New & Improved B3 Revision)
System Memory: 8GB DDR3 1600MHz Digital Storm Certified Performance
Series Power Supply: 750W Corsair TX (Dual SLI Compatible) Hard Drive
Set 1: Operating System: 1x (128GB Solid State (By: Corsair) (Model:
Performance 3 Series CSSD-P3128GB2) (SATA 6Gbps) Hard Drive Set 2:
Multimedia\Data: 1x (1TB Western Digital Caviar (7200 RPM) (64MB Cache)
(Model: Black Edition WD1002FAEX)
Optical Drive 1: DVD-R/RW/CD-R/RW (DVD Writer 24x / CD-Writer 48x)
Optical Drive 2: Blu-Ray Player/DVD Player (Play Blu-Ray and Play DVDs)
Video Card: 1x NVIDIA GeForce GTX 580 1.5GB (Includes PhysX Technology)
Extreme Cooling: H20: Stage 2: Corsair H70 Liquid CPU Cooler (High-Performance Edition)
Internal Lighting: Internal Chassis Lighting System (Red) CPU Boost: Stage 2: Overclock the processor between 4.7GHz to 5.2GHz
Windows OS: Microsoft Windows 7 Home Premium (64-Bit Edition) Recovery Tools: Windows Recovery Toolkit (Bundled with Windows 7 CD)
Warranty: Life-time Expert Customer Care with 3 Year Limited Warranty
MSRP: Starting at $1100, system as tested: $2826
Manufacturer's Contact Information:
Digital Storm
448 Kato Terrace
Fremont, California 94539
Phone: 510-656-1122/866-817-8676
On the Web: www.digitalstormonline.com