Denon Spills Details on New DBT-3313UDCI Universal Blu-ray/DVD/SACD/DVD-Audio Player at CEDIA 2012
By Rachel Cericola
Looking for one Blu-ray player that can do it all? Denon is packing a lot of goodies into its new DBT-3313UDCI Universal Disc Player.
Just announced at this week's CEDIA Expo, the DBT-3313UDCI can accommodate almost any 5-inch disc imaginable. That includes 3D and 2D Blu-rays, DVDs and CDs, as well as DVD-Audio and SACD. It also welcomes those Kodak Picture CDs for a big-screen slideshow, as well as DivX HD+, FLAC, MP3 and WMA formats.
Once you whip through all of those discs, there's plenty of other entertainment to be had with this player. Denon is also including access to web-based services, such as Netflix, VUDU, Hulu Plus and YouTube. (Just know that subscriptions and fees may apply.)
The DBT-3313UDCI also has dual HDMI outputs and something called AV Pure Direct. The latter allows users to connect the player to a 3D TV and a non-3D-capable receiver separately.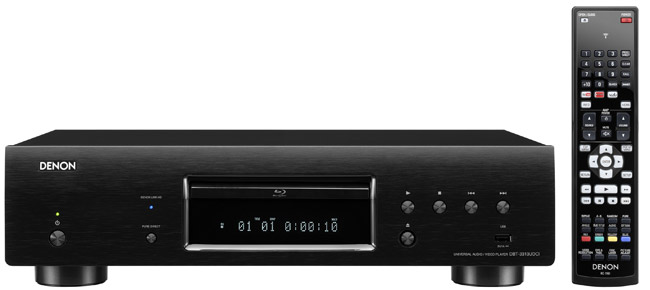 Other features include DLNA 1.5 certification, an aluminum front-panel, a USB port, an Ethernet port, a left/right analog audio output for multi-zone distribution, and remote control in/out ports.
Denon plans to ship the DBT-3313UDCI with a new remote, which includes glowing cursor and operation keys, as well as direct access buttons to the web services. Of course, you can also use the Denon Remote app, which is free for iPhone, iPad, or iPod touch users that want to pair this player with one of Denon's 2012 AV receivers.
"Denon's guiding principle has always been to provide our customers with the best possible, most straightforward ways to elevate their home entertainment experience," said Noted Yoshinori Yamada , D+M's group product planning manager. "With our new DBT-3313UDCI and all our Universal Blu-ray products, we now offer the very best this exciting format has to offer -- and more. This cutting-edge unit delivers all the audio and video power intended by content providers -- whether from a silver disc or the Internet -- as well as a greater level of interactivity and ease of use."
Denon will start to ship the DBT-3313UDCI Universal Disc Player sometime this month. Expect the player to arrive with an MSRP of $999.99.

Where to Buy: