Denon Packs HEOS Streaming Into X-Series AV Receivers
By Rachel Cericola
We've seen Denon Electronics putting plenty of speakers into its HEOS lineup. However, they have yet to make any receivers part of that multi-room wireless music collection. Don't worry, though; they're working on that.
The company just announced plans to release the AVR-X4300H and AVR-X6300H, two X-Series AV receivers with HEOS perks. That basically means that you can stream audio from the receiver to other HEOS speakers around the house. Both models feature a bevy of music options, allowing you to tap into music stored on the network or streaming services, such as Spotify, Pandora, TuneIn, iHeart Radio, TIDAL, SiriusXM, Soundcloud, Mood:Mix, Napster, Deezer, and Amazon Music. (Just FYI: Subscriptions and/or fees may apply.)
The AVR-X4300H is a 9.2-channel AVR that has support for Dolby Atmos and DTS:X, with Auro-3D available via an optional, paid upgrade. Out of the box, it can deliver a 7.1.2 or 5.1.4 3D experience or you can add an external amp to get a 7.1.4 setup.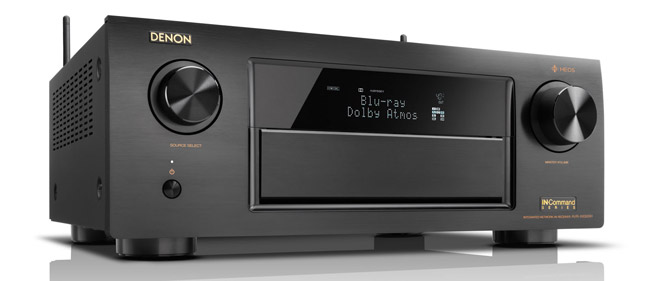 Boasting 125 watts (8 ohms, 0.05%THD, 20Hz~20kHz) per channel, this model is perfect for your current setup, thanks to eight HDMI 2.0a inputs with HDCP 2.2 support for full-rate 4K Ultra HD video, along with 4:4:4 Pure Color sub-sampling, HDR, and BT.2020 pass-through. It also has Denon D.D.S.C-HD (Dynamic Discrete Surround Circuit High Definition) for the audio signals, AL24 Processing Plus, and 192kHz /32-bit DACs for playing back high-resolution audio. For multi-room setups, this model includes 11 speaker terminals and 11.2ch pre-out connections, as well as two HDMI outputs for the main room and a third for connecting a display elsewhere in the home. Other features include Wi-Fi, Bluetooth, and AirPlay connectivity.
A step up is the AVR-X6300H. This model has 11 channels of amplification, which are rated are 140 watts each. The AVR-X6300H also supports Dolby Atmos and DTS:X, with Auro-3D offered as a paid upgrade. It even has the HEOS integration and everything else mentioned above, but with a discrete monolithic amplifier design with custom-made DHCT (Denon High Current Transistors). Other features include gold-plated input/output terminals, transparent speaker terminals, and the Audyssey MultEQ XT32 automatic room acoustic measurement and correction system.
Both of the above receivers also work with the new Denon 2016 AVR Remote App, which is free for iOS and Android devices, as well as the Kindle Fire.
Denon will start shipping the AVR-X4300H and the AVR-X6300H this October. The company has priced these receivers at $1,499 and $2,199, respectively.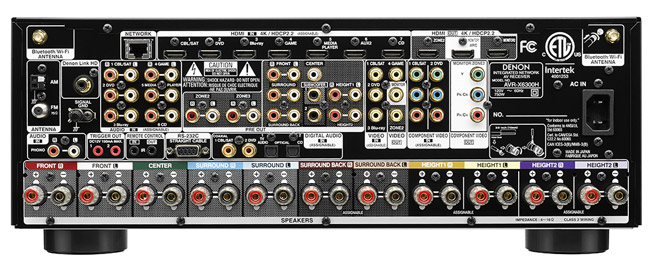 More About HEOS:
Also Check Out: