Denon HEOS 1 Wireless Speaker Review
By Rachel Cericola
Pick Yer Poison
Every summer, my family has a big party. It's the one time of the year we invite a large group over to hang out on the back deck, enjoy the summer scenery, and disturb the neighbors that live just a few feet away from our door.
This year, we brought out a special guest: the Denon HEOS 1 wireless speaker. With the exception of our dog, we try to be semi-quiet neighbors the other 364 days of the year. However, loud music is a summer party essential.
These days, there are so many wireless speakers that make it easy to deliver the perfect party soundtrack. A lot of them are good in a pinch, but very few are worth buying in bulk and sprinkling around the rest of the house. The HEOS 1 is one of those special types of speakers.
The HEOS 1 is part of Denon's HEOS line, which includes four wireless speakers, a soundbar, an amp, a preamp, and more. They've even started building the HEOS platform into their A/V receivers, so you can bring your various wireless music sources into your main home theater or living room system (go figure!).
Every product in the HEOS lineup uses Wi-Fi for streaming music to one or more HEOS products. For instance, you can put one HEOS speaker on the kitchen counter and call it a day or pair two with the HEOS soundbar in the living room. You can even sync all of those speakers with other HEOS products around the house, and have them stream the same (or different) music. At $199.99 each, the HEOS 1 is the least expensive of the lot.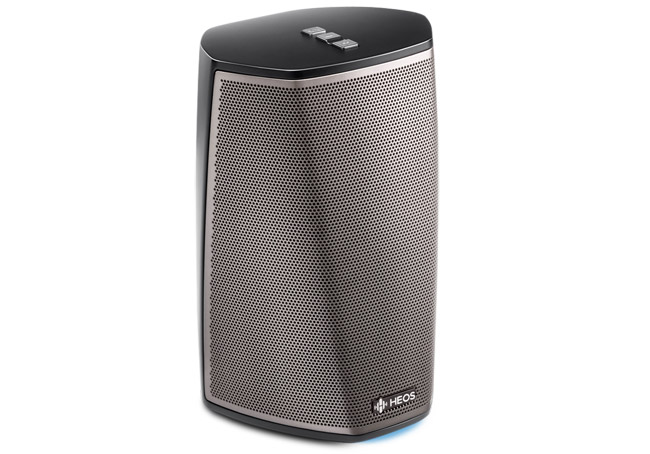 The great thing about the HEOS system is that it can be as big or as small as you want. If you only have $200 right now, you can snag one HEOS 1 speaker. Then, you can add on whenever you like -- up to 32 products total.
At about 4 pounds, the HEOS 1 is made to be moved around. It's nice, sturdy, and pretty stylish looking as well. It's packaged with a power cord, an Ethernet cable, and a 3.5mm cable. The power cord is key, since this speaker isn't truly wireless, at least not right out of the box. (Many "wireless" speakers are not.) It does need power. However, the $99 HEOS 1 Go Pack solves that problem and makes this puppy truly portable for up to 6 hours of on-the-go playtime.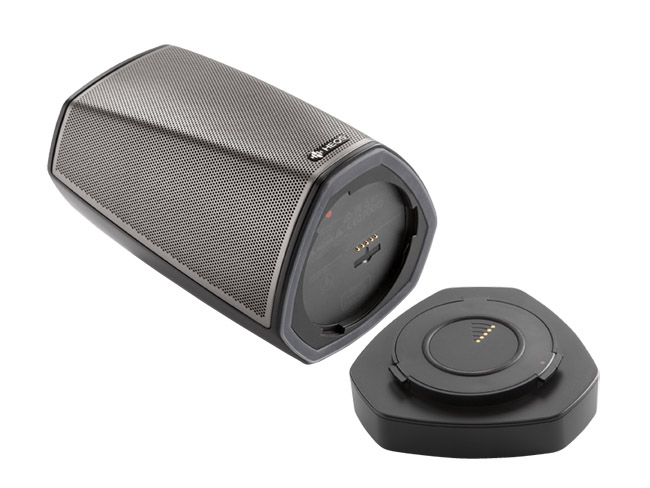 For Those About to Rock...
Before you even think about rocking out, you'll need to plug the HEOS 1 into a power source and download the HEOS by Denon app, which is free and available on both the Apple iOS and Android platforms. Launch that app and you'll be immediately greeted with instructions on how to add HEOS products on the network. Sadly, Denon only sent me one HEOS 1 for this review, but that meant my setup time was maybe 5 minutes total.
When you launch the app, you can watch a demo or just jump to Setup Now and Add Device. This will prompt you to attach one end of the included audio cable to the AUX jack on the HEOS 1 and the other to your device of choice. (I started with my iPad.) If you want to go wireless, connect the audio cable, wait for the light on the speaker to turn yellow, and push the Connect button on the back. When the speaker's light turns green, the app will prompt you to enter your Wi-Fi password. Name your device and remove the cable.
The HEOS 1 that I used for this review was an older model, which does not have Bluetooth built-in. (The company has since added that as a standard feature.) However, the HEOS 1 Go Pack does add in that functionality. This is a very good thing. Without a doubt, Bluetooth is the simplest way to get up and running with the HEOS 1, though perhaps not the most powerful. I streamed Apple Music, Pandora, SiriusXM, and even personal music from my devices directly to the HEOS 1 with narry an issue. Everything played beautifully, but the one downer is that Bluetooth doesn't have much of a range. If I took my phone about 30 feet away from the speaker, the signal would get spotty. This has nothing to do with the speaker; it's more of a Bluetooth thing.
Thankfully, the HEOS 1 also supports Wi-Fi, which is a lot more reliable. If you plan to walk around the house and need your phone on you at all times, or simply don't want your phone or tablet to be a dedicated music source for your sound system, this is the way to go. However, it also means you'll need to use the HEOS by Denon app. This app is a middleman for all Wi-Fi-based music, including Pandora, SiriusXM, Spotify, Amazon Music, and more. There's no love for Apple Music here, but if you're a true music geek, know that the app can access TIDAL and the HEOS 1 has support for high-resolution audio. (You can find a complete list of music sources on the HEOS website.)
One thing I didn't love was that you need the app to enable music that's stored on your portable device and connected music servers. You even need it if you're connecting a device through the AUX-In port.  But then, this is how most wireless music ecosystems (including Denon's biggest competitor SONOS) work. So this is a fairly minor caveat.
What's the Difference?
Typically, when someone asks me about wireless speakers, my go-to recommendation is SONOS. They were first on the scene, created a powerful and fairly easy to use app, and are still going stong. But after spending a little time with the Denon HEOS 1, I will definitely be putting this little speaker on my list as well -- mainly for three reasons.
First and most importantly, it sounds great. This bi-amped two-way system has a custom active EQ and crossover, a two-channel Class D amplifier, DSP optimization, MaxxAudio by Waves sound technologies, and more. All of those little perks made the audio sound great, whether I was streaming punk, classic rock, or country. Even talk radio was crystal clear. As mentioned, Denon only sent me the one speaker, so I don't know how the HEOS ecosystem sounds as a whole. It also means I couldn't try out the grouping features in the app. This one little speaker is a beauty though.
Of course, good sound is not unique to the HEOS 1. However, Bluetooth support is something that you don't find on some competitive products, including SONOS (at least not yet). That's not to say that there aren't a million Bluetooth speakers out there, but the HEOS 1 offers both whole-home Wi-Fi streaming and Bluetooth, which is something that isn't so easy to find. Bluetooth was sort of an afterthought, which Denon just recently added across the HEOS lineup, but we think this was a really smart move. It gives thoe who are familir with Bluetooth an easy point of entry, but allows these users to grow their systems to whole home wireless music systems over time.
And finally, the HEOS 1 offers portability, thanks to the HEOS 1 Go Pack. This is a $99 add-on that can turn any HEOS 1 speaker into a truly portable speaker. Yes, it's basically a big battery pack, but it allows you to take the HEOS 1 out to the yard, the beach, the party, or wherever else you need your own soundtrack. Sonos does not currently have a portable solution. Oh you could run an extension cord outside and play music from a Sonos speaker (as long as it's within range of your wireless home network), but that's just not the same.
On-the-Go
As we mentioned earlier, although the HEOS 1 uses wireless technology to stream music and audio around the home, it's technically not a completely wireless speaker - it does require an external power source. However, it can be made full wireless using the Denon HEOS 1 Go Pack.
The Go Pack is a battery pack that screws into the bottom of the HEOS 1. It only weighs 0.71 pounds, so it's not bulky at all. When attached, the HEOS 1 Go Pack actually looks like it's one integrated unit.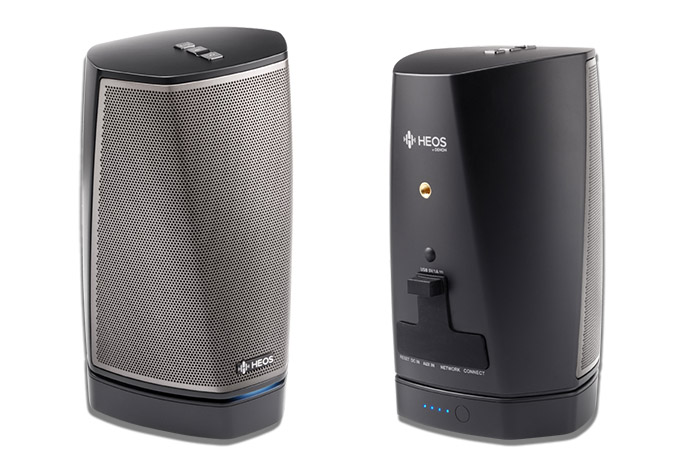 To charge the HEOS 1 Go Pack, attach it to the bottom of the speaker and plug the speaker in as you would normally do. In fact, it's probably a good idea to just keep it connected whenever you have the speaker plugged in and you'll be ready to rock almost anywhere at any time.
I used the battery pack during my summer party and can confirm that it delivers the six hours Denon promises. Once it ran out of juice, I just plugged the speaker into a nearby outlet and charged the Go Pack while music was playing.
It should also be noted that the HEOS 1 Go Pack can charge your smartphone if you connect it to the USB port on the back of the HEOS 1 speaker. However, that will reduce the amount of playtime you get out of the battery pack.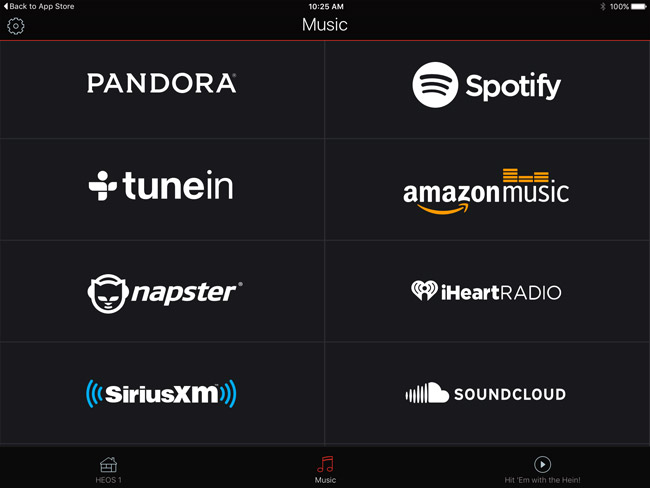 Turn Ons
Built-in Bluetooth
High-res audio support
Plenty of multiroom add-on options
Great sound quality
App delivers wide variety of services through Wi-Fi
Turn Offs
No app love for Apple Music
Requires another $100 add-on to be truly wireless
Need the app to tap into AUX and USB music
Bottom Line
While I still think SONOS is the standard when it comes to overall sound quality and ease of use, Denon's HEOS 1 is certainly a worthy contender. The selection of services available through the app and the sound quality of this, the company's entry-level speaker are both pretty stellar.
The real hook here is the Bluetooth support, which Denon recently added into the HEOS mix. This is huge. Sure, the HEOS by Denon app is nice and pretty easy to operate, but it's not as nice and easy as the Sonos app. You do need to pay extra to make the HEOS 1 portable, which is sort of a bummer. However, it's really nice to have that option.
Manufacturer's Specifications:
Company Contact Information:
Denon Electronics (USA)
100 Corporate Drive
Mahwah, NJ 07430-2041
On the web: usa.denon.com/us