Crown Heights Review
By Lora Grady
Murder Wasn't the Case
Loyal NPR listeners may already be familiar with the story of Colin Warner, who was a teenager in Brooklyn in 1980 when he was wrongfully arrested for the fatal shooting of another neighborhood teen. Through sloppy investigative work, coerced testimony, and a series of judicial missteps, the bewildered Warner eventually found himself facing a sentence of 25 years to life for a crime that he had no knowledge of.
In 2005, NPR's hour-long multi-format radio program "This American Life" presented an in-depth episode on the story of Mr. Warner's conviction and subsequent incarceration, and the relentless efforts of self-taught investigator Carl King (aka "CK") who never stopped fighting for justice for his friend. NPR's been rerunning the episode lately to coincide with the release of "Crown Heights," a dramatization of Mr. Warner's story from writer/director Matt Ruskin ("Booster").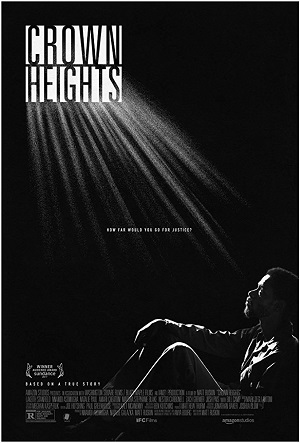 But even those who already know this story will be compelled and moved by this film adaptation. It's driven by standout performances and an agile screenplay that conveys the convoluted facts of the story without embroidery, allowing the stark depiction of this miscarriage of justice to naturally evoke feelings of disbelief and outrage. Lakeith Stanfield ("Straight Outta Compton") displays a luminous charisma as he convincingly charts Mr. Warner's journey from the disconcerted teen fighting to survive his first few months in prison to the forthright man who twenty years later stands up to a parole board and adamantly continues to declare his innocence. He also excels at showing the emotional burdens weighing on this man whose life is being taken from him year by year, at times conveying agonizing depths of sorrow with just a subtle shift of facial expression. Nnamdi Asomugha ("Fire with Fire") is a former NFL player turned actor with a short showbiz resume that gives hardly any hint of his powerful work here. His CK is clever, steadfast, and utterly driven, keeping faith in the campaign for justice even when Mr. Warner himself is on the verge of collapsing into hopelessness.
Mr. Ruskin's screenplay incorporates short historical clips that effectively convey the passage of time, so viewers will feel the weight of the years between 1980 and 2001, the 21 years of Mr. Warner's unjust incarceration. The screenplay mostly sticks to the facts in order to usher viewers through the thicket of court proceedings. But sprinkled throughout are also momentary flights of fancy - hazy, lazy recollections of Mr. Warner's childhood in Trinidad, thoughts of his grandmother, and longing flashes of neighborhood friend Antoinette (Natalie Paul) who eventually becomes his wife - that arrive like dappled sunshine to periodically lift the darkness of the story.
"Crown Heights" shows law enforcement and the justice system at its worst, but it also paints a compelling picture of friendship, community, and family ties. Newcomer Natalie Paul's Antoinette is both graceful and fierce, a loving woman devoted enough to marry an incarcerated man and stand by him through struggles and disappointments. Mr. Asomugha strikes all the right notes as CK puts his life and family on the line in the fight for justice: he spends endless hours on stakeouts, hunts down reluctant witnesses, raises legal funds from the community, and cleverly begins working as a process server in an effort to meet a lawyer who might help with the case. And though admittedly there are one or two moments when the contemporary Freedom Tower pokes incongruously out of skyline shots supposedly depicting years prior to its construction, on the whole "Crown Heights" does a good job conveying the tight-knit Brooklyn community and they NYC of days gone by.
This isn't a flashy release, but "Crown Heights" did win an audience award at this year's Sundance Film Festival. It's a substantive story that packs an emotional punch, raises questions well worth exploring about the inconsistent application of justice, and puts a face on the potentially tragic consequences of rushing to judgement.