Coco Review
By Matthew Passantino
The Day of the Dead Comes to Life
It's hard to feel bad for a billion dollar empire like Pixar. The animation behemoth has achieved worldwide success and taken home its fair share of accolades, but in some respects they deserve a bit of sympathy for being placed on such an absurd pedestal. Even when their latest release doesn't rank among their very best, it's often better than most animated films out there.
"Coco," directed by Lee Unkrich and Adrian Molina, certainly isn't a disappointment; rather, it's a thematically familiar, though ultimately rewarding, outing from the studio. The movie follows young Miguel (voiced by Anthony Gonzalez), who loves to play the guitar and wishes to do so at the Day of the Dead festival in his little town in Mexico. He watches old tapes of a famous singer from decades ago named Ernesto de la Cruz (voiced by Benjamin Bratt) and hopes to one day play like his idol. The problem is, Miguel has to play in secret because he family forbids any kind of music.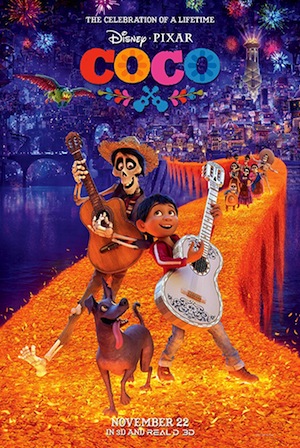 The disdain for music dates back generations before Miguel, when his great-great grandmother's father left his family to pursue music. For Miguel's family, music has always been related to this abandonment, but Miguel is adamant that it stops with him. Through matters of happenstance, Miguel unknowingly travels to "the other side" and meets his deceased relatives and learns a great deal about his complex family history.
Miguel's journey is layered and features a few twists, so the rest of the plot is not worth explaining here. Family and Pixar devotees alike will flock to "Coco" and find a great deal to take from the film, it's worth going into without knowing every beat. Gonzalez gives a spirited voice performance as Miguel, which makes it easy to draw us in to this character's journey.
The overarching themes of "Coco" might seem a bit basic for our high expectations of Pixar, but they are executed with heart and sincerity throughout the film. Even when the movie takes a bit of a jarring tonal shift in the last act, the finale comes with such an emotionally rewarding payoff that it all feels warranted.
"Coco" is a gorgeous spectacle, with bright, intoxicating colors at every turn bringing the movie to life. Furthermore, it's a celebration of heritage and culture from a studio trying to bring different backgrounds to the big screen. While some of the movie might be a bit too deep for the youngest family members, there is a little bit for everyone in "Coco."