Cabin in the Woods Blu-ray Review
By Greg Robinson
"We are not who we are."

The Film

Every now and then a film comes along that is damned near impossible to talk about without giving too much away.  Drew Goddard and Joss Whedon's Cabin the Woods is one of those films. If you somehow missed Cabin's theatrical trailer, which tips the filmmakers' hand way more than it should, don't watch it now. And don't go searching for spoiler-laden reviews either. Trust me on this. And trust in Joss.

Written and produced by Joss Whedon, the sharp-tongued creator of TV's "Buffy the Vampire Slayer," "Angel," and "Dollhouse," Cabin is a delicious addition to Whedon's eclectic and growing resume of big screen entertainment. My fellow Browncoats will agree that his directorial debut, Serenity, was about as perfect a swan song as "Firefly" fans could have hoped for. ("Firefly" is still Whedon's finest work to date. Netflix it. Then watch Serenity. You won't be sorry.) Oh, and he also wrote and directed a little film for Marvel called The Avengers.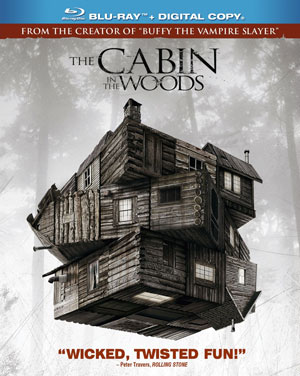 Behind the camera, and serving as co-writer on the script, is Drew Goddard. Goddard has some history with Whedon, having written a number of episodes of "Buffy" and "Angel." He's also the scribe behind
Cloverfield
, one of the more innovative takes on the "giant monster movie" genre. With the aptly-named
Cabin in the Woods
, Goddard and Whedon set their sights on the tried and true mother of all horror movie set-ups - a group of attractive city kids travel to a secluded cabin in the woods - and they promptly turn that premise right on its ear.
Long time Whedon fans will get a kick out of seeing some familiar faces in supporting roles throughout the film, but four of our five unlucky vacationers are fresh-faced relative newcomers. And there isn't a bad performance in the bunch. The one face viewers are bound to recognize - especially the ladies - is the God of Thunder himself, Chris Hemsworth. Along for the ride is the superbly-cast duo of Richard Jenkins and Bradley Whitford playing, well, I'm not going to tell you, plus a brilliant and surprising cameo during the film's blood-soaked climax. Don't miss it.
The Picture

The bright, colorful, sun-lit exterior shots at the film's onset are the highlight of this disc's impressive 2.40:1 video presentation. Skin tones appear natural and a tangible layer of film grain remains intact. Lionsgate also does a fine job presenting the dark and desolate woods surrounding the titular cabin. The dim cabin interior is saddled with murky-looking shadows at times, but the starless night sky exhibits an impressive depth of black. Facial close-ups reveal remarkable levels of fine detail. For proof, look no further than Anna Hutchison's creepy/sexy make out session with a wall-mounted "moose."
The Sound
Combining a creepy horror film with a 7.1 channel DTS-HD Master Audio soundtrack is typically a recipe for sonic greatness and
Cabin
is no exception. Creaky wood floors and shattering windows are rendered with wonderful authenticity and the numerous, err, evildoers in the film's bloody climax deliver a sustained assault on the senses. Dialogue is crisp, clear, and intelligible throughout.
The Extras
Lionsgate gives viewers a respectable smattering of extras to be enjoyed after the film. The highlight is "We Are Not Who We Are," an amusing making-of featuring plenty of Whedon, Goddard, and various behind-the-scenes shenanigans. A picture-in-picture "BonusView" mode is also available, as are a handful of featurettes focused on the film's visual effects and makeup. "Marty's Secret Stash" is also fun for fans of funny man Fran Kranz (the best thing about "Dollhouse"). An audio commentary with both Whedon and Goddard rounds out the on-disc extras.
On a final extras note, kudos to Lionsgate for offering both Ultraviolet and iTunes options for the Digital Copy. Ultraviolet continues to prove more hassle than it's worth, so it's much appreciated to also get the tried and true iTunes alternative.
Final Thoughts
In the end,
Cabin in the Woods
is a wickedly entertaining confection. It should come as no surprise that Whedon and Goddard are two guys who know how to bring the scary. And the funny. In fact, it's sort of remarkable how deftly the film dances between those two emotions. One minute you'll be peeking through the fingers covering your eyes and the next minute you'll be laughing out loud. If that sounds like a fun way to spend an evening, rest assured it is.
Product Details
Actors: Chris Hemsworth, Kristen Connelly, Anna Hutchison, Fran Kranz, Jesse Williams, Richard Jenkins, Bradley Whitford, and Amy Acker
Director: Drew Goddard
Audio/Languages: English 7.1 DTS-HD Master Audio
Subtitles: English, Spanish
Aspect Ratio: 2.40:1
Number of Discs: 1
Rating: R
Studio: Lionsgate
Blu-ray Disc Release Date: September 18, 2012
Run Time: 95 minutes
List Price: $34.99
Extras:

BonusView Mode: "It's Not What You Think"
Featurette: "We Are Not Who We Are"
Featurette: "An Army of Nightmares"
Featurette "Primal Terror"
Featurette: "The Secret Secret Stash"
Trailers
Audio Commentary: Joss Whedon and Drew Goddard
Ultraviolet Digital Copy
iTunes Digital Copy