CES: Monster Confirms Prices, Dates for Vision Max 3D Glasses
By Chris Chiarella
Making good on promises originally set forth at the CEA line shows in New York City last spring, Monster has confirmed pricing and announced availability of their new "universal" active shutter 3D glasses here at the Consumer Electronics Show in Las Vegas. The Monster Vision Max 3D Glasses will be available at retail, including Amazon.com, beginning January 30th. A kit containing the glasses plus the necessary transmitter will retail for $229.95. A glasses-only version, should you need spares, will set you back $159.95.
The Monster Vision Max 3D glasses utilize Active Sync RF (radio frequency) technology, so they provide extremely reliable wireless connection between themselves and the TV, even over distances as long as a football field. (No football field was available for comment.) The glasses offer largest LCD lenses available, and are designed to block out more ambient light than competing models, for an even better viewing experience.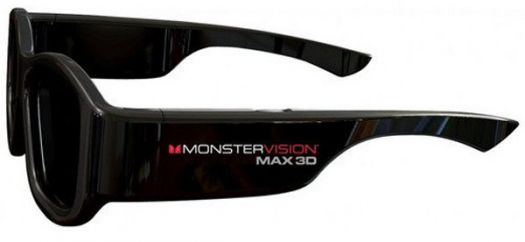 The announcement comes as the 3D TV and Blu-ray 3D formats continues its growth among U.S. consumers, although active-type display systems continue to operate with two different specifications, and compatibility between them can be tricky, if not impossible. The Monster glasses promise to work with all 3D TV brands. The product has also won the coveted Innovations Award for the Best Home Theater Accessory.
Where to Buy: