AudioXperts Introduces Stylish, Eco-friendly EVA Tabletop Music Systems
By Rachel Cericola
What do you get when you put a bunch of music experts together? A pretty cool little product line, actually. In addition to a pair of luxury audio entertainment consoles, AudioXperts just launched EVA, a new line of compact music solutions.
"Audio who?" you may be asking. That's a reasonable question, since AudioXperts is an entirely new company. That said, this isn't just a bunch of audio newbies. The company is made up of industry vets (mostly from Boston Acoustics) and a Grammy-winning audio engineer.
Now back to EVA, which stands for EnVironmental Audio. That's not just marketing speak, either; the company actually incorporated eco-friendly designs for its entire EVA line. In the world of consumer electronics, that may seem a little hard to believe. However, the line includes natural woven wool, bamboo, cloth and a little "plant starch-based bio-plastic." All of those materials set EVA apart in the way each product looks and helps AudioXperts deliver on its promise to create EVA products using over 60 percent sustainable materials.
As far as the actual lineup, AudioXperts will offer a few EVA designs at launch. Kicking off the line is the SCR400 Dock FM Clock Radio with Bluetooth (MSRP: $499.99), the SCR400D Dock FM/DAB+ Clock Radio with Bluetooth (MSRP: $599.99), and the SPS300 Dock Speaker with Bluetooth (MSRP: $399.99).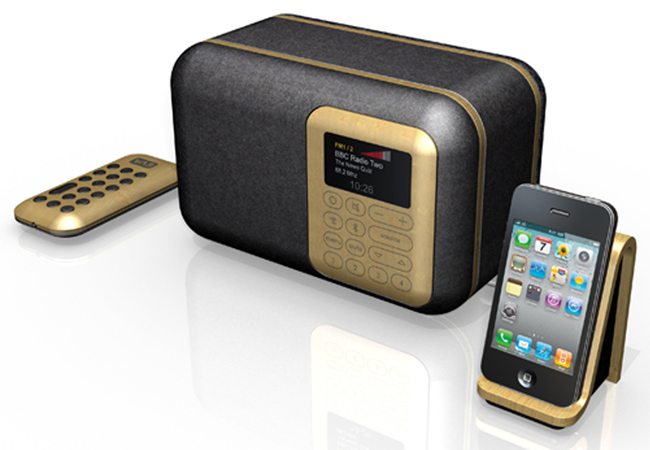 All three models offer a 4-inch driver, Bluetooth support, the CSR aptX codec, and a built-in digital audio connection to add in an Apple AirPort Express for AirPlay streaming. Each one also has a USB jack for connecting and charging an iPad, iPhone or iPod touch. That SCR400D has a DAB+ digital radio tuner, with the SCR400D and SCR400 adding in FM radio with up to eight presets. Both of these models also include a matching bent bamboo wood external dock accessory for resting, connecting and charging iOS devices.
If that's not enough, all three of the units can be cranked up to stereo sound, via an add-on speaker module. The "+Channel" AC250 Amplified Speaker with Clock (MSRP: $349.99) and the "+Channel" PS200 Powered Speaker (MSRP: $299.99) are designed to work with the EVA SCR400, SCR400D, or SPS300 for true powerful stereo performance.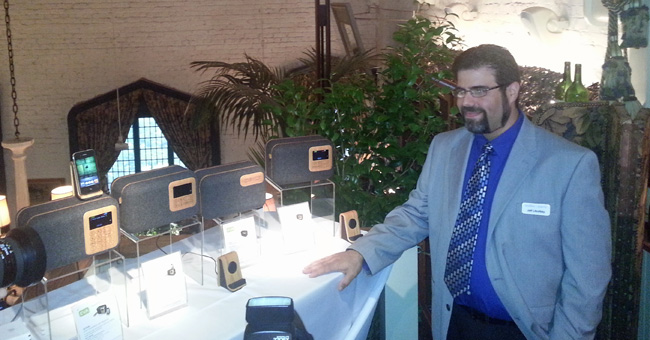 "EVA offers the perfect solution for the environmentally-minded consumer who wants all the great benefits of local room, high performance audio in a compact and fashionable music system," said Eli Harary, president of AudioXperts."Unlike other so-called 'green' audio products on the market, our EVA collection is truly unique in that the products are built using more than 60 percent sustainable resources-a goal that was the driving force behind the development of EVA."
AudioXperts says that the entire EVA line will be available starting this fall. The company will be selling them direct, but also expects to make the line available through authorized dealers and select retailers.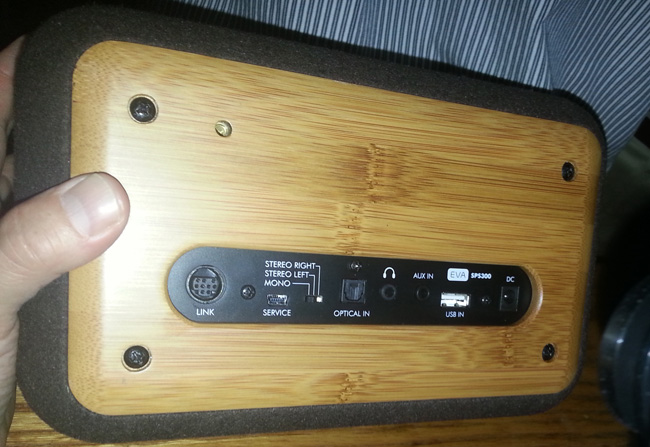 For More Information: