AudioXperts 4TV Audio Entertainment Consoles Treat the Ears and Eyes
By Chris Boylan
Plasma TV. LCD TV. LED TV. What do today's super sexy flat panel HDTVs all have in common? They look great (mostly) but they sound terrible. The thinner a TV gets, the worse it sounds.  It turns out a speaker needs some cabinet space to resonate, otherwise you get screechy high frequencies, recessed midrange and anemic bass.  With TV manufacturers, sound quality just isn't a priority.
A new audio company hopes to address this issue. At a press event in New York City yesterday, AudioXperts unveiled a pair of Audio Entertainment Consoles ("don't call them soundbars!"), specifically designed to improve the sound of TV and movies, but also to allow you to share your personal music collection with anyone lucky enough to be present in your living room.
Consisting of just two models, the 4TV line features a stylish black metal and smoked glass design which will provide a nice foundation for your flat panel TV - literally. The svelte 4TV units are designed to sit beneath your flat panel TV, or (if you hang your TV on a wall) on top of your entertainment center.  Assuming you are part of the 70% or so of flat panel TV buyers who do not mount your TV on the wall, you'll appreciate the fact that both 4TV units can swivel back and forth, allowing you to adjust the viewing/listening angle of the TV placed on top. Did you just bring home a top of the line Panasonic or Samsung TV with a stand that doesn't swivel? With the 4TV, now it does.

The model 2112 ($1999.99) is the "entry level" product. It features a 2-channel design with 4 long throw woofers, elongated H.A.R.T. (High Aspect Ratio Transducer) drivers for the midrange, and cloth dome tweeters for the high frequencies. The proprietary patent-pending HART drivers offer a low profile which allows the 4TF units to measure in at a diminutive 2 1/4 inches in height without sacrificing sonic performance.
The model 5122 ($3999.99) separates the woofers out (eight of them) into a wireless subwoofer module and provides enough internal speaker drivers to do discrete 5.1-channel surround sound. The surround channels are placed at the front corners firing outward at an angle to maximize separation and dispersion. The 5122's subwoofer module can sit up against a wall, on top of the main unit, or underneath your couch, if invisibility is your desire.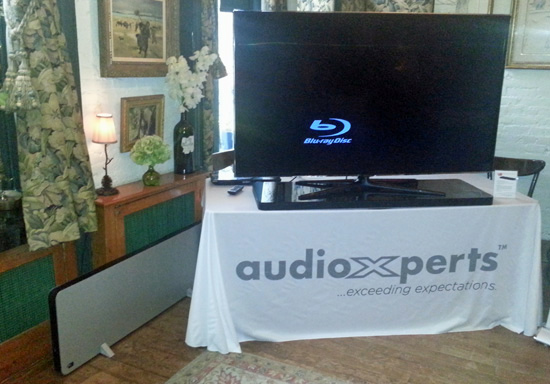 The goal of the 4TV designers is to simplify the home audio experience.  They've built the switching, processing and amplification right into the speaker module with an emphasis on ease of use.  When I asked company president Eli Harary how many buttons were on the remote control, he said, "none." The 4TV console actually learns the volume up/down and mute buttons from your TV's existing remote.  So when you hit your TV or cable box remote's volume buttons, they control the 4TV's volume. Other functions such as input selection, remote setup and advanced settings are accomplished via controls on the front top of the console which activate whenever they sense motion.  These controls also enable to user to change from Music to Movie to Enhanced Dialog mode, depending on content.

Listening to prototype units at the launch event, I was impressed with the imaging and overall spaciousness of the sound, as well as the harmonic balance. Without sounding boomy, both units produced a detailed soundstage with a healthy amount of low bass. The 5122 won out overall with its separate bass module and discrete surround speakers. But both units provided a nicely balanced sound and solid imaging. The demo wasn't quite as loud as I might have liked, but there was the upscale restaurant full of people (La Grenouille) just below us that might not have appreciated a full scale audio blowout.
Both units offer three digital inputs (two fiberoptic, one coax), as well as an old-fashioned 3.5mm analog jack on the right side. Both units have a port for an Apple Airport Express (sold separately), in case you'd like to use this as an AirPlay zone to stream iTunes into your living room.  If you do connect an Airport Express, you can use one of the unit's two fiberoptic inputs for maximum signal purity. For wireless connectivity, the unit sports Bluetooth, including the most recent CSR aptX codec support for maximum audio performance.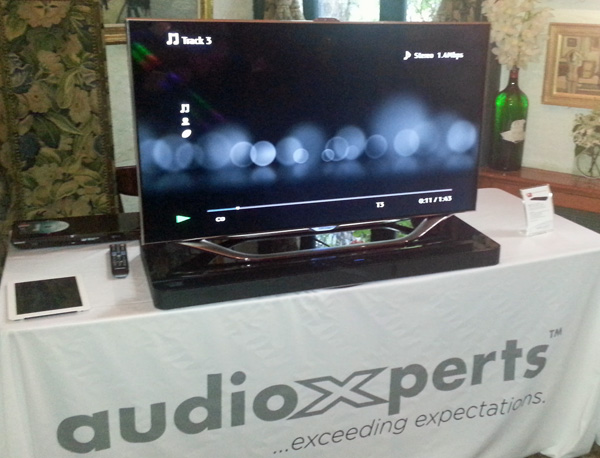 The gang at AudioXpress, a group of experienced audio industry veterans and enthusiasts, and one Grammy-winning audio engineer, are hoping that those who appreciate sound quality and elegant aesthetics will care as much about sound as they do about picture and will vote with their dollars.  Time will tell.
The 2112 is expected to be available at select retailers nationwide beginning in October with the 5122 to follow in November.
Related Article:
More Information: