Aperion Audio Intimus 4B-BP Fusion SA Speaker System Review
By Peter Suciu
Edited by Chris Boylan
4B or not 4B, There is no Question
One common misconception with anyone who doesn't understand home audio is that big sound requires huge speakers. If floor to ceiling speakers and a wall of sound aren't quite your style, or you aren't trying to pump out enough sound to fill a small dance hall, there are plenty of other options available for your surround sound pleasure.
Buying a home theater in a box (HTiB) system is certainly one way to go, but then you're limited in flexibility and upgradability, and do you really think a company that makes good receivers or good Blu-ray players is going to make the best speakers?  Another option is to get the individual front, center and surround speakers that will best suit your room from a company that specializes in loudspeaker design and manufacturing. To this end, Aperion Audio offers the Intimus 4B-BP Fusion SA System ($1,137 MSRP for 5.1, $1397 for 7.1), the subject of this review.
[editor's note: the 4B-BP system is no longer sold as a system, but the individual components are all still available. See below for links]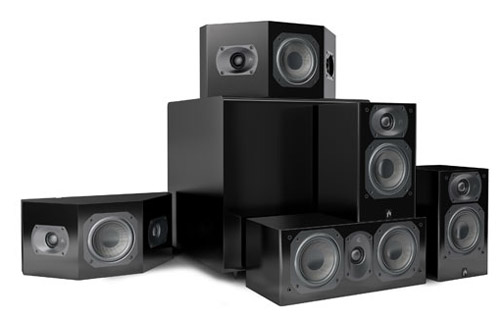 The 4B-BP Fusion SA system is comprised of a pair of Intimus 4B satellites, a 4C center channel speaker, a pair of 4BP bipole surround speakers, and the Bravus 8A powered subwoofer. A 7.1 version adds a pair of 4Bs for rear surround or height channel use.  This system is targeted toward those who want sound that can keep up with a high-end 1080p flat panel or projection system, but who don't necessarily want their speakers to dominate the room.  Ideally you'd want to install these in the smaller rather than larger size rooms -- but this isn't to say that the system couldn't fill out a great room as well, within reason.
This system provides a lot of flexibility, and depending on your receiver you have the ability to use these speakers in a stereo, 5.1, and with the addition of additional 4B or 4BP speakers you can expand to a 6.1, 7.1 or even a 9.1-channel configuration (a standard 7.1 surround system enhanced with 2 height  channels). For our testing we put these through the stereo, 5.1 and 7.1 front height speaker modes, using a Denon AVR-1910 as the main home theater receiver.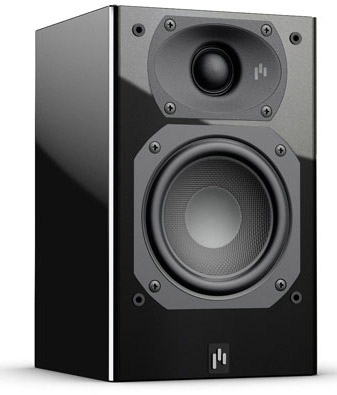 All seven of the speakers - which included the Intimus 4B-BP Fusion SA series, plus an additional pair of 4B speakers, arrived extremely well packed, well beyond the typical Styrofoam forms and plastic bags.  Aperion wraps each speaker in a luxurious velvet bag - reminiscent of those top shelf liquor bags. After unpacking you can use the bags to hold your spare change or your collection of vintage Star Wars action figures.  It's your choice.  And it is a nice touch that helps convey the feeling that these aren't your run of the mill speakers.
The bookshelf-sized speakers each have a simple yet elegant design, beginning with the Intimus 4B satellite speakers ($130 each MSRP), which feature curved edges and a discreet Aperion logo. The furniture-grade black piano finish (also available in Cherry) is stylish and should nicely complement any home theater setup. But more importantly, the 4B speakers are the perfect blend of form and function. These provide a 1-inch silk tweeter with a 4-inch woven fiberglass midrange, built into an anti-resonant cabinet.
Used in a stereo configuration a pair of these can kick out some serious volume without any distortion. The casings are beefy as well with excellent internal damping.  While many lower end speakers would practically be dancing from the vibrations, these speakers seemed not to move in the slightest.
Does size matter?
Combined with the slender 4C center channel speaker, the 4BP bipole surround speakers, and the powered sub, the 4B provided excellent audio immersion for movies, with good tonal and timbral matching all around. Aesthetically we had one complaint about the 4C, and that is that it is a tad too slender to match up visually with the 4Bs -- the 4C looks like it's the runt of the litter. This is because the 4C also features the same 1-inch tweeter along with twin 4-inch midranges but is laid out horizontally instead of vertically. Aperion offers a step up version -- the 5C -- which would be a closer height match to the vertical 4B speakers but its price is nearly double that of the 4C which sells for $160. So as there are no audio shortcomings of the 4C it is probably a good choice if you can look past the size issues.  [editor's note: this size difference is pretty common and is not unique to this specific system]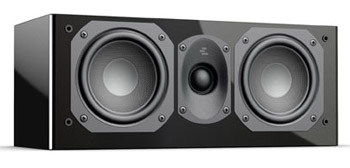 Just the opposite can be said of the 4BP bipole surround speakers. These feature the same 4-inch woven fiberglass midrange speaker, along with a pair of 1-inch silk tweeters, yet these almost look a little oversized compared to the front satellites. The surround sound from these was generally excellent in our testing, but again the size seems a bit out of sync with the 4C.  Fortunately they will be placed along the side or rear walls of your room so the size difference will not be as obvious.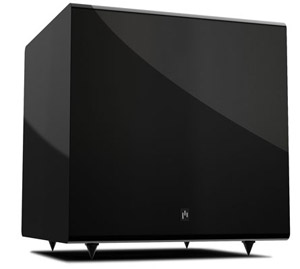 Speaking of size and shape, the Bravus 8A is also a bit smaller than many comparably positioned subwoofers, but don't judge a speaker by its size. This one has a decent price when sold individually ($319 MSRP). This subwoofer features an 8-inch aluminum cone driver in an internally braced ¾-inch ported HDF (high density fiberboard) enclosure, with 100 watts of power. It offers an adjustable crossover from 40-160Hz, rounding out a 5.1 or 7.1 channel satellite system quite nicely.
The manual recommends a crossover range from 80-100Hz, which seems a bit low for the smallish front speakers, but anything higher and the bass gets directional, so you may start to notice where the subwoofer is located in the room, which is a no-no.  With some tweaking and adjustment, we found the subwoofer to blend with and complement the satellites quite well. While not the deepest bass we've heard, it did manage to provide a solid and clear low-end. The 8A also features the same furniture-grade piano black finish as the satellites, and it comes with both metal foot spikes for carpeted rooms, as well as rubber feet for hardwood and tiled floors.
Testing, Testing
The Aperion speakers were put through a range of audio tests, and with music the 4Bs did an excellent job in stereo mode with old vinyl dance remixes, as well as with classical music including a "Best of" sampler CD from RCA. As stereo speakers the 4Bs sounded great with woodwinds, strings and brass with good placement of individual instruments in the soundstage.
In the 5.1 surround sound tests the speakers were put through the paces with a number of bombastic samplings, including Max Payne on cable TV, which was delivered in Dolby Digital 5.1. The speakers were crisp and clear, clearer than the nonsensical plot of the film. Next up we tested the speakers in a 5.1 configuration with DTS-HD Master Audio from the Blu-ray of Watchmen, and this particular super hero saga sounded super great! For Dolby TrueHD 5.1 we pulled out Defiance on Blu-ray, a film that delivers excellent discrete sound from all directions, notably with the dialog locked firmly into place front and center. The surround sound in this film isn't overwhelming but it still provides reasonable immersion, captured well by the Aperion system.
BiPolar: It's Not Just a Disorder
For those who are curious about the bipolar nature of the surround speakers, this is a design commonly used in professional theaters as well as in high-end home theaters. The theory behind it is that rear and side surround sound should not be easily localized: it should be spread around the side and back of the room.  So bipolar speakers like the 4BP have drivers that fire in two different directions (forward and backward for side speakers, left and right for rear speakers).  If you mostly like to watch movies, bipolar speakers are an excellent choice for surround channels.  If however, you're more into multi-channel music mixes (e.g., on SACD, DVD-Audio or Blu-ray music and live concert titles), then you might prefer the sound of traditional speakers in the rear as these will offer more pin-point imaging and localization.  Aperion offers the 4B Harmony SA system which uses 4Bs in the rear instead of 4BPs for those who prefer this approach.
But getting back to the listening, we also took the time to add a second pair of the 4Bs, set up as Front Height speakers for 7.1, and did a little testing to see how these fared with Dolby ProLogic IIz decoding on the Denon receiver. The results were pretty impressive, notably with the expanded soundscape.  The front of our listening room turned into a virtual wall of sound, at least on certain movie material like the opening rain scene of the Ratatouille DVD and the dream sequence in Lord of the Rings: Two Towers Extended Edition DVD (Disc 2, chapter 3). The nice thing about the 4Bs is that these are affordable enough and discrete enough that they can easily be added to an existing system, provided you have a place to mount them.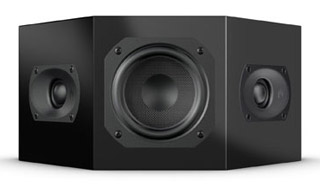 And talking about the mounting, this is another area where these satellites are very flexible. While there are no keyhole mounts for simple one-screw wall-mounting, the speakers do come with four glued on rubber feet -- which can be easily removed if necessary -- along with a single underside screw mount, plus two backside screw mounts. In a further example of the speaker's fit 'n finish, these screwhole mounts are covered with removable rubber plugs in order to maintain the all-black look when the holes are not needed.
The center channel 4C features the two rear mount option, while the 4BPs take it a step further. The bipole surrounds feature the bottom mount, along with the rear mount and have had the rear of the speaker grooved out to accommodate the speaker wire. This makes using these speakers in a number of configurations a snap. More importantly these speakers are available individually so you can start with a basic 5.1 system and grow it out over time, as tastes and budget allow.
Turn-Ons
Solid craftsmanship and excellent materials
Reasonable sized satellite speakers
Subwoofer delivers serious low end
Turn-Offs
4B, 4C and 4BP seems a little mismatched in size, if not in sound
No additional system discount over ala carte pricing
Final Thoughts
With its furniture-grade piano finish and sleek design the Aperion Intimus 4B-BP Fusion SA system looks like a million bucks, but this system almost sounds like it too. While the satellites and center speaker don't quite match up visually, together the 5.1 system packs quite an audio punch.
Order Factory-Direct from AperionAudio.com
System Specs:
Satellite Speakers: Intimus 4B

Dimensions: 8.75" H x 5.33" W x 5.5" D
Frequency Response: 120Hz - 20kHz (+/- 3dB), 100Hz - 22kHz (+/- 6dB)
Sensitivity: 84 dB
Driver Configuration: 2-way

Center Speaker: Intimus 4C

Dimensions 5.33" H x 12.8" W x 5.5" D
Frequency Response: 80Hz - 20kHz (+/- 3dB), 70Hz - 22kHz (+/- 6dB)
Sensitivity: 84 dB
Driver Configuration: 2-way

Surround Speakers: Intimus 4BP

Dimensions 5" H x 12.5" W x 5.8" D
Frequency Response: 100Hz - 15kHz (+/- 3dB), 80Hz - 18kHz (+/- 6dB)
Sensitivity: 87 dB
Driver Configuration: 2-way

Subwoofer: Bravus 8A Powered Subwoofer

Dimensions: 15" H x 13.5" W x 13.5" D (with feet attached)
Frequency 36Hz -160HZ
Driver Configuartion: Single
Amplifier Power: 100 Watts

System Price: $1,137.00 (5.1) or $1397 (7.1)
Manufacturer's Contact Information:
Aperion Audio
18151 SW Boones Ferry Road
Portland, Oregon 97224
Ph: 1-888-880-8992
On the Web: AperionAudio.com