Aperion Audio Intimus 4T Hybrid SD 7.1-channel Speaker System Review
By Chris Boylan
Speakers of the House
Aperion Audio, based in Portland, Oregon makes high quality speakers at affordable prices. You won't find them in Best Buy or your local audio/video specialty store, because Aperion's products are only available online and at a couple of showrooms in Portland. Aperion bypasses the traditional middlemen (distributor and retail store) in order to sell their products directly to their customers at the lowest possible prices. I've seen the Aperion folks (and their speakers) at trade shows in the past, but my experience with the Intimus Hybrid SD 7.1-Channel Speaker System is the first time I've had a chance to check them out up close and personal.
I knew the Aperion folks had a sense of humor when I received a friendly "bon voyage" e-mail from the company when the speakers were shipped. The Aperion team wished the speakers well on their journey. And when they arrived, I got an idea of how serious the company is about quality. The speakers were boxed securely, and inside the boxes they were dressed in elegant packaging: purple velvet sacks with golden drawstrings. Inside the bags, the meticulous presentation continued with speakers finished in a lush glossy piano black. The tower speakers came with nice brass cone feet for the base, complete with metal discs to rest them on so as not to scratch hardwood floors. Overall, the packaging and the speaker fit and finish scream "luxury."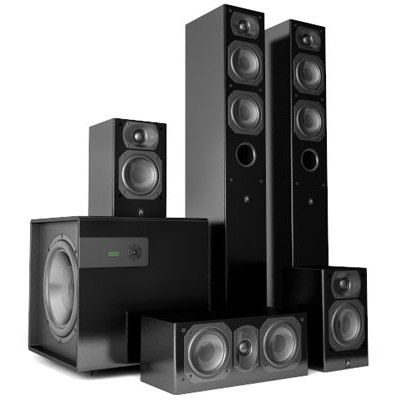 The system, as reviewed, consists of a pair of Intimus 4T Tower Speakers for the main left/right speakers, four Intimus 4B bookshelf speakers for rear and side surround duties and an Intimus 4C center channel speaker. Low bass is handled by a single Bravus 8D 8-inch dual-driver powered subwoofer. For power for the other seven speakers, I plugged the system into a Pioneer Elite VSX-94TXH 7.1-channel receiver with a generous 140 Watts/Channel.  I set the side surrounds up on stands at slightly above ear height and placed the rear channel speakers on a bookshelf a few feet behind the couch. Then I dove in for some quality listening of various stereo and multi-channel CDs, DVDs and Blu-ray Discs.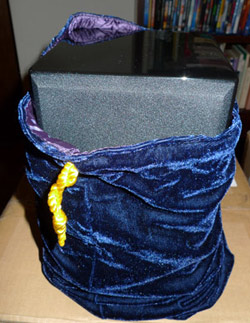 BIG SOUND
The sound of this system in a 7.1-channel set-up is deep, wide and expansive, drawing you into the action of movies, music and TV shows encoded in surround. For the full 7.1 effect on 5.1-channel recordings, I put our Pioneer Elite receiver in DPLIIx mode which supplements the 5.1-channel mix with rear surround channels. But I also listened to a fair amount of discrete 7.1-channel recordings on Blu-ray, where possible. Overall, the sound of the Intimus system leans a bit more to the "polite" than to the "aggressive" side of the spectrum, which makes these speakers a great match for digital sources such as CDs, DVD soundtracks and MP3 music which can get a little strident in the highs through lesser speakers. This is not to say that they can't "kick out the jams" on dynamic material such as well-recorded CDs, DVDs and Blu-ray Discs, only that they lack the brash overly aggressive sound that can plague lower cost speaker systems. And speaking of Blu-ray, this is where these puppies really sing.
The Dark Knight features a dynamic and beautiful Dolby TrueHD 5.1 soundtrack with a substantial amount of LFE (low frequency effects) in the mix. I wasn't expecting much from the Aperion subwoofer, considering its relatively diminutive size and 8" drivers, but the sub is rated down to a deep 35 Hz, and using test tones on the AVIA Guide to Home Theater DVD and a handy-dandy SPL meter, I verified that the sub had a significant amount of output at that frequency. And this was enough to provide that low deep, feel-it-in-your-gut rumble which helps to establish the menace of this dark and brooding film. The bass is tuneful and taut, not squishy and bloated as it can be on some larger subwoofers.
The subwoofer could not descend into the very lowest octave of bass as well as our pair of (more expensive) Outlaw Audio LFM-1 reference subs, but it was at least as well defined. Also, with the subwoofer's handy remote control, you can adjust levels of the subwoofer on the fly if you feel that different content benefits from different amounts of bass in the mix.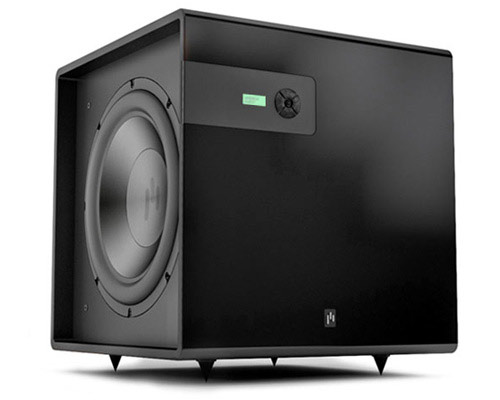 Turning to a more musically-oriented Blu-ray Disc, namely "Dave Matthews & Tim Reynolds: Live at Radio City Music Hall," which also features a Dolby TrueHD 5.1-channel mix, the guitar strums and fingering details were exquisitely detailed and vocals were presented with just the right amount of body and substance, without any boominess or nasality. Crowd noise from the surround channels was enveloping, giving me a real feeling of being in the audience watching and listening to these two seasoned pros. For more musical action, I gave the Drumline Blu-ray Disc a spin. This is not only a fun movie to watch but it's reference material on both the video and audio side. Its 5.1-channel DTS HD Master Audio mix will make you think you're out there on the field with the marching band, particularly on high quality speakers such as these in the Aperion Audio system. I dabbled a bit on the drums myself so I know what they're supposed to sound like, and I'm happy to say the Intimus system reproduces snare drums, cymbals, bass drum and toms with the proper snap and attack. And when the band kicks in, the Aperion system reproduces the full ensemble without getting congested or restricted in dynamics.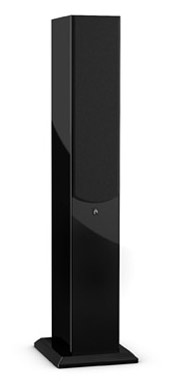 On two-channel material, like the Mobile Fidelity Sound Labs Ultradisc version of
Rush: 2112
, and a recording of Wagner's "Das Ring Der Nibelungen," as well as more modern pop and rock recordings, the Aperion Towers presented a realistic and three dimensional soundstage with pinpoint instrument placement, without the need for any simulated surround. Using the Pioneer receiver's "Pure Direct" 2-channel mode, the towers reached deep enough into the low bass themselves (around 45 Hz, according to the specs) so as to make the subwoofer optional for stereo playback. Some tower speakers have difficulty disappearing in the music, but the Intimus 4Ts imaged as well as a great pair of mini-monitors. This system really does satisfy the ears on a variety of 2-channel, 5.1 channel and 7.1 channel material.
Turn-Ons
Elegant fit and finish
Excellent sound quality for both stereo and multi-channel recordings
Subwoofer remote allows you to dial in the perfect amount of bass for any content
Turn-Offs
A bit pricier than entry-level systems (but you get what you pay for)
Average to low efficiency means these are a better fit for powerful receivers with beefy amp sections
Low bass could be slightly more extended
Final Thoughts
While at first glance, a system price of $1569 (5.1) or $1829 (7.1) might seem to place these speakers slightly out of reach of the budget-minded audiophile, the performance that this system delivers compares favorably to much more expensive home theater loudspeaker systems. And with the price of flat panel HDTVs, front projectors and Blu-ray players coming down, you may find that there's a bit more left in the budget for speakers than you might have originally thought. And, in this case, the Intimus 4T Hybrid SD 7.1-Channel Speaker System is a great place to splurge.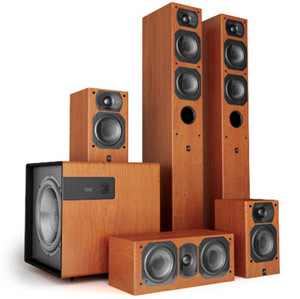 Where to Buy:
System Specs:
Front Speakers: 2 Intimus 4T Tower Speaker
Dimensions: 34" H x 5" W x 7.5" D (Base: 8.25" x 10")
Frequency Response: (+/- 3dB) 55Hz -20,000Hz; (+/- 6dB) 45Hz -22,000Hz
Sensitivity: 86 dB
Driver Configuration: 2-Way
Center Channel: 1 Intimus 4C Center Channel Speaker
Dimensions: 5.33" H x 12.8" W x 5.5" D
Frequency Response: (+/- 3dB) 80-20,000 Hz; (+/- 6dB) 70-22,000 Hz
Sensitivity: 84 dB
Driver Configuration 2-Way
Surrounds: 4 Intimus 4B Satellite Speaker
Dimensions: 8.75" H x 5.33" W x 5.5" D
Frequency Response: (+/- 3dB) 120-20,000 Hz; (+/- 6dB) 100-22,000 Hz
Sensitivity: 84 dB
Driver Configuration: 2-Way
Subwoofer: 1 Bravus 8D - Dual 8" Powered Subwoofer
Dimensions: 13.5" H x 12" W x 12" D (with feet attached)
Frequency Response: -3dB, 35Hz - 180Hz; -6dB, 30Hz - 180Hz
Driver Configuration: Dual Drivers
System Price: $1569 (5.1-ch configuration); $1829 (7.1-ch configuration)
Manufacturer's Contact Information:
Aperion Audio
18151 SW Boones Ferry Road
Portland, OR 97224
Ph: 1-888-880-8992
On the Web: www.AperionAudio.com