A Destiny Revealed: Star Wars Media Day Brings Blu-ray and More to New York City
By Chris Chiarella
As teased last August, announced for pre-order at CES and elaborated upon a few months ago, Star Wars The Complete Saga Blu-ray promises to be the hot disc release of 2011 when it drops this September 16th (along with The Original Trilogy and The Prequel Trilogy configurations, something to suit every fan). All that remained--short of final copies for full, in-depth review of course, hint-hint--was a hands-on demo of these long-awaited discs. How would they look and sound? And would these mysterious new extras really live up to the hype?
Well, at a private event in New York City last week, our friends at Lucasfilm and Fox pulled back the curtain all too briefly for an exciting peek at the Blu-rays as part of the 2011 Star Wars Media Day. Two clips were played (one from a classic film, one from a prequel) to demonstrate the quality of the brand-new 1080p/DTS-HD Master Audio 6.1 remasters, on a Panasonic plasma and over a Panasonic HTiB system. It was really just enough to whet our appetites (as if we weren't drooling enough already), but I am now very optimistic: the clips that we saw of films both of the original trilogy flavor and the newer prequels were stunning.  Release of the older films in particular on Blu-ray will be a real challenge for Fox, owing to the limits of cinematic technology of the era, but Episodes II and III should have the potential to truly amaze.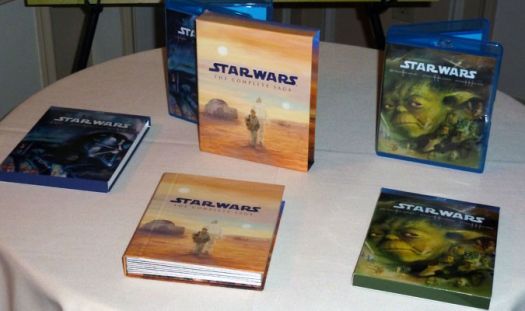 The Complete Saga will contain all six chapters, each with beautiful, elaborate menus designed around the theme of locations relevant to that film. There will also be "new" audio commentaries for all, edited together from archival material amassed over the years, these in addition to the current DVD commentaries. This mega-set will also include three exclusive Blu-rays: Disc Seven will focus specifically on the prequels, Disc Eight on the classic trilogy, while Disc Nine collects both new and vintage documentary material.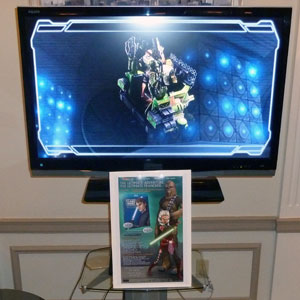 The highlights will surely be the more than 40 deleted scenes spanning the saga (Tosche Station had better be in there!) and the home video debut of "A Conversation with the Masters" (about 20 minutes, in HD) featuring the last on-camera interview with late
Empire Strike Back
director Irvin Kershner, created for the 30th anniversary of that film last year. But "The Archive Collection" has us particularly intrigued, now that we've seen up close what it's really about. Imagine if George Lucas was the subject of a very special edition of
Hoarders
, since he has fastidiously held onto just about everything from every movie. And now we can venture into this rarified domain too, as props and more come alive via 360-degree flyarounds and painstakingly sharp zooms that look terrific on the big high-def screen. If that's not interactive enough, more than 100 HD mini-documentaries (two to five minutes each) are accessible along the way, boasting fascinating new creator interviews combined with behind-the-scenes footage. Apparently, no expense was spared to make these extras rock.
The book-type packaging is absolutely gorgeous too (we can debate its practicality some other time), with bold images that might be familiar to fans of last year's coffee table book Star Wars: Visions. I tried to take some photos of it for the enjoyment of Big Picture Big Sound readers, but no lie, there were armed Clone Troopers roaming Media Day looking for uppity journalists trying to leak material early.
Also featured at the event, appropriately enough, was the recently announced Star Wars: The Clone Wars The Complete Season Three Blu-ray from Lucasfilm and Warner. Apart from serving up the latest adventures of young, pre-evil Anakin Skywalker and his band of merry men (more or less) in HD glory, this multi-disc set will bring us even more of the Jedi Temple Archives, an elaborate series of exceptionally well-produced bonus materials that further illuminate this most excellent third year. Clone Wars Season Three will arrive on Blu-ray on October 18 with a suggested retail price of $59.99.
In a back-room at the event, we were treated to previews of all manner of officially licensed Star Wars merchandise, from elaborate costumes to books, games and toys.  We even got a hands-on sneak peak at an upcoming Star Wars game for the Microsoft Kinect platform.  Jedi wanna-bes are going to want to pick this game up as it allows you to hack, slash, jump and force grab your way through battle droids, sith lords and other worthy foes.  This title is expected to be released before the end of the year and will be a Kinect exclusive.
Where to Buy: