The Adventures of Young Indiana Jones, Volume Three: The Years of Change on DVD Review
By Chris Chiarella
The Show
I came to think of The Young Indiana Jones Chronicles, as it was originally titled, in Hollywood terms, namely "It's Forrest Gump meets… well, pretty much every important figure in global politics, culture, science and beyond." Perhaps playing off of the scene in Last Crusade where Indy comes face to face with Adolf Hitler, "Young Indy" cast the someday-archaeologist as a witness to--and frequent participant in--all manner of world history, trekking alongside everyone from T.E. Lawrence (he "of Arabia") to Ernest Hemingway to Albert Schweitzer to Pablo Picasso to… I could go on and on, since the show ran for three seasons.
Finding Indiana Jones both as a young boy shortly after the turn of the century and in his late teens around the time of the First World War, Young Indy intended to be a family program, full of fun, romance and excitement. And much like what Jessica Seinfeld does with vegetables in her recipes, it snuck some "healthy" historical education into our entertainment, tricking slack-jawed couch jockeys like me into learning the truth about real people, places and happenings.
A passion project for creator/executive producer George Lucas, the series attracted established directors and up-and-comers (episodes in this set were helmed by Bille August, Mike Newell, Nicolas Roeg and others), and writers like Frank Darabont, in addition to a host of actors and actresses destined for fortune and glory. It was filmed all over the world, unheard of for a TV series, won12 Emmy Awards, and served as a proving ground for Industrial Light & Magic's burgeoning digital special effects technologies which would soon become the industry standard.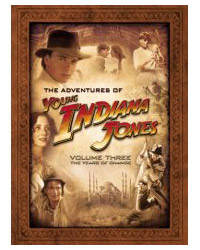 Ultimately Young Indy was a tough sell, as TV audiences were understandably expecting the bigger-than-life thrills we'd come to expect from Indiana Jones, an odd fit for the disparate storylines and coming-of-age themes. The pre-teen incarnation (Corey Carrier) was soon marginalized and the emphasis put on the more violent, grownup escapades of his studlier self (Sean Patrick Flanery). Possibly as a ratings stunt, the, "Mystery of the Blues" telefilm (Disc Six in this set) even features a fully bearded Harrison Ford reprising his iconic role one last time.
Or so we thought.
The most of these seven feature-length yarns represent the original one-hour installments reedited for a more movie-like experience. As the three volumes of DVD releases have been assembled in the chronological order of the events they depict, we find Indiana fighting in World War I on a variety of fronts, and later embarking upon his post-war private life. His "adventures" take him to college in Chicago, to Broadway, and all the way out to Hollywood, California, surely a poetic tip of the fedora to his cinematic roots.
The Picture
Shot on 16mm film and presented at a standard 4:3 aspect ratio, Young Indy looks about as good as we should expect for a show from the 1990s. The cinematography is fairly ambitious, but the transfer and compression are unforgiving to fast camera moves, which can introduce distracting artifacts. Colors tend toward the dull, and genuinely fine detail is a scare commodity. And yet the frequent softness helps to sell the computer-aided effects shots, helping to hide the seams of the augmented period exteriors, crowds, and battles.
The Sound
Knowing that it would now be played on at least a rudimentary home theater system and no longer the everyman single-speaker cathode ray tube of the era, perhaps Lucasfilm gave these tracks just a bit of spit and polish? It's a no-nonsense Dolby Digital 2.0 and the dialogue at least is always clear. I was hoping for a bit more involvement during a music-based episode like "Mystery of the Blues" but the fidelity and dynamic range were unfortunately, perhaps unavoidably limited. The fights and chases do seem to open up the stereo soundstage slightly, at least enough to sell the small-screen action.
The Extras
The first point I must make about the formidable supplements is that absolutely none of them are dedicated to the production itself. No "George Lucas Comes to TV" or profiles of the fictional characters or analyses of the special effects. Instead, all of the 31 "companion documentaries"--which took former CBS News producer David Schneider four years to prepare--delve into the amazing real-life men, women, and historical facts underlying each episode. Average Joes like me stand to learn a lot, while even buffs will no doubt come away with a deeper understanding of complex subjects like the Treaty of Versailles. All have been extensively researched, drawing upon an incredible amount of archival footage and photos.
Interactive Disc Ten, for fairly robust Macs or PCs, boasts a multifaceted Timeline begging to be explored, definitively organizing both the when and the where of the youthful rogue's endeavors, and tying back into the above-mentioned documentaries. There's also the final third of an historical lecture, entitled "New Gods for Old" by Professor H.W. Brands, a tad dry to sit through. And the Hunting for Treasure game is supposed to make us feel like Indiana Jones, who never had a computer and even if he did he probably wouldn't sit and play with it much.
Final Thoughts
If you've read this far you're probably a fan, and might have already picked up Volumes One and Two. Harrison Ford completists must surely own this last box, although the dodgy artistic choice to repackage weekly episodes as cut-and-paste "movies" might discourage some from the significant investment. If it helps, think of it as money spent on an ultimate set of Cliff's Notes, "20th Century History 101."
Where to Buy:
Product Details:
Actors: Sean Patrick Flanery, Corey Carrier, Lloyd Owen, Ruth de Sosa, Ronny Coutteure, Margaret Tyzack, Harrison Ford
Audio Formats/Languages: Dolby Digital2.0 (English)
Subtitles: English
Aspect Ratio: 4:3 (non-anamorphic)
Number of discs: 10
Rating: Not Rated
Studio: Paramount
Release Date: April 29, 2008
Run Time: Approx. 11 hours
List Price: $129.99
Extras:

"Unhealed Wounds: The Life of Ernest Hemingway"
"The French Foreign Legion: The World's Most Legendary Fighting Force"
"The Secret Life of Edith Wharton"
"Lowell Thomas: American Storyteller"
"For the People, Despite the People: The Atatürk Revolution"
"The Greedy Heart of Halide Edib"
"The Ottoman Empire: A World of Difference"
"Dracula: Fact and Fiction"
"Bronislaw Malinowski: God Professor"
"Anthropology: Looking at the Human Condition"
"New Guinea: Paradise in Peril"
"The Best Intentions: The Paris Peace Conference and the Treaty of Versailles"
"Woodrow Wilson: American Idealist"
"Gertrude Bell: Iraq's Uncrowned Queen"
"Ho Chi Minh: The Price of Freedom"
"Paul Robeson: Scandalize My Name"
"Robert Goddard: Mr. Rocket Science"
"Jazz: Rhythms of Freedom"
"Al 'Scarface' Capone: The Original Gangster"
"Prohibition: America on the Rocks"
"On the Trail of Eliot Ness"
"Louis Armstrong: Ambassador of Jazz"
"Ben Hecht: The Shakespeare of Hollywood"
"Hellfighters: Harlem's Heroes of World War I"
"Tin Pan Alley: Soundtrack of America"
"Wonderful Nonsense: The Algonquin Round Table"
"Broadway: America Center Stage"
"Erich von Stroheim: The Profligate Genius"
"The Rise of the Moguls: The Men WhBuilt Hollywood"
"Irving Thalberg: Hollywood's Boy Wonder"
"The World of John Ford"
Interactive Timeline
Historical Lecture: New Gods for Old
"Hunting for Treasure" Interactive Game