Before the Devil Knows You're Dead on Blu-ray Disc Review
By Chris Chiarella
The Film
Twisty, depressing, and utterly absorbing, Before the Devil Knows You're Dead is a "melodrama" only in the sense that it is amped-up drama, intricately conceived and intensely played out by an ensemble of fine screen actors. Brothers Andy and Hank (Oscar winner Philip Seymour Hoffman and Ethan Hawke) are losers in different ways, and a quick heist of their parents' jewelry store looks like the answer to their cash woes. They know how the place operates, insurance will cover any loss, so what can go wrong?
Most of the ensuing movie answers that question, in a series of flashbacks and explorations of the days ahead, all relative to the robbery. The smart script tells its story from different points of view, glimpses of angry domesticity and ultimately everyone doing things they really ought not to, and paying a price. And as we watch more and more layers of these people's lives peeled back, we keep learning more sordid secrets, to the point that we might want to shower as the end credits roll.
The Picture
Shot on high-definition video, the entire movie exhibits some minor artifacting that plays out as a faint digital haze across out-of-focus foregrounds and backgrounds or shadowy areas of the 1.85:1 frame. This is an all-too-realistic story from start to finish, with no flashy special effects, and so I settled for being impressed with the detail of Hoffman's all-over freckles or the sheen and pattern of his business suit. Color sometimes takes on a deliberate desaturation, with subtly disturbing effect. In the end this presentation is only one small notch above DVD quality, appropriate to the genre but in no way reference caliber.
The Sound
The same is true of the audio, which is typically a clean front-heavy mix with crisp dialogue, which is perfect here. The DTS-HD Master Audio 5.1 soundfield opens up occasionally as the story dictates: voices in a crowded bar, the urban clamor of a busy highway, a touch of subwoofer for a car engine, the jolt of an unglamorous gunshot. Carter Burwell's simply beautiful strings-forward musical score floats hauntingly throughout.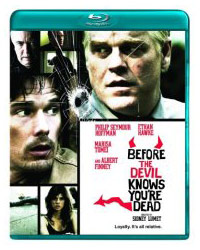 The Extras
A meeting of the minds as we have on the commentary track for Devil is a rare and beautiful thing, as the two male lead actors are joined by the revered director Sidney Lumet. This is the guy who directed Network, Dog Day Afternoon and Murder on the Orient Express between 1974 and 1976, along with many other truly great films in his 60-year career, and these dramatic heavyweights talk a lot of fascinating shop. Hawke is the de facto "driver" of the conversation while providing a serious, almost student-like appreciation for all aspects of Lumet's work.
Bringing in disparate voices for its interviews--producers, actress Marisa Tomei--the documentary "Directed by Sidney Lumet: How The Devil Was Made" avoids treading much of the same ground. Gushing is kept to a minimum as we instead are told the history of the project and given insight into the many choices made, both technical and creative. Worth nothing is that this 24-minute featurette was also shot in high-definition. We fervently hope that all bonus materials will be produced in HD, someday….
Final Thoughts
While the technical quality of the feature left something to be desired, the drama is top-notch. I don't even remember this one playing in a theater near me last year, but Image's Blu-ray is a welcome remedy.
Where to Buy:
Product Details:
Actors: Philip Seymour Hoffman, Ethan Hawke, Marisa Tomei, Albert Finney, Brían F. O'Byrne, Rosemary Harris, Amy Ryan, Michael Shannon
Director: Sidney Lumet
Audio Formats/Languages: DTS-HD Master Audio 5.1 (English), Dolby Digital5.1 (English)
Subtitles: English SDH, Spanish
Aspect Ratio: 1.85:1
Number of discs: 1
Rating: R
Studio: Image Entertainment
Release Date: April 15, 2008
Run Time: 117 minutes
List Price: $35.98
Extras:

Commentary by Sidney Lumet, Philip Seymour Hoffman and Ethan Hawke

"Directed by Sidney Lumet: How The Devil Was Made" documentary