Onkyo TX-SR606 Home Theater Receiver - More HDMI Inputs, Better Upconversion
By Chris Boylan
When I reviewed Onkyo's TX-SR605 home theater receiver a few months ago, I found a lot to like - low price, next generation surround sound support (Dolby TrueHD and DTS-HD), HDMI 1.3a-compliant switching and more. The only things I didn't like were its paucity of HDMI inputs (it had only two) and its treatment of 1080i component video signals (down-converted to 720p over the HDMI output). Now Onkyo has addressed both of these issues with the new TX-SR606 as well as adding a few more unique new features.
Maintaining all of the advanced audio and video features of its predecessor, the Onkyo TX-SR606 adds two additional HDMI inputs (now 4 total) and 1080i upconversion of analog sources over HDMI. This means the TX-SR606 will allow you to connect 480i, 480p, 720p or 1080i analog video sources via composite, S-video or component video, and it will convert these to HDMI digital output at 1080i resolution. As with the TX-SR605, HDMI sources are passed through to the display at their native resolution (480i, 480p, 720p, 1080i, 1080p).
Also being added are some audio features: an enhancement to the existing Audyssey EQ/calibration system called "Dynamic EQ" and a new "Music Optimizer" circuit which enhances compressed audio from an iPod or MP3 player to sound richer and fuller through the receiver. Dynamic EQ is like a variable loudness control which compensates for the human ear's lower sensitivity to low and high frequencies at low volumes. With the Audyssey Dynamic EQ feature enabled, you should be able to hear details in a movie or concert's surround sound mix that were previously only audible at louder volumes. The Music Optimizer feature employs "sophisticated equalization and optimization algorithms" to overcome the faults inherent in compressed music formats such as MP3, AAC and WMV, enhancing the reproduction quality of digitally compressed music.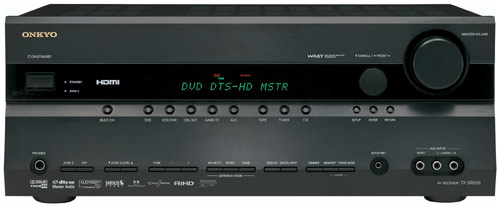 In the video department, the TX-SR606's HDMI 1.3a support has greater bandwidth than earlier HDMI versions for higher resolution, higher frame rates, and 36-Bit Deep Color. Onkyo's HDMI video upscaling technology converts standard definition signals to 1080i, and its on-board Faroudja DCDi Edge (
D
irectional
C
orrelational
D
e
i
nterlacing) technology minimizes video artifacts.
For those who appreciate the audio side, the TX-SR606 features a 90 watt-per-channel amplifier section (all seven channels driven), Audyssey 2EQ automatic room correction and speaker calibration, as well as a full range of advanced surround sound codecs, including Dolby TrueHD and DTS-HD Master Audio to provide lossless bit-by-bit audio identical to the master recordings. The receiver also supports Remote Interactive control over HDMI (RIHD) and is Sirius Satellite Radio ready.
The TX-SR606 employs 32-bit DSP processing and 192 kHz/24-bit digital-to-analog converters on all channels. In addition to offering native decoding of Dolby TrueHD, Dolby Digital Plus, DTS-HD High Resolution Audio, DTS-HD Master Audio and lossless multi-channel PCM decoding, the receiver supports legacy surround sound formats including Dolby Digital, Dolby Digital EX, Dolby ProLogic IIx, DTS, DTS-ES, DTS-96/24, and DTS Neo:6. The receiver also includes a user-selectable eight-setting subwoofer crossover adjustment for enhanced integration of any subwoofer/satellite speaker system.
The TX-SR606 also features Onkyo's Powered Zone 2 capability, which can be used to power stereo speakers in a second room while listening to 5.1-channel sound in the main zone thanks to a dedicated set of zone 2 left/right speaker terminals. The receiver is capable of processing separate multi-channel and stereo sources simultaneously for the main and second zone, or processing a single source for both. There is also a zone 2 pre-out that can be used in conjunction with a dedicated zone amplifier or receiver. For those with main stereo loudspeakers that can be bi-amplified, the back surround channels can also be re-configured to drive the front speakers instead, offering enhanced dynamic range.
The Onkyo TX-SR606's RIHD (Remote Interactive over HDMI) capability allows it to integrate with other leading brand-name devices, including all Toshiba CE-Link equipment and select Panasonic VIERA Link, Sharp, and Samsung products. This feature allows you to leave your receiver and/or Blu-ray Disc player behind closed doors while still operating if with the factory IR (infrared) remote. As long as the TV's IR port is accessible, commands can be sent to the receiver and disc player via their HDMI connection. This can give you a simple inexpensive solution when compared to expensive and sometimes complicated RF (Radio Frequency) remote controls. The receiver is also compatible with Onkyo's RI (Remote Interactive) iPod dock/charger models.
The Onkyo TX-SR606 will be available in black or silver finish in April, 2008 at a suggested retail price of $579.
Where to Buy: