LG Bridges the Blu-Ray/HD-DVD Gap with Super Multi Blue Combo Player
By Chris Boylan
At CES in Las Vegas this morning,
LG Electronics
became the first member of the Blu-Ray Association to announce support of both next generation disc formats (HD-DVD and Blu-Ray Disc) in a single device. Well, actually in two devices - a computer disc drive (GGW-H10N) and a standalone disc player (BH-100). Each device will sell for an MSRP of $1199 and both are expected to be available in "early 2007."
The GGW-H10N computer disc drive, with the super-cool name of "Super Multi Blue," can record up to 50 GB of data on a dual-layer Blu-Ray Disc. It is compatible with both Blu-ray Discs and HD-DVD formats with read/write access to Blu-ray Disc, DVD, and CD, but only read-access (playback) for HD-DVD discs.
LG is providing a 4x recording speed for Blu-ray Discs, which means that it should take about 23-24 minutes to burn a full single layer BD-R disc (25GB), compared with 46-47 minutes for conventional 2x recording.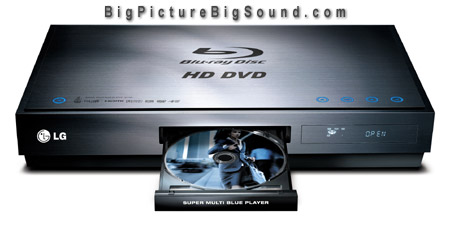 The Super Multi Blue drive also powers the first dual-format high-definition disc player, the BH-100. The home disc player is primarily a Blu-Ray player, with only limited support for HD-DVD (it does not support the HD-DVD's interactive functions). However the player should be able to play all HD-DVD movie titles with no problems, albeit with a fairly limited player-generated menu system.
Oddly, the multi-disc player does support standard DVD playback but not CD playback. Of course, the early adopters who buy it will probably already have a device in their home theater system that will play CDs, but it seems like a strange thing to omit CD support a "universal" disc player.
It is LG's hope that by providing a single player that supports both formats, consumers will be more inclined to invest in next generation high definition disc technology, without fear of obsolescence. The price point is a bit steep - you can spend $100 less buying a Sony PS3 for $599 plus a Toshiba HD-A2 for $499 and get support of both formats - but the convenience of having it in one device may appeal to early adopters of the technology who already have too many black boxes in their gear racks. Also, the price point of most first generation Blu-Ray Disc players alone is around $1,000 (and up), so you're really only paying a small premium over current Blu-Ray player pricing.
And we can hope that other manufacturers will follow suit and price points will decline over time.
Kudos to LG for taking the first step toward ending the format war and promoting consumer adoption of high definition technology.