The Site for Home Theater and Movie Reviews
Juno on Blu-ray Disc Review
By Chris Boylan
The Film
Everyone likes an underdog. And Juno was certainly that. Take an unproven young director, a sex-blogger/ex-stripper trying to pass herself off as a screen-writer, and two young relatively unknown lead actors, supported by a cast of characters who have defined themselves more on the small screen than the large and what do you get? A funny, moving, thoughtful Oscar-winning film of course. Was any other outcome was possible?
Although Ellen Page (X-men: The Last Stand) gets her due props for righteously inhabiting the leading role of Juno MacGuff, a precociously wise and funny knocked up 16-year-old, and Michael Cera (Superbad) has been praised for his awkwardly shy yet somehow cool cuteness as her boyfriend (type cast, much?), the supporting cast is no less magnificent. Allison Janney (The West Wing) plays the tough-as-nails yet supportive stepmother, and J.K. Simmons (Spiderman) the gruff yet surprisingly tender blue collar dad. Jason Bateman (Arrested Development) plays an immature man-child married to a baby-obsessed-but-apparently-infertile Jennifer Garner (Alias) - the prospective adoptive parents of Juno's impending offspring. Olivia Thirlby (United 93) plays Juno's best friend - keeping it real - and Rainn Wilson (The Office) even chews up a scene or two with great hilarity as a convenience store clerk. It is when these various characters interact that the film really shines, but it is screen-writer Diablo Cody's heartfelt clever words that will make you smile, make you think, make you laugh, and maybe even make you cry.
Need a second opinion? Check out Joe Lozito's Juno review.
The Picture
The film is presented in a widescreen aspect ratio of 1.85:1 in full 1080p resolution with AVC encoding. Fox doesn't skimp on the video here on this dual-layer 50GB Blu-ray Disc with an average sampling rate of 28 MBPS (megabytes per second). The material isn't particularly demanding, mostly domestic interiors and external shots of malls and schoolyards, but details are fairly sharp and colors are accurate, though with a very slight red tinge on flesh tones. Overall it's a good clean HD tele-cine transfer free from any major artifacts.
The Sound
Presented in lossless DTS-HD Master Audio 5.1, the music and dialog of the film come through well here. Juno has one of those soundtracks that had me wondering, "Hey, who's that artist?" on more than one occasion. I'd imagine the soundtrack CD is something special. Dialog is delivered cleanly and the surround speakers were used judiciously for effects and music to create a sense of space. There is some sibilance in the high frequency of some of the background songs, but overall, it's a clean mix which doesn't get in the way of the story.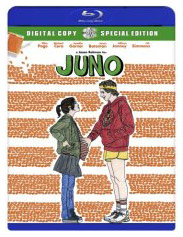 The Extras:
Juno comes with a wealth of special features, including a commentary track with writer Diablo Cody and director Jason Reitman, screen tests, deleted scenes, a gag reel, a gag take, and several featurettes on the making of the film and its evolution from idea to execution. One of my favorites of these was "Honest to Blog! Creating Juno," primarily a conversation between the screenwriter and director, with interviews with all of the stars sharing their impressions of the film-making process and of each other, interspersed with scenes from the film. It's like a condensed commentary track but with the ability to pause the film to really make a point.
The Blu-ray Disc set also comes with a second disc, a data DVD that includes a portable digital version of the film (for playback on your PC, Mac or portable media player). Thank you, Fox for giving us choices and flexibility in our viewing options.
Final Thoughts
Juno deserves the hype, and the Academy Award that it earned for best original screenplay. The writing, directing and acting are all top-notch and just, well, un-formulaic (if that's a word). I wish more people (myself included) were like those depicted in Juno - smart, funny, genuine, flawed, but ultimately with their hearts in the right place. If we were, the world would be a better place.
The Blu-ray Disc offers a clean if ever so slightly soft video transfer, a solid audio track, and some original special features that do what they should - enhance our appreciation and enjoyment of the film. Highly recommended.
Where to Buy:
Product Details:
Actors: Ellen Page, Olivia Thirlby, Michael Cera, Jennifer Garner, Jason Bateman, J.K. Simmons, Allison Janney
Director: Jason Reitman
Screenplay: Diablo Cody
Audio Formats/Languages: DTS HD Master Audio 5.1 (English), Dolby Digital 5.1 (English, Spanish, French)
Subtitles: English, Spanish
Region: A
Aspect Ratio: 1.85:1
Number of discs: 2 (1 Blu-ray Disc, 1 data DVD)
Rating: PG-13
Studio: 20th Century Fox
Blu-ray Disc Release Date: April 15, 2008
Run Time: 96 minutes
List Price: $39.98
Extras/Special Features:

Commentary track with director Jason Reitman and writer Diablo Cody
Deleted Scenes
Gag Reel
Gag Take
Cast and Crew Jam (Music Video)
Screen Tests
Featurettes

Way beyond "Our" Maturity Level: Juno - Leah - Bleeker
Diablo Cody is Totally Boss
Jason Reitman for Shizz
Honest to Blog! Creating Juno
Fox Movie channel presents: World Premiere: Juno
Fox Movie channel presents: Casting Session: Juno

Digital Copy bonus disc (for PC and portable playback)
What do you think?
| | |
| --- | --- |
| Overall | |
| Video | |
| Audio | |
| Movie | |
| Extras | |
Explore Big Picture Big Sound