John Legend Live at The House of Blues on Blu-ray Disc Review
By Brandon A. DuHamel
The Film

John Legend Live at The House of Blues captures the artist performing in concert over two nights -- August 21st and 22nd 2005 -- on tour in support of his debut album Get Lifted. Legend's sound is reminiscent of the classic Soul and R&B artists of the 1960's and 70's, but updated with a modern flavor. Legend blends the classic styles of performers such as Marvin Gaye, Stevie Wonder, Isaac Hayes, The Jackson 5, The Temptations and Curtis Mayfield seamlessly with light touches of Gospel and Hip-Hop.

This live concert showcases Legend's retro musical influences even more than his debut studio album did. These influences are made all the more prominent by excising most of the heavy-handed Hip-Hop production of the studio album (courtesy of Kanye West) and going back to the basics: real musicians performing live. The band is comprised of a drummer, guitarist and bassist, acoustic pianist (John Legend himself) and two backup singers. The supporting musicians prove themselves worthy backup right from the beginning for the opening trio of songs, "Get Lifted," "Alright," and "She Don't Have to Know".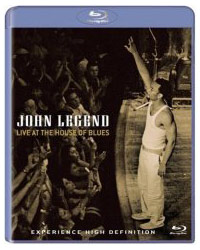 Where John Legend and his ensemble really show their strengths, however, is in the show's closing set of mid-tempo ballads, "Again," "Ordinary People," and the Stevie Wonder-esque "So High," which they play before coming out for their encores of two other mid-tempo tunes, "Stay With You" and "Refuge." Not only are the performances of these closing tracks the strongest, but the songs themselves are also the most melodious of the set and offer a marvelous ending to an energetic and impassioned evening of music.

It is quite refreshing to see a contemporary R&B artist play music of such an organic nature these days. What John Legend shows in these live performances, he explores even further in his follow up album, Once Again, again by stripping away much of the Hip-Hop production that burdened the first half of Get Lifted, and masked its true influences. This Blu-ray Disc release is a fine document of the songs in John Legend's Get Lifted album, unencumbered by that production; it should be experienced by everyone.

The Picture

Shot in high definition and presented in a widescreen 1.78:1 format, John Legend: Live at The House of Blues was one of the first Blu-ray releases from Sony-BMG (released in October 2006) and it remains one of their better looking ones. Unlike other Sony-BMG concert Blu-ray titles that suffer from numerous problems, ranging from edge enhancement to excessive video noise to wildly varying camera quality, the only significant flaw on this disc is some mild video noise that occasionally shows up in the darker areas.

The black background of the set is inky, the lighting effects show no signs of macroblocking, John Legend's white suit is captured perfectly white, and detailed. One can see every drop of sweat rolling down his face during his feverish performance. Foreground and background detail are spot on. This was an amazing first effort from the folks at Sony-BMG.

The Sound

Offered in uncompressed PCM stereo, uncompressed PCM 5.1 and Dolby Digital 5.1 sound, I listened to the uncompressed PCM 5.1 soundtrack for the purposes of this review.

The recording, mix and mastering are good, but they are far from perfect. For such a relatively small ensemble, at times the mix sounda cluttered, lacking any distinct placement and separation of the instrumentation. During the more upbeat numbers, Legend's lead vocals tend to get lost in the mix as well. It is only in the slower, quieter ballads such as "Again" and "So High" that his vocals stand out clearly in the mix. Not surprisingly for this style of music, the bass is well defined and amply boomy, but never overwhelming. The higher frequencies, in particular the cymbals on the drum set sound a little harsh and tizzy, but they are mixed relatively low in the mix and not tweaked, so it does not cause much in the way of listener fatigue. This is not a reference quality soundtrack by any means, but is certainly not the worst I have ever heard.
The Extras

There are some worthy extras on this disc, though they are few. The featurette, The Making of "So High" Music Video (4:3, window-boxed; 480i/p), is the only throwaway. It offers no useful information and is not really worth watching even once through. The "So High" music video itself (4:3, window-boxed; 480i/p) is enjoyable and a nice bonus. The best extras - the ones that offer the highest replay value - are the alternate live performances of the trio of ballads "Again," "Ordinary People," and "So High," all presented in 1.78:1 high definition.

Final Thoughts

Sony-BMG's first concert Blu-ray Disc release still remains one of their finest, with good picture quality, decent sound and an excellent musical performance by John Legend. It would make a fine addition to anyone's high definition collection.
Where to Buy
Product Details


Actors: John Legend, Snoop Dogg, Kanye West
Directors: Jim Gable
Audio/Languages: English uncompressed PCM Stereo, English uncompressed PCM 5.1, English Dolby Digital 5.1
Region: ABC (All Regions)
Number of discs: 1
Rating: Not Rated
Studio: Sony-BMG
Blu-ray Disc Release Date: October 3, 2006
Run Time: 106 minutes
List Price: $29.98
Extras:

"So High" Music Video
The Making of "So High" Music Video
Exclusive Alternate Tracks Available only on Blu-ray:

"So High"
"Again"
"Ordinary People"