Impact Acoustics 3-Play Component Video/Digital Audio Selector/Switcher Review
By Joe Lozito
Switch Hit
When a spanking new
Mvix multimedia player
showed up at my door recently, I realized I was one component video input short of audio/video nirvana. You see my current Onkyo home theater receiver has only two component video inputs, which were happily in use by my DVD player and High Def DVR.
Oh, sure the media player also includes S-Video and composite video outputs, but the Mvix player offers 720p and 1080i output, and it'll be a cold day in hell when I step down a high definition signal to standard definition video. And since I'm otherwise quite happy with the performance of my Onkyo receiver, I figured it was high time for a component video switcher.

It's hard to hate an audio/video switcher. We really don't ask for much from these appliances except that they, well, switch. And in this regard, the
Impact Acoustics 3-Play Component Video/Digital Audio Selector
does not disappoint.
I admit to being a little taken aback by the fact that the 3-Play doesn't come with a manual. But by the time that fact had fully registered in my consciousness, I already had the device set up.
At first the placement of the inputs on the back of the device was a little confusing and made for some tight spots (especially when it came to those chunky high performance component video cables), but I could see how the folks at Impact used this "staggered" layout to save space. So, with the help of home theater editor Chris Boylan for the heavy lifting, off came the top of my Ikea media cabinet, in went the switcher, and then we did the audio/video cable shuffle.

Because the Impact Acoustics component video switcher also supports fiberoptic digital audio switching, and all three of my devices include fiberoptic digital outputs, the 3-Play was an ideal solution. The unit also switches standard 2-channel analog audio, but it does not support coax digital audio (nor does it claim to). That would be a nice option for the future.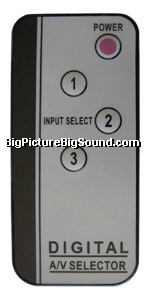 The Impact Acoustics' rated component video bandwidth of 50 MHz fully supports resolutions from 480i up to 1080i and its simple, credit card remote allows for specific input selection so you don't have to scroll through your inputs to get to the one you want - nor do you have to (heaven forfend!) leave the couch. The remote, while simple, had excellent range. I was able to switch inputs from about 20 feet away, about 60 degrees off direct axis and it worked fine.
Supporting a discrete code for each input is actually extremely useful when programming a macro or activity into a universal remote - it makes it far less likely that the universal remote will get confused as to which input has been selected at any given time.
In terms of operation, as I said earlier, all this device has to do is switch, and (hopefully) do so without introducing any additional noise or distortion into the audio and video signal. Switching the digital audio is actually pretty simple - it's digital so either it works or it doesn't - it worked. In my experience, there was no loss in audio signal quality, nor was there a higher frequency of drop-outs. Also, as closely as I looked at all three sources - Standard Definition DVD and High Definition sources on the Mvix media player and on my HD cable DVR, I saw no loss in picture detail or perceived resolution in the video signal either.
All in all, a really solid performer, for an excellent price. Highly recommended.
Note: This item is available at Cables To Go and Impact Acoustics. It's also available from Amazon.com.
Specifications from the Manufacturer:
° Color: Black
° MSRP: $79.99
° 3 Inputs for Component Video, TOSlink Digital Audio and Analog Stereo Audio
° For use with Video Game Systems, DVD Players and HDTV Receivers
° Direct input selection via IR Remote or front panel
° Rated video bandwidth: 50 MHz
° Measurements: 9-1/2" x 4-1/4" x 2" (W x D x H)
° Weight: 2.6 pounds
° Warranty: 1 Year
° Package Contents:
° Selector Switch
° Remote Control (battery included)
° Power Adapter
Manufacturer's Contact Details:
Impact Acoustics
1501 Webster St.
Dayton, OH 45404
Phone: 877-AV-EXPERT (877-283-9737)
Fax: 800-331-2841
Web Site:
www.impactacoustics.com