Hitch: Blu-Ray Disc Review
By Chris Boylan
Since we have reviewed several of the new HD-DVD titles that have been released since April as well as Toshiba's HD-XA1 HD-DVD player, we thought it would only be fair to begin reviewing Blu-ray Disc titles as well. But since Samsung, the only consumer electronics manufacturer with a BD player in production, hasn't responded yet to our request for a review sample, this first BD movie review may be lacking a bit in detail.

Of course, since Samsung's BD player apparently has a bad video filter chip, and Sony's own Blu-Ray computer drive (or the player software it comes with) apparently isn't compatible with commercial BD titles, we're not so unique in our inability to properly review Blu-ray Disc titles.

Fear not, once the hardware becomes generally available, our BD reviews will begin flowing. Until then, we hope you enjoy this.

The Film

I admit, I was a bit perplexed when I saw the roster of titles for the BD launch at Sony's booth at Home Entertainment 2006: "xXx: State of the Union," "Ultraviolet" "Stealth," "Hitch?" "The Fifth Element" was also one of the first titles released, and that's one I'm glad to see given the HD treatment, but I was expecting more, and frankly, better films to accompany the launch of the format.

Since we do not yet have a Blu-ray Disc player, we were unable to watch "Hitch" so you'll have to peruse the reviews on imdb instead.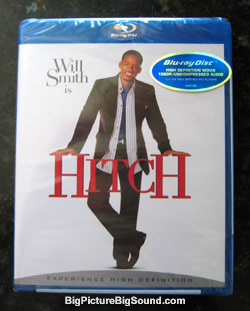 The Picture
Blu-ray's first slew of titles, like those on HD-DVD, are mastered in full High Definition 1080p (1920X1080 pixels, progressive) in widescreen. Hitch is presented in its original theatrical aspect ratio of 2.40:1 so you'll get black bars at the top and bottom of your HDTV screen, unless you have a fancy anamorphic front projector with masking screen. Of course, seeing the movie at all assumes that you have a player. We don't. Did I mention that?
The only picture we are able to view is the picture on the cover of the Blu-ray packaging. and it's a fine picture at that. Will Smith (the star) strikes a relaxed pose and appears to be leaning on the first and last "H" in the title. His smile seems to say "Yeah, this movie isn't going to win any Oscars, but it grossed over $175,000,000 in the U.S. alone, so I can live with that."
The Sound
Most of the first round of Blu-ray Discs (including this one) include a 5.1-channel compressed Dolby Digital soundtrack. This provides compatibility with current receivers and processors which can decode this signal as standard Dolby Digital Surround via an S/PDIF digital connection. But unlike the first batch of HD-DVD titles, the first batch of Blu-ray Discs also feature an uncompressed (PCM) 5.1-channel soundtrack.
By using multi-channel PCM instead of the lossless formats by Dolby and DTS, it's possible to pass a high-quality discrete surround soundtrack, along with 1080p video over a single HDMI cable without requiring the new HDMI 1.3 specs. This simplifies audio/video switching and allows Blu-Ray to work well with current HDMI-compatible receivers and processors.
"Uncompressed audio" means the audio takes up more space on the disc than it would with a compressed Dolby Digital or DTS soundtrack, but it also means there are no compression artifacts introduced in the signal. So the sound quality should be better than with a compressed audio format.
Of course, we can't confirm that the sound quality is as good as it should be, since we don't have the necessary hardware. I did hold the disc up to my ear, and spun it on my finger, and listened... really intently. But I admit I could not hear the difference between this and a standard DVD.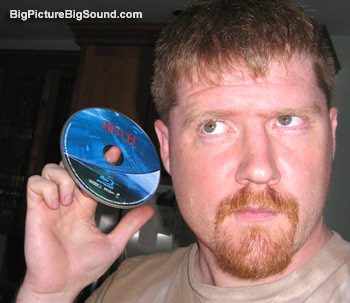 The Extras
According to the packaging, the extras on this BD include a gag reel and two featurettes. This means the standard DVD actually includes more extras than the BD version (deleted scenes, more featurettes, music video, etc.). In my opinion, this is a big mistake on Sony's part. For early adopters to embrace a new format, they have to get at least the same features they get out of its precessor format - standard DVD. If consumers still have to buy the standard DVD to get all the extras, how likely is it they are going to want to buy the movie twice?
Apparently the current 25GB storage limit of Blu-ray Disc, combined with the use of the fairly inefficient MPEG-2 video codec, and a full-length uncompressed 5.1-channel audio soundtrack left little room on the disc for extras. This will undoubtedly be solved in the future as dual layer Blu-Ray Discs become available, so hopefully future titles will be packed full of high quality extras. But for now, compromises have to be made, and this means less extra "stuff" than you may be used to.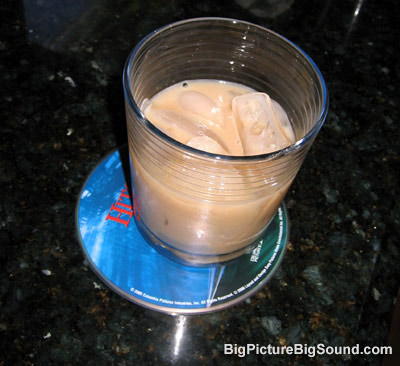 Final Thoughts
We waited as long as we could to review our first Blu-Ray Disc title ("Hitch" has been sitting here on our shelves in the Big Picture Big Sound labs since June 5th). We realize that having a player would probably make it easier to share some real-world impressions on the Blu-Ray format with our readers. But given the fact that we're now well into what should have been the full launch of Blu-ray, and pickings are still slim for hardware and software, the time has come to start providing commentary on the state of Blu-Ray Disc - the great HD format that almost was... and hopefully still will be. Assuming any of the Blu-Ray vendors still speak with us after this review, we'll be happy to review more BD hardware and software on these virtual pages in the future.
Technical/Release Details
Director: Andy Tennant
Written by Kevin Bisch
Actors: Will Smith, Eva Mendes, Amber Valletta, Julie Ann Emery, Robinne Lee, Michael Rapaport, Kevin James, Jeffrey Donovan, Paula Patton, Joe Lo Truglio
Blu-Ray Disc release date: June 20, 2006
MSRP: $28.95
US Theatrical Release Date: February 11, 2005
Feature film running time: 118 minutes
Feature film video transfer: 1080p 16:9 HD transfer
Aspect Ratio: Widescreen, 2.4:1
Sound format: Dolby Digital Plus 5.1 (English, French), Uncompressed PCM 5.1 (English)
Subtitles: English, English SDH, French, Korean, Chinese, Portuguese, Spanish, Thai
Number of discs: 1
MPAA Rating: PG-13
Studio: Sony Pictures
Extras:

Seamless menu navigation
Gag reel
"Dance Steps Made Easy" featurette
"The Dating Experts" featurette