High Fidelity Stereo Sound Meets High-End Industrial Design in L.A. at HE 2006
By Chris Boylan
These days, in order to stand out in the ever-shrinking high-end two-channel audio world, it's becoming almost as important to look good as it is to sound good. If a fancy new tube amplifier or new pair of loudspeakers has an asking price in the thousands of dollars, it helps if they look the part.
The Home Entertainment Expo in Los Angeles this year featured several good-sounding stereo systems with looks that could stop traffic (although, in Los Angeles, perhaps that isn't so difficult).
First up was
MBL
's Reference Series system. The system was comprised of the mbl 1621A CD transport ($21,010) and mbl 1611E D/A Converter ($21,450) feeding tunes to the mbl 6010D preamp ($18,920) and mbl 9011 amplifier ($36,740). The MBL reproduction chain concluded with the stunning mbl 101E Radialstrahler loudspeakers ($46,900). Do the math. Or let me: total system price (excluding cables) of $145,020.00.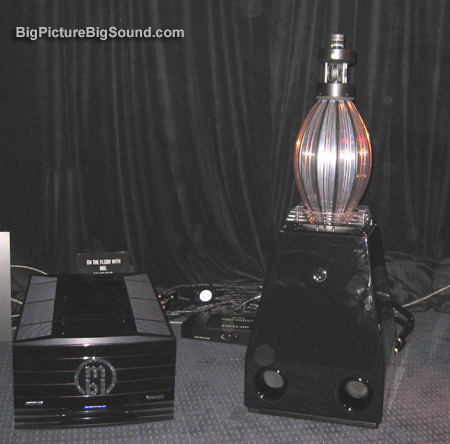 As you can see in the photo, the speakers certainly look the part of high-end with radiating foil transducers that resemble the petals of a high-tech flower folded in for the evening. But did it sound like a $145,000 system? Well that's certainly subjective. For many people, a $145,000 sound system would only make sense if it came with a house in which to keep it. But for those with the means, the mbl system will be sure to satisfy with powerful deep bass extension, a lush midrange and a believable sense of space and depth. Chalk another one up to precision German engineering.
In the "slightly more affordable" department were the
Studio Electric
speakers, which to me looked like gleaming steel art pieces that should have been entitled "Diving Helmet with Flashlight." The Studio Electric Type One ($8,500/pair) can be purchased alone or, as pictured in the second photo below, with the matching XLR stands which include built-in woofers (system price: $12,500 including XLR stands).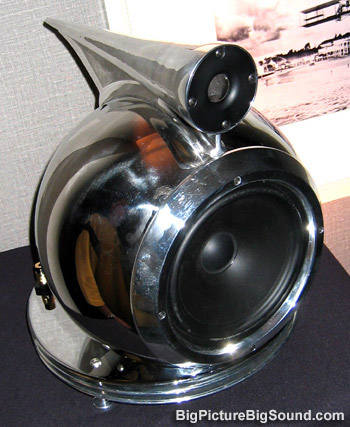 Next to the Type One was the less flashy, but still impressive monolithic panel speaker, the Type M ($12,000-$19,000 depending on configuration). These incorporate elegant chrome stands at the base of the black monolithic panel. The Type M speakers had some pretty substantial bass output, which isn't too surprising given their 18-inch woofers. The Type M is also available without the stand for direct wall-mounting.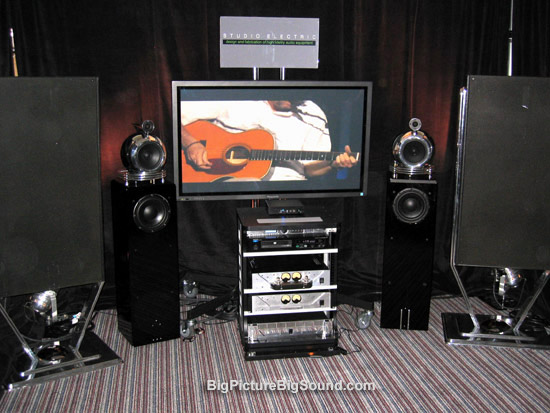 In keeping with the gleaming metallic theme, down the hall from Studio Electric was
sonicweld
. Sonicweld's powered speaker line includes the subpulse powered subwoofer and pulserod tower speaker.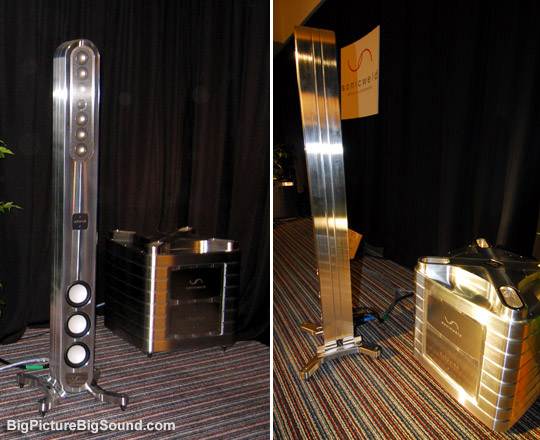 Each pulserod tower features three 200-Watt amplifiers (a dedicated amp for each frequency range). The subpulse features one 1,100-Watt amp. In addition to built-in amplification, the system includes DEQX room correction and digital equalization to match the speaker system to its ultimate listening location in your home. The subpulse/pulserod system sells for $49,000 with one subwoofer or $64,000 with two. A brief demo of the system exhibited excellent harmonic detail and articulation.
So if you're looking for a system that makes as much a visual statement as an audible one, then any of the above systems won't disappoint.