Gefen High Definition Personal Video Recorder (HD PVR) Review
By Chris Boylan
High Def Hijinks
TiVo changed the way many people watch TV. Even if you never bought or even used a TiVo, its imitators and successors -- hard drive based personal video recorders (PVRs) -- have made their way into virtually every service provider including most cable companies and both flavors of satellite television (DISH Network and DirecTV). But there haven't been as many options for those of us who prefer our HDTV for free, namely via over the air broadcast. And while Gefen's High Definition Personal Video Recorder (HD-PVR) does not include a built-in tuner, it can be paired with an external ATSC tuner to afford TiVo-like functionality -- the ability to record and time shift high definition TV to whenever -- and potentially wherever -- you want to watch it.
Gefen's PVR (or DVR for "Digital Video Recorder") is unique in that it offers recording capability not only from component video, S-Video and composite inputs, but also from HDMI inputs. I've never seen another recording device that accepts an HDMI input. It even allows you to "back up" HDCP-protected program material (e.g., store-bought Blu-ray discs) but not without limitations.

Although the device includes both an internal Hard Disc Drive (80 Gigabytes) and an SD card slot, copy-protected program material can only be recorded to the hard drive. It cannot be recorded to a removable SD card nor can a protected show on the hard drive be copied over to an SD card. So if you were hoping to copy over Blu-ray Disc movies to a portable media format, for playback on a portable media player, you will be disappointed. But for non-protected material, such as broadcast and cable HDTV programming, the unit does allow you to record on either the internal hard drive or an SD card, and to copy these programs in either direction.
The Set-Up
With all these connection options, I thought set-up would be a breeze, but it wasn't quite as straightforward as I expected. I initially plugged in a source component (a Sony high definition tuner/DVR) to the Gefen DVR via HDMI and I got picture but no sound. After some investigation, I figured out that the Gefen does not support discrete multi-channel surround sound. When using the HDMI input, you must send the recorder a 2-channel (stereo) PCM signal, otherwise you'll get no audio. Similarly, when connecting a device via component video, there is no digital audio input option, only analog 2-channel (stereo). Of course this 2-channel track can be decoded with Dolby Pro Logic Surround to get some rear channel effects (if it is encoded that way in the source signal), but real discrete multi-channel audio is not supported on this device.

On the video side, the recorder supports up to 1080i resolution (1920x1080 pixels, interlaced) via component or HDMI inputs, and 480i over S-video or composite video. Because the unit supports neither 1080p video resolution nor discrete surround sound, this means that the DVR does not provide transparent pass-through of the HDMI signal from source through the DVR to display. In other words, if you insert the DVR into the signal chain, between source component and your display or receiver, you'll be limited to two-channel (stereo) sound and 1080i resolution from your source device. A workaround for this would be to use the component video and 2-channel analog audio output on your source device to feed the Gefen DVR, instead of HDMI. But this assumes that your source component supports concurrent output over digital and analog audio and video outputs (not all components do).
Setting the device up to operate other components (e.g., to change channels on a set-top box for scheduled recordings) can be painful. The Gefen remote learns commands from your set top box's factory remote and transmits these codes to the Gefen DVR. But be careful when you are teaching it. One wrong move on programming a button will cause you to have to start all over again. I found that even though I was pressing the correct buttons on both devices, occasionally the Gefen would not learn all of the keys properly. And once a button has been set with a command from your factory remote, it cannot be re-programmed. Trying to do so generates a message "the key has learned." Back to the drawing board. Reset the remote in the Gefen's set-up menu and try again.
It took me several attempts to get a Samsung high definition tuner programmed into the device, but once it was done, the DVR could change channels and start/stop scheduled recordings using the Samsung tuner as the source device. The Gefen box comes with both an IR blaster and an IR extender to communicate with your chosen source component, changing its channels based on scheduled recordings.

Ergonomically Challenged
The Gefen unit must be on to do a scheduled recording, and the source device does as well (the DVR cannot power up a remote device). But if both of these facts are true, and the external tuner has been configured to stereo output and the Gefen has been properly programmed with the codes for the external tuner, then you can, in fact, successfully time shift a high definition program, recording it on the Gefen's built-in hard drive or on an SD card. The resulting recording (if not copy-protected) can then be transferred over to a PC or portable device via the SD card slot and played back, assuming you can install the necessary codec on the player or computer.
Switching over to the afore-mentioned Sony HD tuner as the source, flipping through the various over the air digital channels in New York City, the Gefen recorder would not lock on SD digital sources (480p). Switching over to true HD sources then had a red tinge to the picture. This color shift affected only what was visible on-screen coming in via a live signal. Oddly enough, it did not affect recordings made even while this color shift was visible on screen. Upon later playback it was evident that these recordings were fine. Power on/off solved that problem.
After a few upgrades of the firmware, finally at firmware 1.0.9a, the red tinge problem went away. It still took the unit several seconds to lock to a non-HD digital channel, but the HD channels were no longer tinged red after the final firmware upgrade. Also, it's important to note that this only occured via HDMI (not component) and only with the Sony DHG-HDD500 HD DVR as a source, so this problem may never affect the average user.
In addition to live high definition programs, I recorded Blu-ray Disc movies onto the Gefen's HDD from a Sony PS3 via an HDMI cable. Once I set the PS3's output to 1080i and disabled the multi-channel audio options, I was able to record segments from Blu-ray movies onto the Gefen's internal hard drive and watch them later. Interestingly enough, if your PS3 or other Blu-ray Disc player is set for multi-channel PCM output, you will get sound, but probably no dialog (you'll get the left and right channel of a 5.1-channel mix), so make sure to disable multi-channel audio output in your player's setup menu.
In day to day operation, the Gefen's remote control was not very intuitive. The button layout was unlike anything I've seen before, with some transport controls above the center 4-way control pad area and some below it, all identically shaped and not very logically laid out. Fast forward and rewind buttons were stacked vertically, for example, right next to the volume up/down button, and a completely separate set of transport buttons are included at the very bottom of the remote, apparently intended to control some other device because they have no effect on playback on the Gefen.
The "Home" menu brings up a list of recordings, but does not have a live PIP window showing the incoming source (unlike the Sony and DISH Network High Definition DVRs we had on hand during the review). The user menu itself is a little clunky with large simple fonts and basic icons. Bringing up the "Play Movie" menu shows a thumbnail of each video recording but no text. And although you can switch between the SD card and internal hard drive easily enough via a button on the remote, there is no indication on the unit itself or on the screen that indicates which drive is active, unless you are in the "Home" menu where an HDD/SD icon is visible showing the active drive. If you're viewing the live input signal (e.g., live TV), and you hit the remote switch that switches between HDD and SD, you'll have to guess which drive is active for recording.
Viewing Impressions
When I first found out that the hard drive was only 80 Gigabytes, I thought the unit would be pretty limited in its recording time. After all, a single Blu-ray Disc movie can take up to 50 GB on the Blu-ray disc itself. But the Gefen uses the efficient H.264 video codec, and allows you to adjust the quality based on your preferences. In "SuperEco" (SE) mode, the bit rate goes down to 3.5 MB/second (HD) or 1.5MB/second (SD), allowing you to record up to 50 hours of high definition content, or 133 hours of standard definition content. Its highest quality "Extra Fine" (EX) mode steps up to 10 MB/second (HD) or 4MB/second (SD) allowing 17 hours of HD recording or 44 hours of SD material. In the middle you'll find "Economic" mode (5 MB/second) and "Normal" mode (7.5MB/second) allowing for longer storage than EX mode but higher quality than SE mode.
In SuperEco mode - the picture was watchable but with some clear artifacts such as mild motion trails, softening of details (particularly in dark areas of the screen), and digital haze. In highest quality mode (Extra Fine), I was hard-pressed to see artifacts other than a slight dulling of the colors vs. the original signal and even this was fairly subtle. Audio was still crisp and detailed even at the lower bit rates. If 17 hours is enough space for your HD shows, then by all means, keep the unit in Extra Fine mode, but if you have to step down to Normal or Economic mode, you'll still get perfectly acceptable results.
The Path of Perpetual Upgrade
Initially the unit we were testing had firmware 1.0.1c installed. It seemed pretty stable, however, I was having the red tinge issue I described above. I upgraded the firmware via a download from Gefen.com onto an SD card to what was supposed to be version 1.0.5c, but it actually turned out to be 1.0.6d, according to the unit itself after the upgrade. After the upgrade, I attempted to make a recording via the component input onto an SD card. I was not able to stop this recording, trying every combination of the stop button, record button, home button, etc. Eventually I pulled out the SD card which did cancel the recording. It also caused the unit to shut down completely. Attempting to play that recording resulted in an "invalid" marker on the file (no surprise since the unit was not able to gracefully close the recording). After this forced reboot, a second attempt to record to SD card worked properly. And I was able to copy that recording onto the internal HDD, but I was not able to copy a program in the opposite direction (HDD to SD card).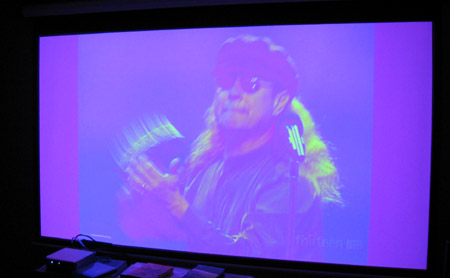 I upgraded the firmware one more time to 1.0.9a toward the end of the review period and this one seemed better all around. The red shift problem I'd seen earlier went away and I had no problem copying programs to/from the internal hard drive and an SD card.
Turn Ons:
Records in High Definition from component video and HDMI inputs
Picture quality using h.264 codec is excellent, even on lower bitrate settings.
Allows you to copy Blu-ray Disc or HD-DVD movies to hard drive
Can schedule recording of HDTV programs to hard drive for high def time shifting (with an external tuner)
Records to SD cards for transportability to PC and other playback devices
Turn-Offs:
Hard Drive is only 80 Gigabytes and is not upgradeable
Doesn't support surround sound (two channel recordings only)
Maxes out at 1080i input (no support for 1080p)
Cannot copy HDCP-encoded content to SD card
Non-intuitive remote control (with no backlighting)
No built-in tuner or program guide
Difficult to teach the unit how to operate external tuners for scheduled recordings
Final Thoughts
I give Gefen credit for breaking new ground here with a device that you can add to any existing high definition tuner and get DVR functionality. Plus the SD card option is an elegant solution for copying high definition recordings to PCs and other portable devices. Gadget freaks will like it for its unique capabilities and high quality video recording capability over component video and HDMI. But the high price ($999), small hard drive, frustrating remote and programming, lack of program guide, and lack of surround sound support make this a tough sell.
Where to Buy:
What's in the Box:
Gefen HD Personal Video Recorder
6 Foot HDMI cable
IR Extender
IR Blaster
IR Remote (batteries included)
5V DC Power Supply
User's Manual
Specifications from the Manufacturer:
Video Amplifier Bandwidth: 165 MHz
Input Video Signal: 1.2 volts p-p
Input DDC Signal: 5 volts p-p (TTL)
Single Link Range: 1080i / 1920x1200
Input Connectors: Composite (TV), S-Video, Component, HDMI
Output Connectors: HDMI
Audio Connections: Analog L/R, input and output
Remote Control : Infra-Red handheld type
Power Consumption: 20 watts (maximum)
Dimensions: 6.9"W x 2.1"H x 6.9"D
Shipping Weight: 5 lbs.
Manufacturer's Contact Information:
Gefen Inc.
20600 Nordhoff Street
Chatsworth, CA 91311
Telephone:
800.545.6900 or 818.772.9100
On the Web:
www.Gefen.com