Disney's Sleeping Beauty Blu-ray Wakes Up BD Live
By Chris Chiarella
Set your alarm clock: On October 7, 2008 the new Sleeping Beauty 50th Anniversary Platinum Edition arrives on DVD and Blu-ray. This will be the first classic Disney film released on high-definition disc, and Walt Disney Studios Home Entertainment is marking the occasion with a super-special package that promises to expand the boundaries of the entire Blu-ray format. We were among the fortunate few invited for an early, up-close look.
The movie was playing in 1080p on a couple of well-calibrated Panasonic plasmas as we arrived. Including photos here is almost comical as they could never represent the incredible Beauty that The Diz has achieved for the new high-definition master. But as newsworthy as this video and audio (a new 7.1 lossless soundtrack has been remastered from the original vault elements) truly are, the next-generation bonus features are outright mind-boggling.
One of the first indications that we're not in Burbank anymore is the customizable Living Menu, which modifies the sky and weather surrounding the iconic Magic Kingdom castle before the movie, specific to the viewer's geographic location, current conditions and time of day. This is of course made possible by the Internet connection required on all Blu-ray Profile 2.0 hardware, and the "Disney BD Live Network" is pushing the much-buzzed-about online capabilities way beyond current offerings.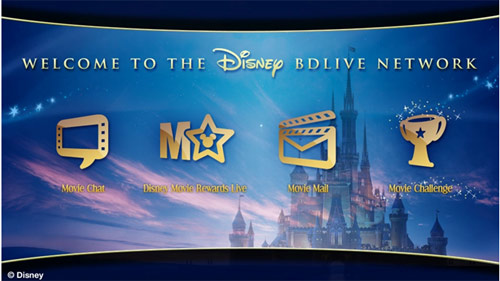 The four key categories here are:
Disney BD Chat: One viewer can set up a chat and serve as its "host," synching up his Blu-ray player and those of any other friends or family taking part, anywhere in the world. With the use of a connected cellphone, laptop, or that Logitech diNovo bluetooth keyboard we recently reviewed, folks can chat during the movie via onscreen text with a cartoon avatar. The chat box can be moved to different spots on the TV screen, and if for instance the discussion shifts to a specific scene, all synched players can jump to that precise spot in unison.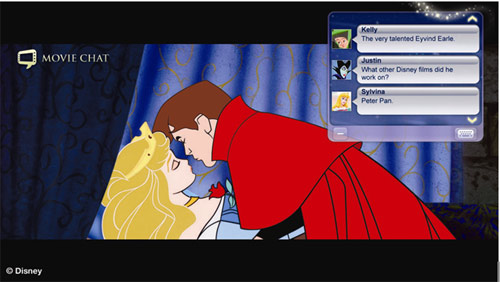 Disney Movie Mail: Using just about any digital video camera, a user can record a one- to 90-second clip and upload it to the website. From there it will be sent to his Blu-ray player where it can be synched to one of a dozen or so pre-selected scenes and added seamlessly to run on top of the movie. This is a great way to surprise the family back home when dad's away on business, for example.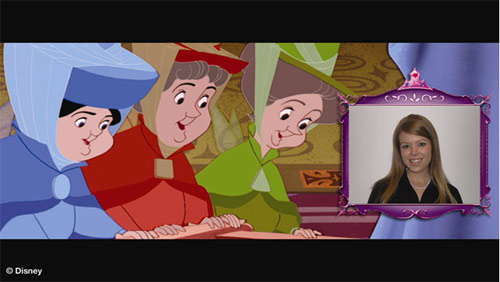 Disney Movie Challenge: Separate from the movie, this interactive trivia game combines video with a series of questions, some harder than others, and fast answers mean more points. (I killed in the demo, by the way.) We can play against ourselves, friends, or a vast, safe online BD Live community.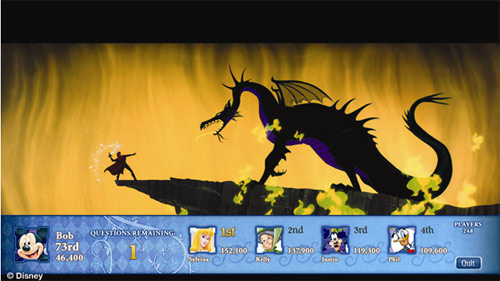 Disney Movie Rewards Live: A new wrinkle on Disney's wonderful rewards program (if you're a Disney DVD buyer and haven't yet signed up at DisneyMovieRewards.com, go there now!), exploring and using the BD Live Network features of Sleeping Beauty will earn reward points. Accumulated points are redeemable for exclusive rewards unavailable from the standard program, including downloadable goodies, first looks at upcoming movies, private chat events, etc.
All of the bonus material from the new Platinum Edition DVD will be ported over to the Blu-ray, in addition to traditional-type Blu-ray exclusive content like featurettes and games. Among the other Blu-ray-only supplements are A 7.1/5.1 "fully immersive audio sensory adventure" entitled "Dragon Encounter," set inside Maleficent's dungeon, and a picture-in-picture commentary with John Lasseter, animator Andreas Deja and film critic Leonard Maltin. Surprisingly, the two-disc set will also include a DVD copy of the movie. Remember DVD?