Definitive Technology ProCinema 600 Home Theater Speaker System Review
By Chris Boylan
Surround Sound... For Real
I've been spending a lot of time lately listening to and reviewing one-box simulated surround sound systems, otherwise known as "virtual surround." Through various acts of trickery and electronic manipulation, these systems are able to create the illusion of sound behind you without rear speakers, but even the best of these is lacking in absolute realism.
Why people explore the option of single box surround systems is a question with two primary answers - simplified installation and more elegant aesthetics. Simplified installation comes by virtue of not needing to run a wire to the back of the room for the rear surround channels. And before you say "wireless speakers," remember that "wireless" rear speakers still need a wire for the power source and they rarely stack up to their wired competition in sound quality. There's something to be said for pure copper cable and its ability to carry high bandwidth distortion-free, interference-free sound.
And as for "more elegant aesthetics," some home owners don't like the idea of big speakers placed all over the room. And although the
Definitive Technology ProCinema 600
can't help you on the first front (wires), its small size, high quality fit and finish and deceptively powerful performance can minimize the concerns about aesthetics. In fact, at just 7" high x 4-1/4" deep x 4" wide you'll hardly notice their appearance, but you can't help but notice their full room-encompassing sound. Am I giving away too much too early? Well then let's backtrack a little bit and describe the system.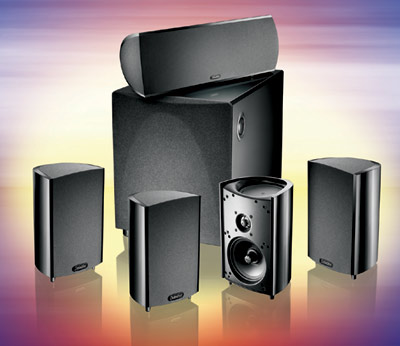 Good things do come in small packages
The Definitive Technology Pro Cinema 600 system is a compact 5.1-channel surround sound speaker system comprised of 4 identical satellite speakers plus a slightly larger center speaker and a small powered subwoofer. The system is voiced to blend well together. Unlike less well-matched systems, sounds can travel all around the circular soundstage without substantially changing in character. And this helps to present a convincing 3-dimensional sonic image, not only on multi-channel recordings, but even on traditional 2-channel recordings on CD and LP.
One of the benefits of a well-designed small 2-way bookshelf or satellite speaker is its ability to create pinpoint imaging from high-quality two-channel recordings. So I did quite a bit of my critical listening on 2-channels including tracks by James Blunt, Rush (2112 MFSL recording), Damien Rice, Enya, Wagner, Roxy Music and a variety of other pop, rock (and some classical) acts. The imaging on two-channel recordings was so realistic and enjoyable, I was rarely tempted to engage my receiver's simulated surround sound modes such as DTS Neo-6 or Dolby Pro-Logic II. Vocalists were locked in the center space between the left and right front speaker, bass, guitar and accompanying instruments were spaced appropriately across the width of the soundstage, and drum kits were presented with their own sense of space, depth and width.
Representation of three-dimensional space only got better with multi-channel surround titles. With our recent acquisition of an Oppo DV-981H upconverting DVD player with its integrated support for SACD and DVD-Audio titles, I found myself pulling out my small but enjoyable collection of multi-channel music titles on both formats. One of my favorites (guilty pleasure or not) is Silverline's "Women on Top" disc, which includes remixes of some of the best woman artist hits from the 80s, including Pat Benatar's "We Belong," The Motels "Only the Lonely" and Missing Persons' "What Are Words For?" These are not just cheesy processed surround remixes of these classic tracks, but full-fledged multi-channel remasters. In some cases you can even spot alternate vocal or instrumental takes which illustrate the fact that they went back to the original master tapes to create these new multi-channel mixes.
Pat Benatar's "We Belong" starts with an ethereal synthesizer riff that bounces around the room and does so quite convincingly on the Definitive Technology system. When Benatar's lead vocal comes in, it's rock solid, front and center, not too far forward, but not too laid back in the mix either. Subtle details in the mix stand out on the Definitive system. It was fun just listening to this and other multi-channel music discs without flaws in the representation pulling me out of the music.
But more importantly than spatial representation (or at least equally important), the speakers blended well with each other harmonically. The user manual suggests hooking up the speakers in a fairly unorthodox way - plugging the speaker level outputs of your receiver directly into the subwoofer then out to the front left/right satellites, but
also
plugging in the line level LFE (low frequency effect) channel into the subwoofer's LFE input. Apparently this allows your front left/right speakers to be set to "large" (with their bass being enhanced by the subwoofer) but it still allows movie soundtracks to get a little extra "oomph" by sending the LFE track directly to the subwoofer. This flexibility can allow you to optimize the system a little differently for music listening vs. movie listening/watching, something which actually makes a lot of sense.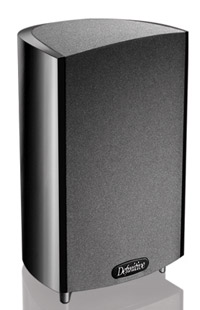 And speaking of flexibility, the satellite speakers themselves offer very flexible mounting options. An integrated base on each satellite allows the speakers to stand on their own on a bookshelf or media center, but this base is removable for wall-mounting via one of the threaded mounting holes or the simple keyhole mount that appears on the rear of each speaker. Also the speakers' low profile design allows you to place them discretely in virtually any location. I mounted the front speakers on small stands, the center speaker in an entertainment center and the surround speakers toward the rear of the side walls using their keyhole mounts.
For initial listening, I set the speakers up via the standard 5.1-channel configuration - 5 channel speaker outputs from the receiver plugged directly into the satellites and center, and RCA (LFE) subwoofer output connected to the subwoofer. This produced a good blend of sound, though with maybe a very slight boom to the bass around 100-120 Hz. This was more due to placement issues than anything else, as moving the subwoofer around the front of the room made a big difference in the bass quality (and quantity).
In this configuration, I ran through the Audyssey 2EQ auto-calibration system built into my Onkyo receiver and it set all speakers to "small" and determined that the best crossover for these speakers to be 150 Hz, no surprise considering the size and configuration of the speakers. This leaves a fair amount of upper bass to be reproduced by the subwoofer, but with careful placement of the subwoofer (fairly close to a wall but not
too
close to a corner), you can get an enjoyable blend of sound. And if you find you need to tweak the subwoofer level, the level control dial is located on the side near the front, more easily accessible than a rear-mount control.
Like the satellites and center speaker, the subwoofer is also quite small (13" H x 13" D x 10-3/8" W). It features an 8" active driver and an 8" passive radiator as well as a 250 Watt amplifier. You can't expect a subwoofer of this size to really go loud into the very lowest octaves and it doesn't. The bass that it puts out is precise and full, but it's no match in low-end extension for larger (and more expensive) subwoofers. Still, I'll take bass like this any day over the one-note thumpiness of many larger (but lesser) subwoofers. Those who want really low bass can always add a second larger subwoofer, just make sure it is high quality so it can keep up with the rest of the system.
For movie watching, I subjected the Definitive system to some of my favorite cuts and films, including "Master and Commander" (in DTS Surround) which shifts from subtle creaks, hushed conversation and lapping of waves to the unmerciful onslaught of a massive cannon attack. The speakers handled the dynamics well, reproducing the subtle details while still maintaining their dynamic attack.
I played the Diva Plavalaguna scene from "Fifth Element" (now in Dolby TrueHD on Sony Blu-ray Disc) to see how the speakers did with a punchy hybrid operatic/rock track, punctuated with the thuds and smacks of hand-to-hand combat, and ending with the sound of automatic gunfire. The speakers handled the dynamics and transitions very well, from the fine details of the Diva's singing to the percussive attack of the guns.
Then I hit them the torture test of the stampede of the Olyphaunts in the Battle of the Pelennor Fields ("Lord of the Rings: Return of the King"). This is one of the best tests I've heard for deep bass extension. I can't say they were able to reproduce that real low-end sub-sonic extension I've heard on far more expensive (and much larger) subwoofers, but neither did the attack sound hopelessly thin or anemic. And more importantly, the subwoofer did not give up the ghost with excessive chuffing or thumping sounds. Given their size and price, the system is able to reproduce bass better than you might expect.
I did try out the manual's "dual hook-up" suggestion, using both the speaker level inputs and the RCA line level inputs to the subwoofer. The Audyssey system correctly detected the front channel as "large" and did not apply a high-pass filter to those channels. With the speakers configured this way, the bass did get a little "thicker" but not appreciably deeper. Male vocals sounded a bit boomier and bass definition suffered a bit. Overall, I preferred the more traditional (and simpler) configuration with the sub connected only via its RCA line level input, but your results in your specific room may vary so it's worth trying both configurations and seeing which you like best.
Final Thoughts
The sub-$1000 5.1-channel surround sound market is crowded with entries. The Definitive Technology ProCinema 600 system stands out from the crowd with its solid performance, diminutive size, elegant styling and flexible mounting and ergonomics. If you're looking for big sound from a small package - a system with finesse that keeps up with the dynamics and power of much larger systems, then the Pro Cinema 600 is definitely worth a look, and a listen.
Where to Buy:
Specifications:
MSRP: $799
Warranty: Loudspeaker Drivers, Crossovers & Cabinets: Five Years; Amplifier Electronics: Three Years
ProMonitor 600
Dimensions: 7" H x 4-1/4" D x 4" W.

Frequency Response: 65 Hz – 30 kHz.
Driver Complement: One 3-1/4" bass/ midrange driver coupled to one 3-1/4" pressure-driven planar low-frequency radiator. One 1" pure aluminum dome tweeter.
Rec. Assoc. Ampl.: 10 – 150 watts/channel.
Frequency Response: 65 Hz – 30 kHz.
ProCenter 600
Dimensions: 4" H x 4-1/4" D x 10-1/2" W.
Frequency Response: 55 Hz – 30 kHz.
Driver Complement: Two 3-1/4" bass/midrange drivers coupled to two 3-1/4" pressure-driven planar low-frequency radiator. One 1" pure aluminum dome tweeter.
ProSub 600
Dimensions: 13" H x 13" D x 10-3/8" W.
Frequency Response: 22 Hz – 150 Hz. Driver Complement: One 8" woofer with polymer cone, one 8" infrasonic radiator.
Amplifier: 250 watts RMS. Speaker Level High-Pass
Filter: 6 dB/octave (100 Hz).
High-Level Low-Pass Filter: 24 dB/ octave continuously variable (40 Hz – 150 Hz).
Manufacturer's Contact Details:
Definitive Technology
11433 Cronridge Drive
Suite K
Owings Mills, Maryland 21117-2294
Phone: 410-363-7148
Fax: 410-363-9998
Web site:
www.DefinitiveTech.com