Corinex High Definition Video Connectivity Kit (Powerline Networking System) Review
By Chris Boylan
Get Yourself Connected
When I wrote recently about DISH Network's new IPTV feature which allows you to view a wide selection of films over the internet, directly from your satellite receiver, I described how easy it was to enable the feature: "Plug in a network cable to the back of your DISH DVR, hook it up to your cable or DSL modem or home network and you're ready to roll." But for many people, it's not that simple.
If your cable or DSL modem is in the home office, with the satellite receiver in the living room, you're left with only a few options: a.) punch some holes in your walls to run network cables; b.) run a network cable around floor or walls of your home which could be unsightly or c.) purchase a powerline networking product like the Corinex High Definition Video Connectivity Kit, which uses your existing AC power lines as a computer network.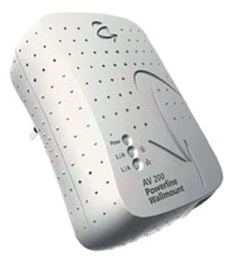 Instant Internet - Anywhere in Your Home
This review could have been extremely simple:
I opened the box and plugged one Corinex box into a standard wall power outlet in my home office and ran a network cable from it to my network router
I plugged the other Corinex box into a wall power outlet in my living room, running its network cable into the back of my DISH ViP622 DVR
The DISH DVR was now connected to the internet. In other words, it worked!
But I get paid by the word around here so I feel compelled to write a little more about this little "magic box" and how it works.
Plug and Pray
With the experience I've had setting up consumer electronics devices, computers and routers for network access, I've come to expect that a little tweaking will be necessary (and a few prayers never hurt). Perhaps a read-through of the manual would be required or some clever searches on the Internet. But the Corinex powerline networking system simply worked - no fuss, no muss, no bother.
The Corinex Powerline networking system uses your home's existing AC power wires as the backbone for a home network. But it's actually more advanced than that. With a single powerline networking box plugged into your broadband modem's network output (or an available port on your router), you can plug in up to 32 devices using additional AV200 powerline networking boxes. And you won't even need an additional router or network switch to do it.
Let's Play "Master and Servant"
What makes the Corinex system so simple to use is that, for any combination of Corinex networking boxes, one become the "master" device and the rest become the "slaves." The master regulates traffic through the network assigning devices addresses similar to the way DHCP addresses work in a dynamic IP address network. But you don't need to get involved in regulating the network traffic - it happens auto-magically. The master device doesn't even need to be plugged into the router - it can be anywhere in the house.
The High Definition Video Connectivity Kit contains 2 Corinex AV200 Powerline Wall Mount adapters and a Powerline Noise Filter. The filter can increase the performance of any Powerline network by eliminating electrical noise in the home wiring from devices such as hair driers or vacuum cleaners. If you don't need the filter, or if you want to buy additional AV200 extension boxes, you can get the AV200 Powerline Wall Mount - Dual Pack for a little less money. It's identical to the High Def Video connectivity kit but without the filter.

And speaking of filters, I'd heard that some powerline networking products cannot work with power strips or power conditioners. I asked Corinex VP of Marketing and Business Development, Brian Donnelly about this and he said, "performance is optimal connected directly to the wall. Some very expensive power conditioners will block our signal, however a cheap power strip doesn't affect our signal and we work through these."
Brian also told me about a new product Corinex has developed to address exactly this issue. The Corinex Powerline Wall Mount F is like an AV200 powerline networking box, but with a pass-through electrical socket. In this case you'd plug the Wall Mount F into the wall and plug the power conditioner into the Wall Mount F. Then you'd have the power conditioning and the home networking running from the same outlet without either interfering with the other.
Plays Nice With Others
With five different network-capable devices in two remote locations, I could have used six AV200 power boxes, one plugged into the router and one into each component. But frankly I didn't have enough power outlets to go around, and this wouldn't have been the most cost effective solution. Instead I used one AV200 box at the router and one more in each of the two remote locations. I then used two simple inexpensive network switches (a 5-port Linksys switch and a 5-port D-Link switch) in each of the remote locations in order to distribute the network connections among the various devices.
On our HDCP-enabled network, this configuration worked great. I simply had to go into each source component's set-up screen once to refresh the network connection (retrieving an IP address for each device) and I was good to go.
Final Thoughts
As the line between computers and consumer electronics devices blurs, a simple connection between the home network and the living room or home theater becomes more desirable. The lucky ones who have their houses pre-wired with cat5 or cat6 networking cable need not worry but those with existing construction are faced with the daunting task of running cables and installing jacks, potentially in multiple locations throughout the home. Sure, some devices are wireless-enabled, but not all, and nothing beats the bandwidth of solid copper wire.
The Corinex High Definition Video Connectivity Kit provides a relatively inexpensive and extremely simple solution, enabling every power jack in your home with a high bandwidth network connection, without the hassle of running new wires. Go buy one. And with the time you save over installing your own home network via more traditional means, you can sit back and enjoy a few movies.
Where to Buy Products Included In this Review:
What's in the Box:
2 Corinex AV200 Powerline Wall Mount Adapters
1 Powerline Noise Filter
2 Ethernet cables
CD and Manual
Quick Start Guide, warranty and registration card
Manufacturer's Specifications (High Definition Video Connectivity Kit):
Up to 200Mbps
QOS - Priority Classification with 8 priority queues
802.1D Ethernet bridge protocol with optimized spanning tree
DES/3DES 168 bit encryption
Broadcast and Multicast support
CSMA/CARP protocol
Up to 1,000 foot range
Web interface
Plug and Play, no drivers required
Manufacturer's Contact Information:
Corinex Communications Corp.
601 - 905 West Pender Street
Vancouver, BC V6C 1L6
Canada
Tel.: +1 604 692 0520
Fax: +1 604 694 0061
Web site: http://www.corinex.com/retail/index.htm