Mark Grady - Writer's Bio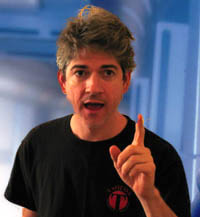 Mark Grady
has been a major music fan for most of his life, but didn't really come to fully appreciate TV and movies until his late teens. He has to admit that he doesn't get to the movie theater as often as he would like, but he has embraced the small screen with a passion and gusto that continues to confound his poor mother, who swears that she raised him "better than this."
His previous writing experience includes a steady stream of lovingly-crafted letters, memos, and proposals, for which his boss largely takes the credit. He has also written a couple of short stories and once went so far as to churn-out a lengthy recounting of one particularly eventful summer in his life, which received favorable notice from the three people who read it.
In addition to his new endeavor as a contributor to
Big Picture Big Sound
, Mark has recently decided that it should be his goal to collect experiences that might be seen in a standard action movie. To this, he studied karate for a few years, has fired various rifles and handguns, performed occasional (and largely inadvertent) stunt driving, went hang-gliding, and recently learned scuba. Future plans include skydiving, cliff diving, and riding off into a sunset.
View Mark's articles on Big Picture Big Sound
E-mail Mark Grady
Mark's Current Home Theater System:
° TV/Monitor: Sony KD-34XBR2
° HD-DVR: Scientific Atlanta Explorer 8300HD (Time Warner)
° HD Antenna: Radio Shack UHF Dual HDTV Indoor Antenna
° Receiver: Kenwood VR-506
° DVD Player: Panasonic DVD-CP67
° Stereo Speakers: Energy Take 2.2
° Center Channel Speaker: Energy Take 1.2
° Surround Speakers: Kenwood KS-401HT
° Subwoofer: Kenwood SW-32HT
° Component Video Switcher: JVC JX-S111
° Game System: Nintendo GameCube