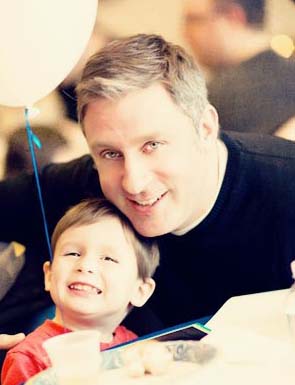 From 1999 to 2001, Ian White was a regular monthly contributor to SoundStage!, and was a regular monthly contributor to the high-end audiophile web site, Enjoy The Music from 2001 to 2005, where he met Big Picture Big Sound editor Chris Boylan.
In addition to Big Picture Big Sound, Ian contributes to the Jerusalem Post, Residential Systems, and the New Jersey Jewish News. Ian works as a Public Relations/Marketing Consultant in New York and New Jersey. He is also a licensed ISF Level II calibrator.
Born in Toronto, Canada, Ian spent his formative years in Washington D.C., Detroit, and Chicago before settling in the Garden State with his wife and kids.
A resident of a semi-swanky oceanfront hamlet, Ian enjoys catching really big fish with his children (someone has to hold my veal sandwich and Boylan's Creamy Red while I reel the suckers in), jamming the RedBox video rental box at his local 7-11, and torturing tourists with really bad directions to Bruce Springsteen's house.
Conceived at a Drive-In Movie, Ian has viewed more than 5,400 films in
11 countries but still denies that he waited in-line for 8 days to be the first person to view the Phantom Menace. It was only 7. He is also a collector of vintage film posters, Detroit Red Wings memorabilia, and a professional foodie.
Ian's Top 10 Favorite Films:

Stalag 17
Double Indemnity
Lawrence of Arabia
The Empire Strikes Back
The Seven Samurai
The Bad Sleep Well
Blade Runner
The Lady Vanishes
The Ten Commandments
The Best Years of Our Lives
More from Ian:
Ian's Reference Home Theater System:
Source Components:
JVC DLA-RS25 1080p D-ILA Projector
Stewart Filmscreen 100" StudioTek 130 G3
Apple iPod Classic/Wadia Digital 170i iTransport/Audio Note DAC Kit 1.2
Apple Mac Mini/LaCie 1TB HD/Wavelength Audio Brick USB DAC
Nottingham Audio Interspace/SME M2-9/Benz Micro H2
Oppo BDP-83 Blu-ray Disc Player
Panasonic DMP-BD655K Blu-ray Disc Player
Toshiba HD-A30 HD-DVD Disc Player
Amplification:
Denon AVR-4810CI Receiver
Art Audio Vinyl One Phono preamplifier
Loudspeakers:
Spendor A6s (front left/right channels)
Spendor C9e (center channel speaker)
Spendor SR5s (rear left/right surround channels)
REL T1 subwoofer