Home Entertainment Expo 2005 - Part III (Burwen Bobcat, Continuum, Butler Audio, Innersound, Best in Show)
By Chris Boylan
The Tweaks Come Out at Night
In the previous segment, I noted that one of the benefits of the ELP turntable is that no tweaking is required. Well some people actually like to tweak. In fact some audiophiles live for it. The tweakiest room of the show award would have to go to
High Water Sound
. In this room, it wasn't only the components and speakers that had special support platforms, but even the cables. Yes, even the speaker cables were elevated from the floor like wee suspension bridges, on tweaky little elevating platforms.
And why just use expensive vibration-absorbing feet below each component, when you can place mystical magical Shun Mook pucks on top of each component as well? And how about some wavy pieces of half-painted wood that resemble music stands (Shakti Hallograph. $1000/pair) placed in the corners to "reduce the audibility of the chaotic reflections?" Power conditioning, isolation platforms, cable suspenders, Shun Mook pucks, sooper-dooper equipment racks... this place had it all!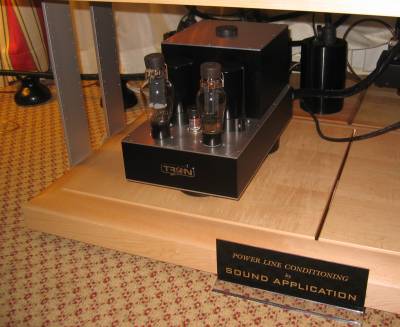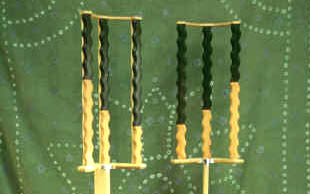 Now don't get me wrong - this system was comprised of many worthy components and sounded quite excellent, particularly given the hectic show environment. And Jeffrey Catalano from High Water Sound strikes me as a genuine kinda guy who believes 100% in the merits of these tweaks (and puts in the hours required to get them just so). And hey, if you've got the money, the time, the dedication and yes, a touch of OCD, then by all means, tweak away if it gets you this quality of sound! High Water's system was comprised of the Sound Engineering SF-1 turntable ($12,500) with Dynavector XV1-S cartridge ($4000) and DaVinci Audio arm ($6200), Tron Electric's Syren phono pre-amp ($15,000) and Cantata 300B mono amplifiers ($20,000). 47 Labs Flatfish CD transport ($3600) and Gemini DAC ($3400) provided the digital front-end plus there were various odd black boxes used for power conditoning (I would imagine). The speakers were Horning Hybrid Perikles ($8500/pair) and everything was lovingly placed in a Finite Elemente Master Reference rack ($8000). I can't even begin to mention all of the tweaks, but, well, you get the idea...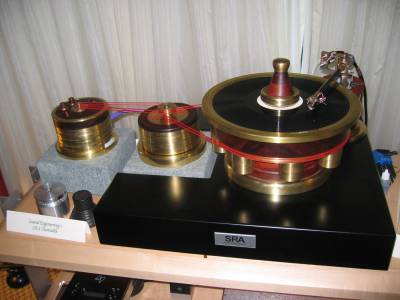 On the opposite end of the tweak spectrum was the room hosted by Mark Levinson's
Red Rose Music
. Ya know what he was using for an equipment rack and speaker stand? A folding bookshelf from K-Mart ($19.99). Mark was at the show introducing a new software package and hardware DAC called Burwen Bobcat ($1500, available in June). Co-designed by Dick Burwen (recording engineer extraordinaire) and Daniel Hertz, the software/hardware package allows you to take standard compressed 128 kbps MP3 files on your computer (Windows 2000 or XP with windows Media Player 10) and make them sound as good or better than red book CDs. Or take standard CDs and make them sound as good as vinyl or SACDs (that's the claim anyway). The demo, featuring three MP3 files (128 kbps sampling rate) of material ranging from Rickie Lee Jones' breathy female vocals to solo violin to rhythm and blues, actually sounded quite musical and enjoyable. And I think that's the key word, "enjoyable." Mark went into some detail about the psychological/physiological effects of "bad sound" on the psyche and on the body - factors that can make you want to leave the room or get a headache when listening, even at low volume levels. Burwen Bobcat is designed to correct that, removing the objectionable, annoying artifacts from digital sound, leaving you with plain old toe-tapping music.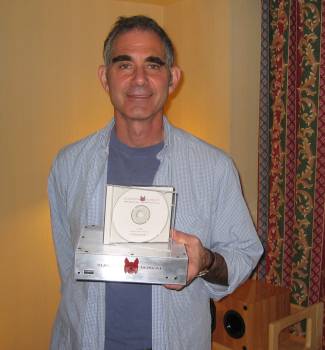 The Red Rose system was comprised of a standard laptop computer ($2,000), Burwen Bobcat software and DAC ($1,500), Red Rose M2 speakers ($5,000/pair) and Red Rose Passion integrated amplifier ($3,000). Oh, plus the K-Mart folding bookshelf of course ($19.99), which was probably not, in this case, a major contributor toward the sound.
A relative of the inveterate tweaker is the avid DIYer (Do-It-Yourself-er). Some DIYers build their own amps or speakers (or, as with customers of this next vendor, projection screens) just for the satisfaction and pleasure of working with their hands. Some do it for the performance available with hand-selected components. And some do it simply to save money. Fans of low-cost high performance video, who aren't afraid to get their hands dirty will love
Goo Systems
.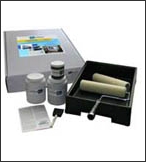 Goo Systems makes Screen Goo - a paint formula optimized for use with front projectors, be they CRT, LCD, DLP, DILA, LCOS or some as yet unknown display technology. Rather than spending $500 to $3,000 on a dedicated projection screen, you can paint your wall with Goo and get results that rival expensive screens. The process involves a base coat and top coat, and the recommended color for each depends on how large a screen you need and what type of projector you're using. For about $99, you get enough paint for a screen up to 100 inches diagonally. Or for $199, you can get a "Goo Kit" (I think they should call it a "screen in a box"), which includes everything you need (tray, rollers, paint) for a screen up to 130 inches diagonally.
I had heard of Goo before, but this was my first chance to audition it, on a "screen" measuring 100 inches diagonally, illuminated by a Sim2 Domino 30H DLP projector. I was impressed with the results - excellent image uniformity and color accuracy, great contrast without sacrificing brightness. If you love that front projection size and image quality, but a dedicated screen is not in the cards either for aesthetic or budgetary reasons, then definitely check out the Goo stuff.
One vendor's room I did not visit this year was Silverline Audio Technology. They were there again this year showing their fine-sounding speakers as usual, but when a review pair of their Sonata loudspeakers they had set aside for me mysteriously disappeared, I got a little suspicious. When Silverline's chief designer Alan Yun started asking me about my system and found out I did not have access to a single-ended tube amp (all I have is a lowly Conrad-Johnson Premiere 11a tube amp, as well as solid state power amps from Marantz, Outlaw and Tandberg), he got a lot less enthusiastic about letting us do a review. He had also committed to sending me a magnetically shielded center channel speaker (so as not to interfere with my Loewe CRT HDTV) and a pair of bookshelf speakers for the rear so I could do a complete multi-channel Silverline system review. But alas, the two pairs of Sonatas he had on hand suddenly became unavailable and that's the last I heard from Mr. Yun. I guess his speakers are little too picky for my lowly electronics. Too bad as it would have been a fun review.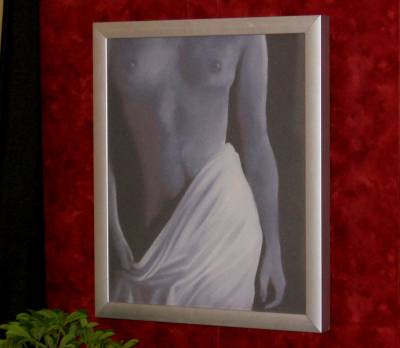 In the "much less picky" department,
Odyssey
was on-hand showing their "Art" series of wall-mounted loudspeakers. Starting at $1500/pair, with a choice of one of 80 different artwork selections, the Odyssey Art "Canvas" loudspeakers pass themselves off as framed artwork, leaving you wondering where all that wonderful sound is coming from. If you don't like their artwork selections, you can always provide your own photo or original artwork and they'll print up professional canvas screens for you for just $50. A ported design, with all high quality ScanSpeak drivers, the Odyssey Art loudspeakers actually presented a pretty convincing soundstage and reasonable bass output (the big ones are rated down to 45 Hz). The Art series includes the Canvas 1 ($1,500/Pair), Canvas High End ($1,950/pair) and Canvas Center ($1,200 each). Odyssey also makes electronics, which were being used to good effect to drive the system. On hand they had their entry level Khartago amplifiier ($775, 110 WPC stereo) and Etesian line stage preamp ($300). The combination is just $995 when purchased together. Based on the sound abd the high quality fit and finish, I thought maybe a decimal point was off, or a digit was missing but these are the correct prices. I guess selling direct to the public and "bypassing the middleman" actually has some merit.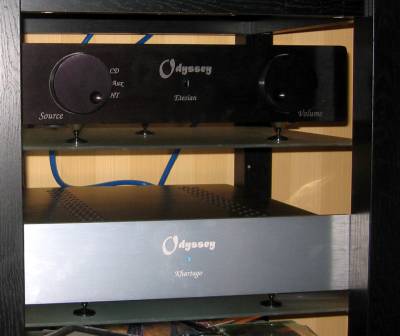 Flipping the demo system over to the more expensive floor-standing Loreleis ($2,700/pair) driven by Odyssey's Stratos monoblock amplifiers ($2,295 pair, 180 WPC) showed that Odyssey knows purist high-end audio as well, with a nice tonal blend, excellent soundstage depth and solid low-end extension. But the Art series loudspeakers definitely held their own in terms of sound quality, and looked ultra-cool on the walls.
In another company's attempt to integrate good home theater sound with any decor,
Yamaha
had on display their YSP-1 which I had auditioned briefly at CES but with which I now had a chance to spend a bit more quality time. The
YSP-1
($1,500) is a one-box multi-driver amplified speaker system that attempts to capture true surround sound from a single box loudspeaker. It has digital and analog inputs accepting Dolby Digital, DTS or two channel sound and creating real surround sound without rear speakers. For the YSP-1 to work properly, your listening room must have side walls, which the unit uses to beam sound off, so that the rear channel audio really hits you from the side and rear. Part of the set-up process involves you "aiming" the speakers (electronically) so that the surround effect is optimized for the primary listening position. A subwoofer output is provided in case you want mo bass (and you might).

The effect was actually very convincing, but I did notice that moving around the room - even just moving my head a few inches - greatly diminished the surround effect. But in the sweet spot, I did feel drawn into the action. If you've got side walls but don't like the look or aggravation of running wires and setting up rear channel speakers, the YSP-1 will give you a convincing surround effect while taking up minimal space. Plus since it runs directly from your DVD player and/or TV's audio outputs, you won't need a receiver either, simplfying your set-up even further. Was it the best surround sound at the show? Of course not, but it certainly provides better sound than the speakers built into any TV or even a low cost stereo system. Check it out if space, aesthetics or logistics prevent you from installing a true multi-channel surround sound system.
The other option, of course, is to get a real multi-box multi-channel surround sound system, but get one that looks pretty enough that you (and your significant other) won't mind putting it on display in your living room. One such system would be the sleek silver and black packages made by the U.K's own
Naim
. Playing classical and mellow rock cuts, the all Naim system had excellent spatial coherence and great extension and integration between the subwoofer and the mains. On display were the "n Series" loudspeakers ($6,500 for 5 speakers plus subwoofer, stands optional at $350/pair).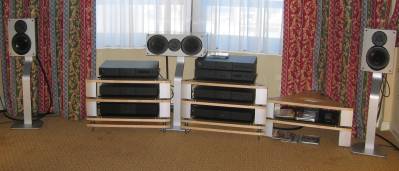 And speaking of classical music and mellow rock, those genres along with soft Jazz and female vocalists define about 95% of the demo material used by most manufacturers to show their wares. So imagine my surprise when I hear AC/DC screaming out of one of the "audiophile" rooms.
Continuum Audio Labs
had the audacity to play REAL MUSIC at a Hifi Show. Well, it got me in the door with a three dimensional soundstage, an involving presence, solid bass and excellent imaging from this classic rock album on vinyl.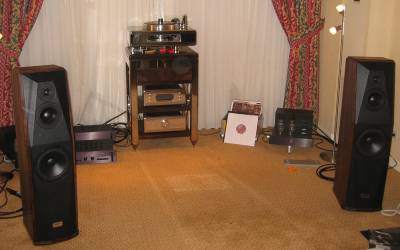 And make no mistake, this was an audiophile system, with Peak-Consult Empress loudspeakers ($22,495), and Lamm electronics including their ML1.1 power amplifiers ($22,690/pr.), LL2 deluxe preamplifier($14,400) and LP2 phono preamplifier ($7,000) all there to support the debut of Continuum's beautiful new Caliburn turntable and Cobra tonearm ($55,000 for the set professionally installed in your home). Even the equipment stand was top-notch (Castellon, $20,000). Nice to see that some high-end manufacturers remember that the toys are all well and good but in the end, it's all about enjoying the music.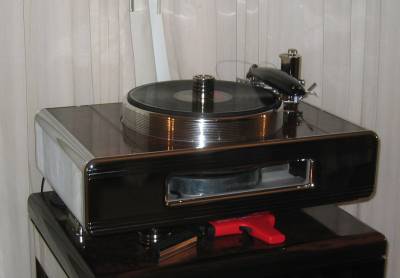 Over in the
Butler Audio
suite I saw a bunch of goodies, including the Monad monaural power amplifier ($18,995/pair) - a unique output transformer-less design with no negative feedback. It's somehow able to squeeze 100 Watts/Channel out of 300B tubes! No longer are tube lovers limited in their choice of louspeakers - these babies can drive virtually anything you give them. They were making beautiful music through a pair of
Escalante
Pinyon loudspeakers ($6,450/pair). And they weren't afraid to do requests either. I had them put on the demanding Diva scene from the Superbit DVD of "Fifth Element" and the system handled it with grace - excellent dynamics and articulation. These are not your grand-daddy's tube amps!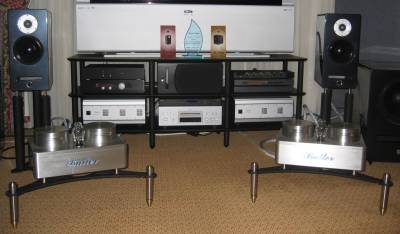 Butler makes some other interesting products including a full line of "Tube Driver Blue" tube amplifiers for home theater (2, 3 and 5 channel versions available from $2,495 to $3,295) plus a line of tube amplifiers for cars ($599 to $899, depending on configuration). But my favorite produsct on display had to be their tubed home theater receiver. Labeled "Akai" because Butler built the prototype for that brand, the AVR7100 home theater receiver may be badged Akai or Butler if and when it sees production. I sure hope it does because this baby is loaded - seven channels of amplification (100 WPC), Dolby ProLogic IIX, DTS-ES, Dolby Digital EX, and Dolby Headphone processing, plus HD component video and HDMI switching for an expected retail price of $1300-$1400. It was definitely the coolest looking, most feature-packed home theater receiver at the show, and I hope it sees the light of day.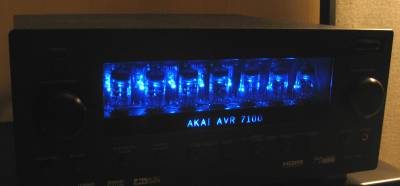 Von Schweikert
had a few rooms this year, but the one I liked the most had their VR-4 SR Generation 4 speakers on display ($7,995/pair). The source was a gorgeous Oracle CD2000 CD transport ($7,645) feeding an Electrocompaniet DAC ($2,000) and ultra-cool transparent VAC Phi Beta integrated amplifier ($19,000) that looked like something out of a retro-modern science laboratory.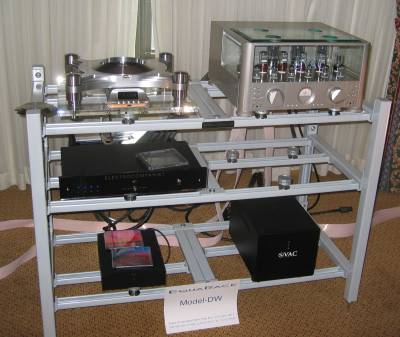 The system had excellent extension and attack on orchestral music, as well as fine microdynamics and stunning detail resolution on delicate passages like finger cymbals, string ensembles and light percussion.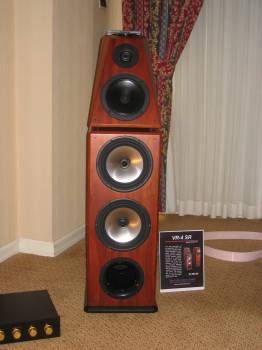 Last but certainly not least, the Home Entertainment show would not be complete without a visit to the
Innersound
room. Unfortunately I missed the much-hyped four-channel demos where Innersound and
Mobile Fidelity Sound Labs
brought in a 4 channel reel-to-reel recorder so that famed classical recording engineer Marc Aubort could sample his original master recording (the actual reel-to-reel tapes) and match that head-to-head against the recent MFSL SACD release of the recording, played through the same system. I've heard my original recordings played through the Innersounds, and it's always a treat. But the two-channel demos I did hear did not change my mind about the Innersound speakers. They're among the most dynamic and transparent loudspeakers I've heard at a show. On display this year they had the big Kaya Reference system ($20,000 /pair including biamped electronic crossover) in the front and the Kachina in the back ($12,000/pair).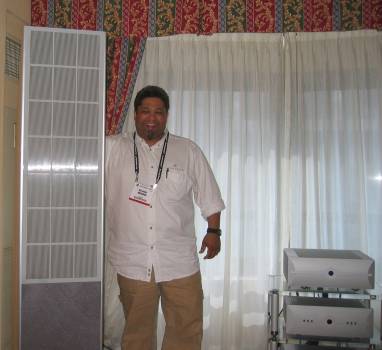 Again this year, Innersound teamed up with
Redpoint Audio
, whose Model D turntable ($16,000) provided the analog source for most of Innersound's demos. The Model D is a massive design weighing in at several hundred pounds including the base, due to the extensive mass-loading used in its design. Holes are bored into the plinth and aluminum platter, then filled with lead shot and oil. The theory is that this mass will lead to a rock-solid spin with virtually no wow and flutter. A battery-operated power supply insulates the unit from vagaries in AC power. Demo material included choral works, pipe organs and complex percussion, all of which sounded excellent with deep extension, a deep wide soundstage and crisp attack.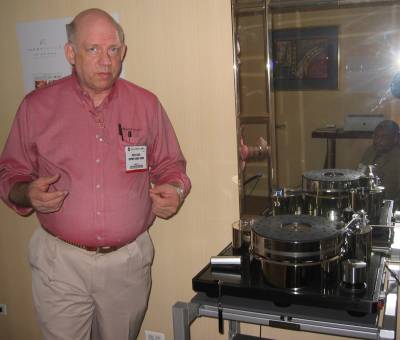 And now... drum roll please...
Boylan's Best in Show:


Best Two Channel Sound: Innersound/RedPoint Audio (Rm. 1010) - an open window looking into the original recording


Best Multi-Channel Sound: Cinepro/MiCon Audio (Madison Suite A) - visceral impact and supreme effortlessness at theater reference levels and beyond


Best Video: Silicon Optix Realta Chip with JVC D-ILA projector (Madison Suite A) - more HD than HD itself


Most Surprising Demo: Red Rose Music's Burwen Bobcat system (10th floor) - who knew MP3s could sound this good?


Tweakiest Room on the Block: High Water Sound (room 937) - these guys pulled no punches using every tweak at their disposal to wring great sound out of a hotel room.


Coolest Prototype: Butler Audio's AVR7100 tubed home theater receiver (room 1043). Let's hope this puppy makes it into production.


Best Sound from a "Hopelessly Mismatched" System: Music Hall (room 908) - $14,000 worth of electronics driving $1350 worth of speakers... to very good effect.


Well, that's all for now, folks... thanks to all the manufacturers and exhibitors for putting on a great show. See you at the next one!
Just tuning in? Then why not
start from the beginning?