Wrong Turn on Blu-ray Disc Review
By Rachel Cericola
The Film
They're going to want to go and eat that kid.

If you love your horror films to follow the stereotypical scary formula, Wrong Turn is the perfect movie for you. Isolated roads? Check. Stranded group of young people? You betcha. Deformed inbreeding? Is there anything else in the remote Appalachian Mountains in West Virginia? Apparently not. At least not during this 84-minute hell ride.

Chris (Desmond Harrington) is rushing to a job interview when he hits a massive traffic jam. Instead of being late, he heads for an alternate route and eventually makes -- you guessed it -- a wrong turn. He then crashes into a stranded car filled with other young, beautiful people, including Eliza Dushku, Jeremy Sisto and Emmanuelle Chriqui (Entourage).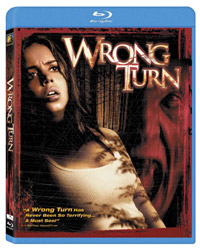 We would have mentioned Francine (Lindy Booth) and her boyfriend Evan (Kevin Zegers), but yeah, they choose to stay behind while the others look for help. If you know your horror handbook, you'd also realize that these two don't last that long.
Naturally, the rest won't make it through the rest of the movie, but that impending doom might be the only thing that gets you through this half-baked horror flick.
The Picture
The scariest part of Wrong Turn could be its Blu-ray transfer. Sure, there are plenty of axes swinging and heads popping off. It's gets pretty graphic, but that doesn't necessarily make for an attractive Blu-ray. Instead, it looks more like a standard-def version of 1980's Friday the 13th, with a lot of soft, grainy imagery. Also, despite the lush, Deliverance-style scenery, the 1.85:1 transfer has a dim color palette and lacks a lot of detail.

The Sound
The DTS-HD Master Audio track does a little better, with plenty of creepy sounds for your surrounds. Dialogue is delivered well, and is peppered with spinning tires and eerie sounds in the forest. There's also the occasional bird or winds blowing to keep you well positioned on the edge of your seat. Of course, the mountain men also sound pretty good and deliver a lot of bloody, bone-crunching action. The soundtrack plays like any other creature feature, but is sometimes too loud and too often. Not every scene has to be scary, you know?

The Extras
Dushku gets her own two cents -- or at least almost four minutes -- in the "Babe In the Woods" feature. She acknowledges that the actors "didn't seem that deep on the page." Well, it sounds like they didn't stray too far from the script.

The lengthiest feature is "Fresh Meat." Originally, we thought this was about the guts and gore of the film, but it's really a piece where everyone gushes about how great the movie is. In other words, it's less believable than the actual movie. The mountain men are wonderful actors? Sounds more like a comedy.

The actual making-of featurette is one of the worst we've ever seen -- all four minutes of it. It's not even that it's short, but it's just a load of PR. It runs more like a trailer, complete with a voice-over guy, and says pretty much nothing about how the film was made. It also features a few sound bites from the cast, who were obviously pulled over in between scenes. A much better featurette would have been the foursome sitting in a room, counting their money.

Final Thoughts
Just because a film spawned two sequels and an impending box set doesn't necessarily make it good. Still, fans of typical slasher flicks or Dushku might enjoy Wrong Turn. All others should steer clear.

Product Details
Actors: Desmond Harrington, Eliza Dushku, Jeremy Sisto, Emmanuelle Chriqui
Director: Rob Schmidt
Audio/Languages: DTS-HD Master Audio 5.1 (English), Dolby Digital 5.1 (French), Dolby Surround (Spanish)
Subtitles: English SDH, Spanish
Aspect Ratio: 1.85:1
Region: A
Number of Discs: 1
Rating: R
Studio: 20th Century Fox
Blu-ray Disc Release Date: September 15, 2009
Run Time: 84 minutes
List Price: $29.99
Extras:

Commentary by Rob Schmidt, Desmond Harrington and Eliza Dushku
Deleted Scenes
Fresh Meat: The Wounds of Wrong Turn
Featurette: Making of Wrong Turn
Eliza Dushku: Babe In the Woods
Stan Winston Featurette
Trailer