The Site for Home Theater and Movie Reviews
Win an NHT Home Theater Speaker System Worth Over $1200: Enter the Online Sweepstakes at BigPictureBigSound.com
In our September and October sweepstakes, we gave away instant Blu-ray Disc collections worth over $400, but we're kicking things up a notch for the holidays with a speaker system that will take your home theater to the next level.  NHT's Absolute Zero 5.1 Home Theater Speaker System sells for $1297 and offers outstanding performance in a compact form factor.  Our writer Ian White felt that the system compared favorably to speaker systems selling for many times more.  He summed up his review with one sentence: "Buy with Extreme Prejudice."
And now one lucky Big Picture Big Sound reader won't have to buy it at all, as the speaker system is the prize in our November/December sweepstakes. Our thanks to NHT for sponsoring this sweepstakes.  You can read all about the system in Ian's review: Absolute Zero 5.1 Home Theater Review, as well as on NHT's web site.
NOTE: This sweepstakes has ended - congratulations to our winner: Jeff Pargeon of Philadelphia, PA. Our January/February sweepstakes for a Denon AVR-3311CI home theater receiver is now open.  Enter now!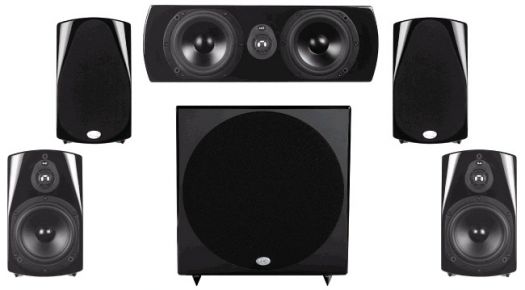 Please note that the system you win is the actual review system itself.  The boxes have been opened only for the purposes of this review.  NHT's full warranty will be transferable to the winner upon verification of eligibilty.
Contest Rules: Open to residents of the U.S. and Canada, 18 years old and over.  Employees and regular contributors to Big Picture Big Sound are ineligible for this contest.  No purchase is necessary. Contest ends December 31, 2010, with random drawing to occur on or around January 1, 2011. Valid first name, last name and e-mail address are required so that we can contact the winner and verify eligibility. One entry per person.  Invalid e-mail address or name voids entry.  Proof of identity may be required of winner.  Winner will have 24 hours after being contacted to verify identity/eligibility and claim prize.  Winner agrees to release name to be used in publicity on BigPictureBigSound.com after contest ends.  Winner's name will be posted here upon confirmation of eligibility.
Explore Big Picture Big Sound